Not sure if you've met the right guy? Writer Nilufer Atik underwent a new kind of DNA test to find out just how compatible she and her fella really are…
"I've never believed in soulmates.
The illusion that only one person out there could be my perfect match was shattered the first time I fell in love at the tender age of 11.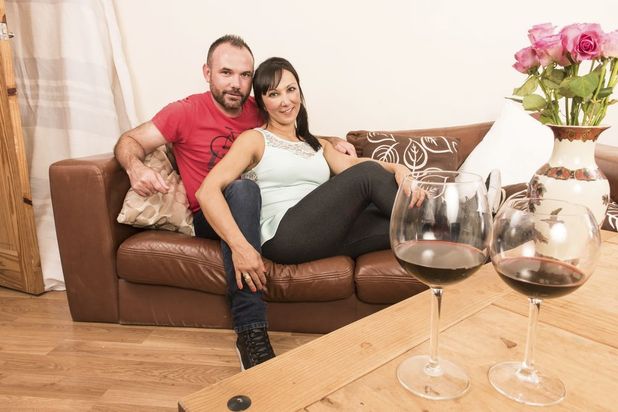 He was my best friend's brother and two years older than me. With his sweeping ginger fringe and our mutual love of Duran Duran, I thought he was the only boy in the world for me – until his mum caught him picking his nose and wiping it on the sofa one day. She battered him with a knitting needle and somehow the magic disappeared after that.
I have never really had a 'type', either. Past partners have varied from clean-cut skinny boy-next-door to hulking tattooed bodybuilder. So when a spiritual friend of mine recently claimed that only 'twin flames' (her version of soulmates) were truly destined to be together, I set out to prove her wrong.
'There are loads of men out there you'd be compatible with,' I argued as she tore open a new pack of tarot cards. 'It's nothing to do with being "meant" for someone – it's purely down to chemistry and personality.'
Adamant that I was right, I began doing some research online and stumbled upon a special clinic called GenePartner, based in Switzerland, that can actually carry out DNA tests on couples to determine how good a match they are. Bingo!
The clinic, which also offers an online dating service, was founded by geneticists Dr Tamara Brown and Dr Joëlle Apter to help people not only find love, but keep it.
'We measure how well suited two people are by comparing genes found in their immune systems called HLAs,' Dr Tamara informed me. 'Studies have shown that people tend to be more attracted to those with HLAs that are very different to theirs, which means, at least in scientific terms, opposites really do attract.'
It all sounded easy enough. Now all I had to do was persuade my other half, Matt, to take part.
'What is it I actually have to do?' he frowned as I served up his favourite steak dinner that evening to help sweeten the deal. 'I'm not weeing into anything – or giving any kind of dodgy samples. You can definitely forget that!'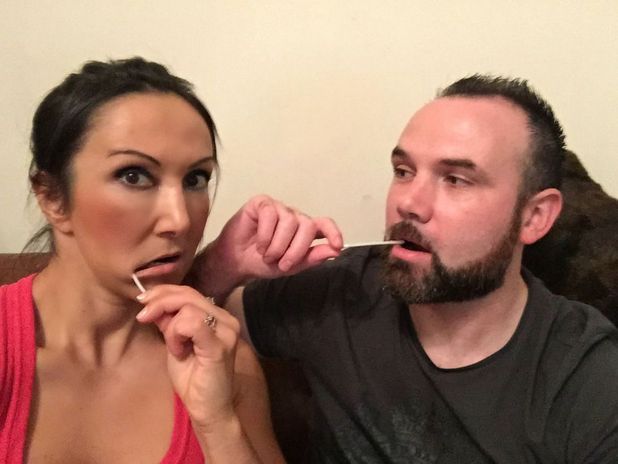 I explained that all we had to do was register for a DNA pack online, costing £170 (I'd already taken the liberty), then send in two cheek swabs each.
'Then a few days later we'll find out if we're a good match or not,' I added.
'Oh, great. So you're not sure we're even a good match!' he huffed.
'Of course I am, silly,' I scoffed. 'It's just that we'll then have the proof.'
But that night in bed, as I tossed and turned in time to Matt's snoring, I couldn't help worrying. What if the results showed we were only five per cent compatible? Would the sweet, bearded man beside me call time on our relationship?
The test would also reveal how good a genetic combination we were in terms of reproduction. But if our score was too low, did it mean our children would resemble Yoda?
The following morning, as I sealed and posted off our saliva-soaked cotton buds, I decided to be optimistic. After all, Matt and I had a lot in common. We were both sporty, liked watching TV programmes about gypsies, and found car horns incredibly funny. Of course we were a good match.
Ten days later all was revealed.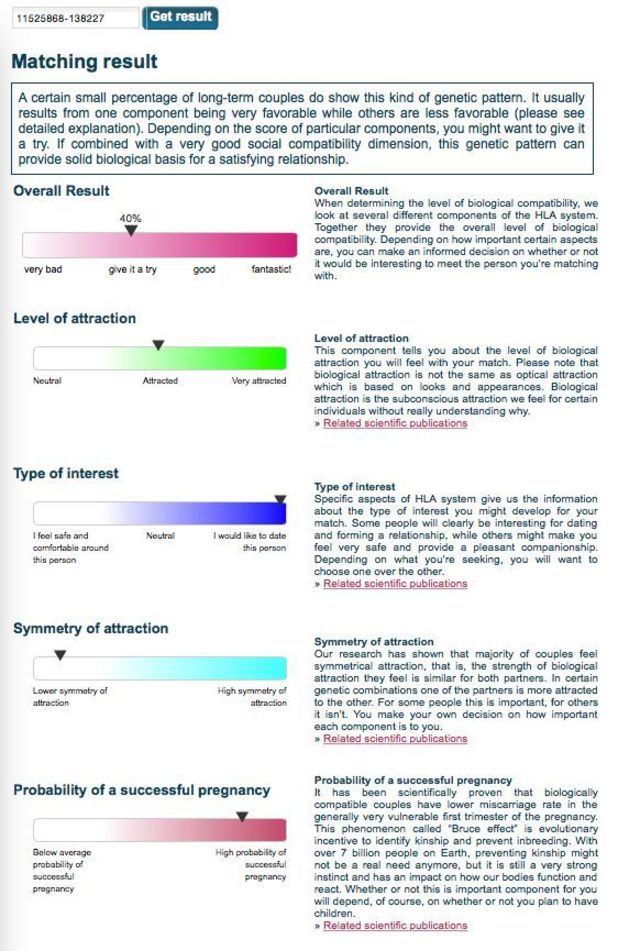 'Are you ready for this?' I asked him somewhat nervously as I logged onto the GenePartner website for our results.
The scores were split into four categories – level of attraction, meaning how much one partner fancies the other; type of interest, which determined how platonic the attraction is; symmetry of attraction, meaning how equally we are attracted to one another; and finally, our chances of a successful pregnancy.
There was also an overall score.
I was chuffed to discover that I rated very highly on Matt's attraction scale, but not totally surprised to see he didn't rate as highly on mine.
'I always knew I fancied you more,' he mumbled looking crestfallen.
'I do fancy you, though – lots,' I insisted, feeling like I'd let him down.
OK, so maybe he was 30 per cent more attracted to me genetically. But didn't women always value personality more than men anyway?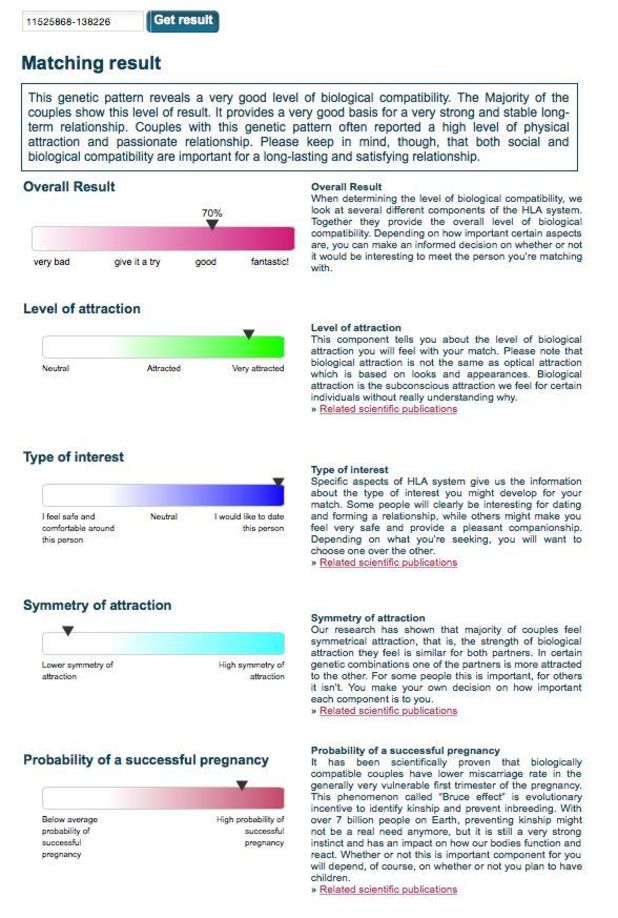 While the symmetry of our attraction was a bit of a low point, thankfully, the results did show our interest in one another was equally non-platonic – we scored maximum points when it came to a romantic interest in one another. Phew!
I'd had one of those 'more-like-best-buddies' relationships before. After walking in on the chap in question wearing one of my catsuits, I quickly realised the reason he was like one of my girlfriends was because he actually wanted to be a girl.
Matt was definitely all man according to these tests – especially when it came to procreating. High probability of successful pregnancy, the last section concluded.
'Hurrah! We aren't going to have wrinkly green kids!' I cheered.
Overall, our genetic patterns showed that, with social compatibility thrown into the mix, Matt and I had a very good foundation for a stable, long-term relationship. And it's a good job, too, really, given that we're planning to move in together this year.
And, as I pointed out to my spiritual friend, there wasn't a single mention of twin flames."
By Nilufer Atik
For more information, visit genepartner.com
For exclusive competitions and amazing prizes visit Reveal's Facebook page NOW!