Your wedding day is supposed to be the best day of your entire life. That's what we're all led to believe.
You've meticulously planned every single detail, snapped at your own mother for trying to push ugly table decorations on you, and probably had a minor break down or 12 at various points throughout the planning process.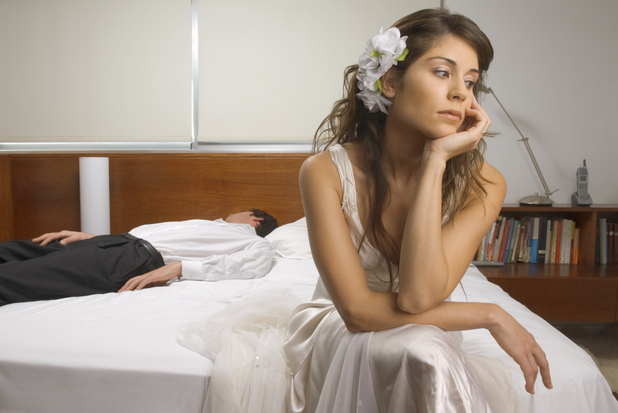 And then, on top of all of that, you're supposed to spend the whole day smiling at relatives you haven't seen/thought about for years. Everyone is there for you, so you really have to be on top form.
So by the time the day is over and you finally get a chance to go to bed, would it be totally ridiculous if you didn't feel like getting jiggy with your new bride/groom?
A survey prying into peoples' wedding day sexploits has found 57 per cent of women, and 22 per cent of men found their first experience of marital sex totally underwhelming. Can you blame them?
When the women questioned were asked why it was such a let down, 39 per cent said it was because their partner got too drunk.
Next most common reason was because their husband couldn't keep it up. Imagine the pressure!
When straight men were asked by
Medexpress.co.uk
researchers why they were disappointed with their wedding night hanky panky, five per cent said it was because their wives "couldn't stop crying". Erm.. what exactly were you doing to them?! Fingers crossed they were happy tears...
Others cited the following reasons for below-par boning: she was too tired, wasn't in the mood or was annoyed at them.
Don't worry newlyweds, you've got the whole rest of your lives to try out for the sexual Olympics. One night of mediocre sex after a bloody long and frankly, stressful day is nothing to worry about.
For exclusive competitions and amazing prizes visit Reveal's Facebook page NOW!