For friends Kathryn Milburn and Laura Reilly, what should have been a night of harmless fun at a sex toy party turned into a horrifying ordeal…
When Kathryn Milburn and Laura Reilly were invited to an Ann Summers party, they expected a night of smutty fun and games.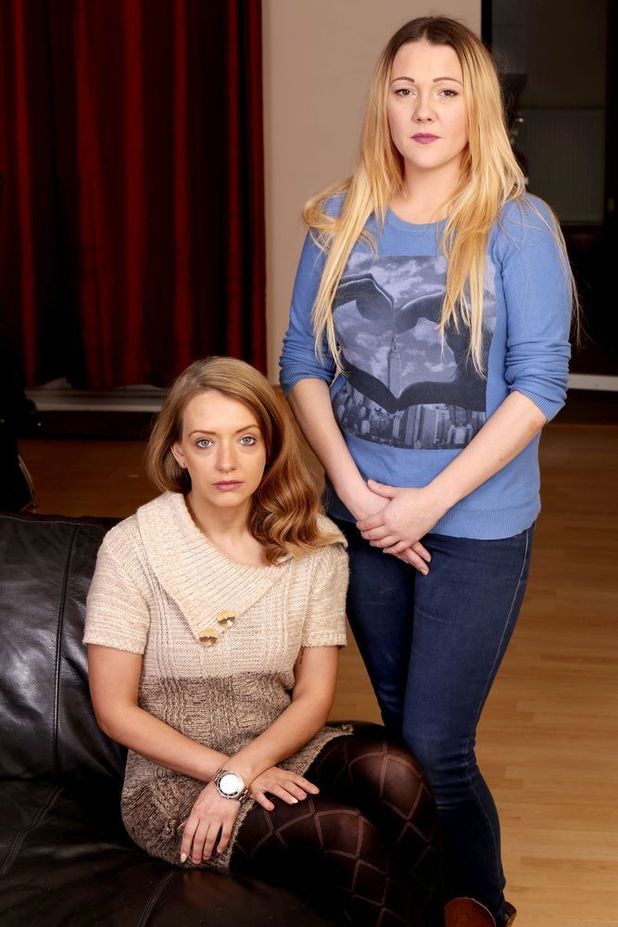 Instead, the evening ended in terror when the host's boyfriend opened fire on them with an automatic air pistol.
While they were shot multiple times in the legs and bottom, the pair miraculously managed to escape. And in October 2015, Luke Moyes, 29, was jailed for the attacks at Preston Crown Court.
"It was like something out of a horror film when Luke started firing shots around the kitchen," 30-year-old Laura, an insurance broker, says.
"Everything happened so quickly, and I really didn't think we'd get out alive. I thought he would kill us both.
"He looked like a madman as he chased us around the house."
It was in April last year when the girls' friend Justine Harrison invited them to her Ann Summers party in Chorley, Lancashire.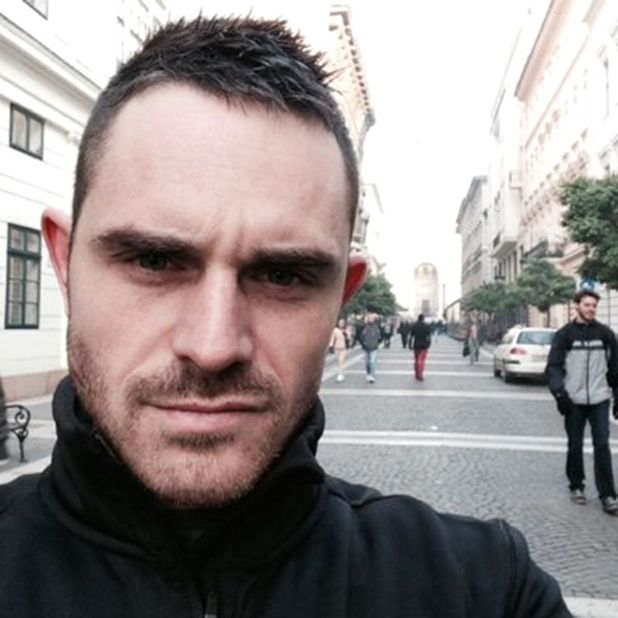 For mum-of-three Kathryn, 28, it was a chance to enjoy a night out after giving birth to son Chaise seven months earlier.
"I hardly ever went out and it was the first time I'd left my son for the evening," she says. "I was really looking forward to having a couple of drinks and a good laugh.
"When we got to the party, we started playing games and, when the rep needed a couple of models for the saucy outfits, Laura and I dared one another to volunteer.
"I dressed up as a French maid and Laura was a sexy sailor. Everyone was laughing and we were all relaxed."
By 11pm, most of the guests had left when the host's partner, Luke Moyes, arrived home unexpectedly.
"He'd been at a wedding and wasn't supposed to be home until the next morning," says Kathryn, a carer.
"I'd only met Luke a couple of times before, but I knew he'd been in the Army.
"As Laura, Justine and I chatted in the kitchen, Luke poured himself a drink and joined in our conversation."
"He seemed drunk and was acting a bit strangely," adds Laura.
"Then he disagreed with something Kathryn was saying and became aggressive. We tried to shrug it off, but he kept on shouting."
Moyes left the kitchen to go upstairs, and the girls assumed he'd gone to bed.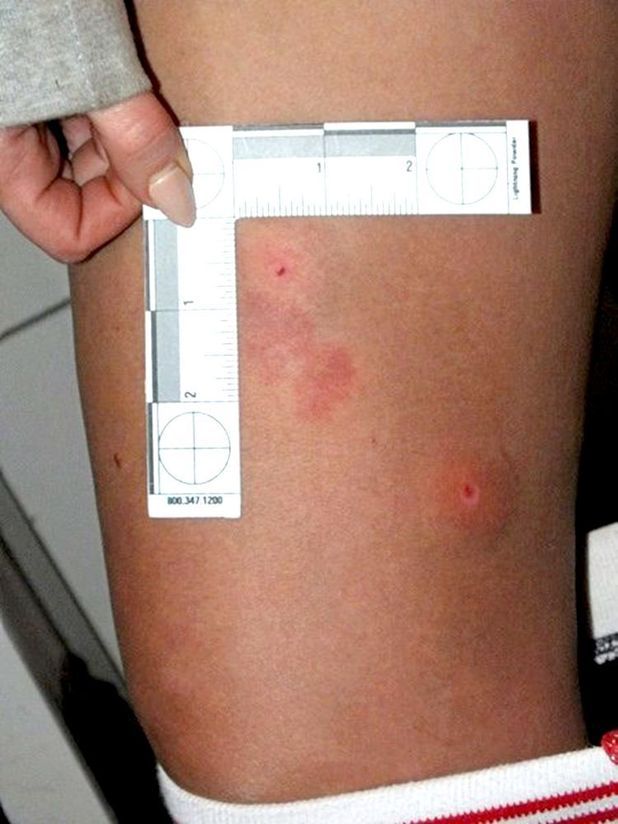 "He was so calm as he came into the kitchen and pointed the gun straight at Kathyrn," says Laura.
"Then there was a huge bang, and I saw she'd been shot in the stomach. She dived behind the kitchen cabinet for cover and, when Luke's back was turned, she ran for the door.
"As I ran away, he shot me in the bum. I tried to get the gun from him, but he was firing everywhere. Pain tore through my leg as he shot me at point-blank range. We ran away from him and towards the kitchen.
"I'd been shot about eight times," Laura recalls. "But I'd managed to shut him out of the kitchen.
"His hand was trapped in the crack of the door, but he was booting the bottom of it with his foot.
"He was yelling to let him in, and even trying to punch through the glass panels in the door.
"He then grabbed a lamp and smashed it. Glass went everywhere."
Shakily, Kathryn managed to dial 999 while Moyes was still trying to attack them.
"Laura had to let go, so we flew towards the back door and ran into the garden. We were sure he'd kill us."
Fortunately, before Moyes could reach them, the police arrived. But he fled.
Both women were shaken up and left bruised and bloody from the attack.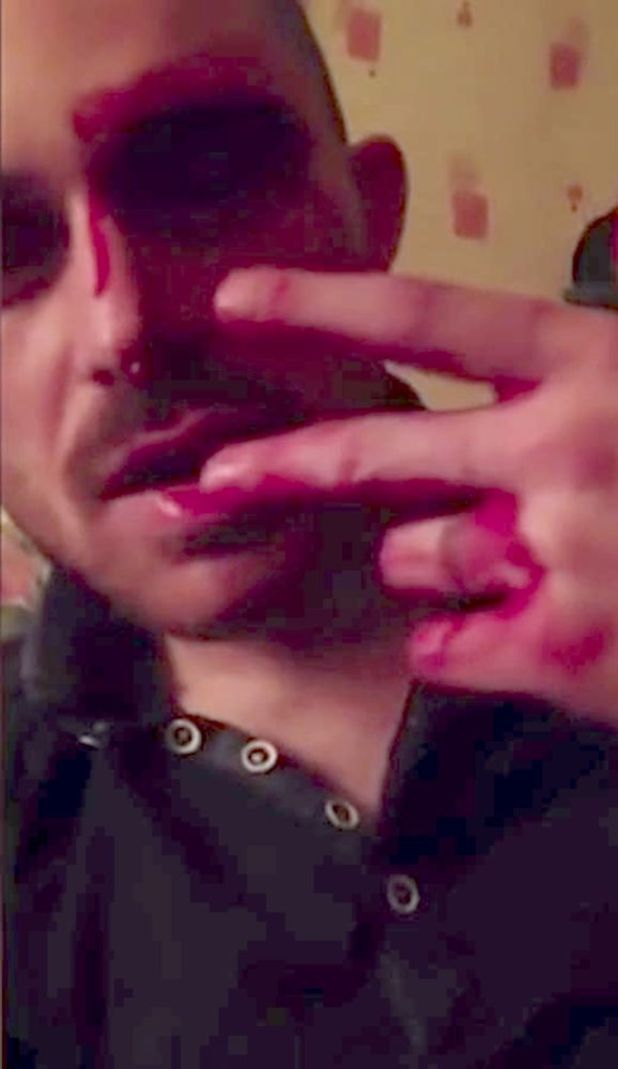 Moyes was arrested later that night, and the friends thought their nightmare was over.
"The night before Luke was to appear in court, he sent my boyfriend Matthew a video," Kathryn explains.
'When I watched it, I felt sick. It was a minute-long and Luke was sitting in the dark.
"He was smearing blood on his lips and threatening to kill me and my family. It was terrifying, and the next day I reported it to the police."
In October 2015, at Preston Crown Court, Luke Moyes pleaded guilty to actual bodily harm, two assaults, possessing an air weapon and criminal damage.
He also admitted sending the video, and was jailed for 22 months. Moyes' defence argued he was suffering from post-traumatic stress disorder.
After serving in Afghanistan, he had been diagnosed with depression and discharged from the Army on medical grounds.
"I still remember that night as though it was yesterday," Kathryn says.
"I couldn't sleep for weeks afterwards because, every time I shut my eyes, I saw the rifle.
"For months, I couldn't go out, worried I would see him. I had to take time off work and I've been put on anti-depressants to help me cope.
"After receiving the video, I started blaming myself for what happened.
"I still can't understand how a fun night with the girls could end like it did. One thing's for certain, though, it's a party neither of us will be forgetting any time soon."
By Claire Dunwell & Paisley Gilmour