Ashlee Johnson, 30, has been amazed by her four-year-old daughter's positive outlook on life, despite the fact she'll never eat or drink…
"Sitting on my daughter's hospital bed, I watched as she made a new friend on the ward.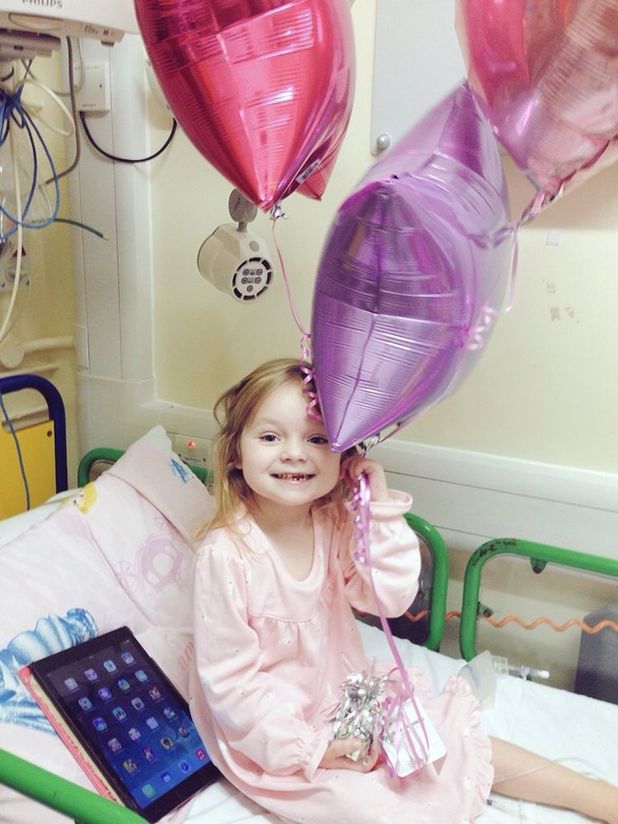 Isla was just two years old, and Great Ormond Street Hospital was like our second home, while doctors ran tests to figure out what made her so poorly.
It was sweet that she'd made a friend but, when she came back, I noticed crumbs around her mouth.
'My friend had a biscuit, but I didn't have any,' Isla promised.
My heart sank, but I tried to make light of it. Maybe a few crumbs wouldn't cause her devastating pain.
At first she seemed OK, but as those crumbs made their way through her digestive system, Isla started to scream, clutching her stomach.
That was the closest she ever came to eating.
It'd been clear from the moment she was born that something was wrong.
As a baby, she was sick 100 times a day. Doctors had no choice but to put a feeding tube down her nose.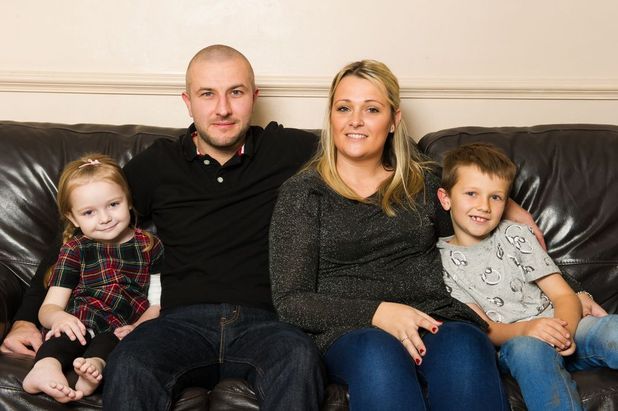 At five months old, they decided it was reflux, and operated to tie Isla's stomach around her oesophagus, in the hope that it would stop her being sick.
But, still, she screamed with pain, wouldn't eat and depended on her feeding tube.
Isla was referred to London's Great Ormond Street, where the best consultants in the world continued to test her.
Cameras were put down her throat, and then dye, so they could track her digestive speed.
Eventually, when she was three, we got a diagnosis. Isla had chronic intestinal pseudo-obstruction – a complex bowel condition, like Crohn's disease – inflamed and ulcerated bowels, and colitis, all in one.
She was fitted with a line that supplied nutrients straight into her bloodstream through a vein, so it bypassed her digestive system. Although she can't eat or drink, the central line provides her with all the hydration and nutrients she needs to stay alive. The medication is wheeled around with her in a little pink suitcase.
Even a tiny sip of water leaves Isla in agony. Put simply, her digestive system is broken.
Her condition made me realise so much of what we do is centred on food. It's more than just a part of everyday life – it's how we celebrate, commiserate, unite.
For Isla, there will be no birthday cakes or ice cream in the summer. No hot chocolate when she's cold. No glass of champagne when she turns 18. No leaving out the sprouts with the Sunday roast.
We don't have big family meals at home, in Essex. My husband, Scott, 34, and our son, Jack, seven, eat together, and I'll have my dinner later. It wouldn't be fair to make a big thing of meals when Isla can't eat.
But my brave daughter never complains.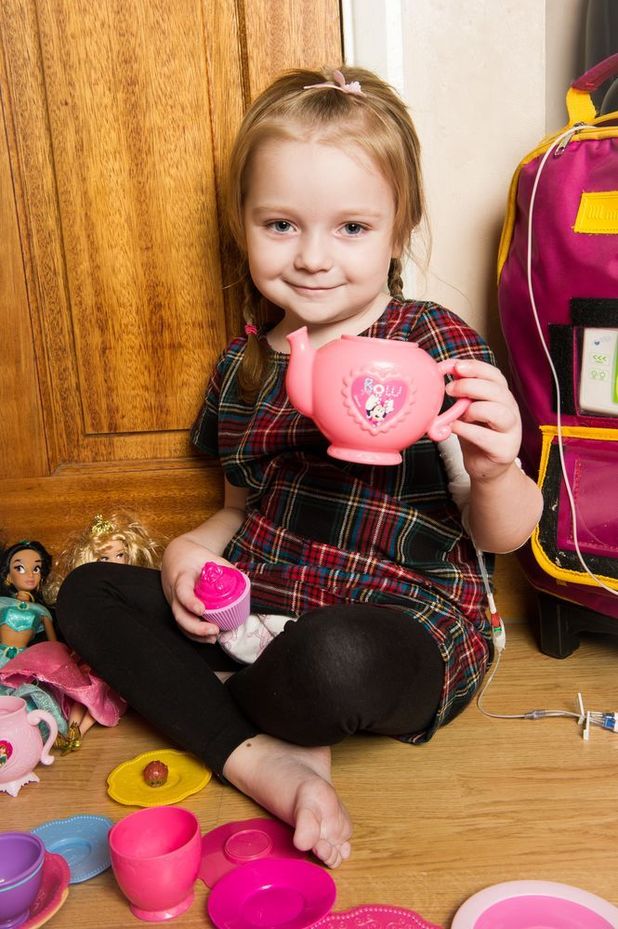 As she doesn't have a large bowel, Isla relies on a stoma bag [a pouch attached to her abdomen]. I was sorting it recently when she asked, 'How long do I have to have all this?' When I said it keeps her out of hospital, she smiled and replied, 'OK, I'll have it a while longer, then.'
When doctors first urged us to familiarise Isla with the texture and smell of food – so she didn't develop a fear of it – I thought it was cruel. Now I realise it's been the making of her.
We bake cakes together, and Isla likes to decorate them, but she can't lick the bowl.
Although she'll never know the taste, her favourite smell is salt and vinegar.
Almost every day she hosts a tea party – she loves her china tea set and picnic basket. 'Yum!' she says, spooning food to her dolls.
Lunch times at school could've been a struggle, but we bought Isla a Frozen lunchbox, and she sits with the other children. Her friends pour her a cup of water, and she pretends to drink it.
Although she can usually only manage half a day once a week, she loves to learn.
And when she's at home, feeling poorly, she still wants to colour in and learn how to spell her name.
When Isla's lying on the sofa in pain, unable to move, her big brother will pretend to fall over, just to get a giggle.
She wants to wear leggings, but can't, because the waistband would rub her stomach. She wants to paddle in the sea, but can't, because she's prone to infection. And she wants to sit with her friends at parties and eat cheese and pineapple sticks.
There's no known cure, and Isla will never eat or drink. The line that feeds her puts a big strain on her little kidneys and could lead to organ failure, as well.
She's four now, and I've learned so much from her. We'll never take our health for granted again, and we don't complain.
She's taught us the good in other people, too, as friends and charities like Wipe Away Those Tears have stepped up to help make Isla's life a little easier.
She's had more than 50 general anaesthetics in her four short years, and two dashes to the emergency room in the past month alone.
But, every time, her brave grin emerges through the pain.
I don't know how she finds the strength to smile, but smile she does."
By Kim WillisFor exclusive competitions and amazing prizes visit Reveal's Facebook page NOW!