It's sometimes said that the best way to relieve stress is by having a good old-fashioned play with yourself.
Well, workers in New York were recently surveyed and 39 per cent of the filthy buggers admitting to masturbating at work! We're not really sure office loos are the most sexually-inspiring locations, but whatever floats your boat!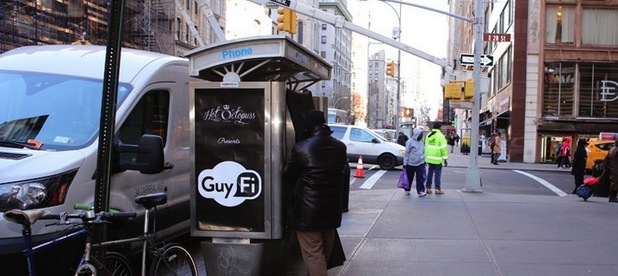 As a way to combat this… problem, London-based sex toy company Hot Octopuss have come to the rescue of all the horny workers out there.
Introducing the world's first masturbation booth! Named GuyFi, the booth has been installed on the streets in NYC.
The aim is to give stressed employees a more suitable environment in which to relieve their *ahem* tension.
Research suggests masturbating relieves stress, depression and improves self esteem.
Co-founder Adam Lewis, said: "There's no denying that working a nine to five job can be stressful on both your mind and body, especially in a non-stop city like Manhattan.
"It's really important for guys to look after themselves so that they can stay healthy and focus properly on the task in hand. We're told time and time again how beneficial it is to have a break away from your desk."
According to the company, 100 men used the booth in the first day.
It is only for men, and only in the States at the mo, so perhaps they'll erect (couldn't resist) a women's booth in the near future. Females get stressed too!
For exclusive competitions and amazing prizes visit Reveal's Facebook page NOW!