Sometimes you stumble across a new product so incredibly patronising and sexist, you're left screaming, "This has to be a joke, right?"
Everyone knows women are rubbish at sports. Our tiny brains are smaller than men's, that's why we find it so hard to kick a ball.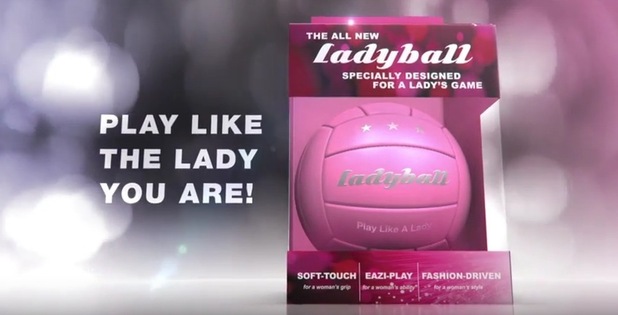 Not only that, but our emotions are always getting in the way of the game.
Well thank goodness for The Ladyball – the most misogynist invention of 2016 so far!
While claiming it was invented to "encourage" women to play sports, The Ladyball has come against severe criticism. There's also people wondering if the whole thing is an elaborate joke / hoax.
It's essentially a football "for women". They've made it softer than your average football, because lady feet are much more delicate, obviously.
It's lighter too. "Phew!" We hear you cry, those manly footballs are so heavy it's basically impossible for us ladies to play with them.
Oh, and it's pink. The developers have got it spot on there. All women love pink.
Their product description says: "Ladyball is the concept led by group of aspiring entrepreneurs who have made it their personal goal in life to encourage girls to play more team sports, and to bring a feminine touch to the all too masculine world of sports!
"The idea for Ladyball came from personal experience when one of the creators tried various ball sports as a weight loss measure and found the regular (or as we like to call them 'man-sized') balls heavy, cumbersome and difficult to control."
We're just praying it's a joke.
For exclusive competitions and amazing prizes visit Reveal's Facebook page NOW!