A bottle of dirty puddle water is for sale on eBay – and bids are currently on more than £65,000.
But this is just any old puddle water.
It's come straight from the most famous puddle in the world right now.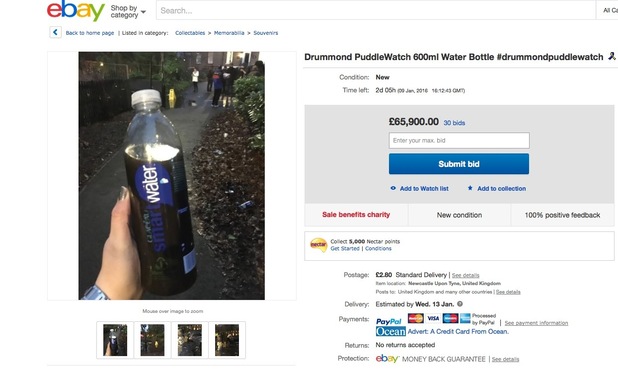 Unless you've been living under a rock for the past 24 hours, you'll be aware that the internet is going bananas for the most riveting live stream of 2016.
Thousands of viewers tuned in to app Periscope yesterday to watch footage straight from a puddle in Newcastle.
It might sound like the most boring scenario of all time, but watching people attempt to traverse the puddle was the most captivating thing most of us have seen this year.
Whether people edged around it cautiously, or made an acrobatic leap across it, the footage was hilarious.
Well, until some camera-hogging, fame-hungry puddle morons showed up with lilos and surfboards and ruined everyone's fun.
More hilarious was the Twitter feed that accompanied the stream. Users tweeted using the hashtag #Drummondpuddlewatch – and at its peak, 20,000 were watching and commenting.
The bottle currently for sale on eBay contains 600ml of disgusting water and has a bid of £65,900.
eBay user polkadotqueen07 has stated on
the listing
: "This is a nearly full 600ml bottle of genuine Drummond Puddle Watch water from Jesmond, Newcastle upon Tyne.
"Own your piece of the world's most famous puddle.
"Extremely rare. You cannot drink this water, it's for decorative purposes only. It would look beautiful displayed on your mantelpiece."
Other users have been commenting asking if the bids are real. She has responded saying the bids are yet to be confirmed.
Last night she added the comment: "Due to so much interest I have decided to donate 90 per cent of the final auction value directly to the Cumbrian Community Foundation who are helping people deal with the recent UK floods."
For exclusive competitions and amazing prizes visit Reveal's Facebook page NOW!