Jody Robson's rare neurological condition means that, while her two young sons are excitedly opening their presents on 25 December, she's often fast asleep…
It's the most magical time of the year, especially for parents with young children. But four of Jody Robson's last Christmases have been anything but memorable, as an unusual condition means she has slept through all of them.
The mum-of-two can fall asleep for up to 11 days at a time – and when she does finally wake up, it can take weeks for her to fully recover.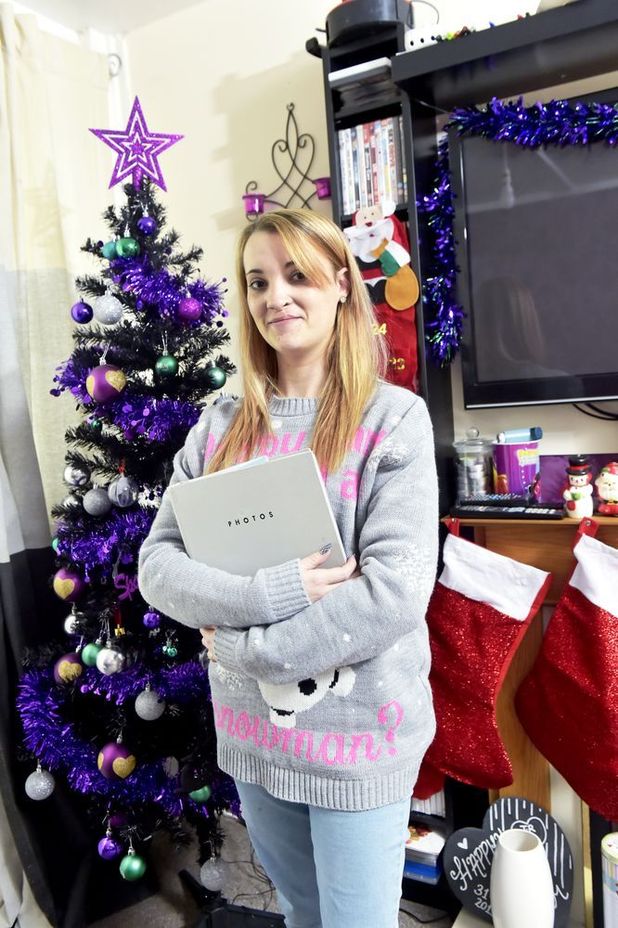 Although she hasn't been formally diagnosed, the 24-year-old believes she has Kleine-Levin Syndrome (KLS) – a rare neurological disorder that sees sufferers nod off for weeks on end.
Kids crawling into bed to open their stockings, the smell of a turkey cooking in the oven, the look on her little ones' faces as they open their Christmas gifts – Jody has missed it all.
Her episodes are so severe, she has no recollection of the past four festive periods, and could only lie in bed as her young sons, Harley, now six, and Riley, three, celebrated Christmas Day.
"One moment I've closed my eyes, and the next I've woken up and it's two or three weeks later," says Jody, from Birmingham.
"I've missed holidays and my sister's 18th birthday, but there's nothing worse than missing Christmas."
Jody had her first experience of KLS at the age of 12, while living in Spain. "I fell asleep in class and no one could wake me. My mum took me to hospital, where I was kept in for five days. But nothing showed up on my brain scan, so doctors thought I was putting it on." Her first episode lasted 23 days.
And after that, Jody started to fall asleep for extended periods every six weeks.
"I saw countless doctors in Spain and the UK, but they thought that either I was faking it, or I was on drugs, which was very upsetting," she recalls.
While she can sleep, eat and bathe during the recovery periods – which can last for three weeks – Jody has no memory of the things she does or says. "Nothing seems real."
Despite being seen by a counsellor and psychotherapist, neither could get to the bottom of Jody's condition.
It wasn't until 2011, when she saw a BBC documentary called The Real Sleeping Beauty, that she heard of KLS.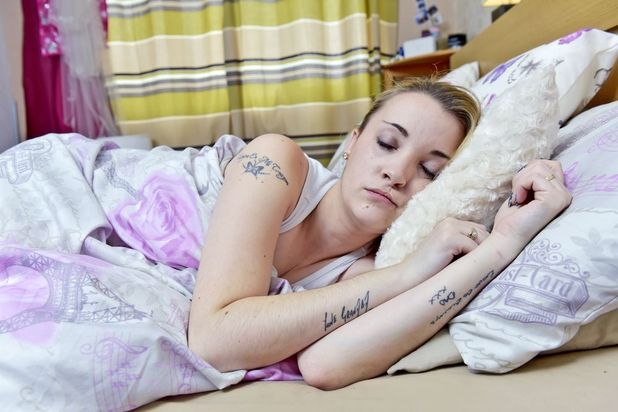 "I switched the programme on and couldn't believe it. Everything the girl in the documentary went through, I did, too."
Desperate for help, Jody started to research KLS, and even took print-outs of information to her doctors. Most of them had never heard of KLS.
"When you Google it, the first symptom that comes up is hyper-sexuality. Because I didn't have that, doctors dismissed me."
Relying on her husband, Steven, 29, and her mum, Kim, 49, Jody has to get them to fill her in on the events of her lost weeks.
Over time, she has realised that her episodes are often triggered by stress or illness. This means that Jody can doze through some of life's biggest events.
The cruel condition meant she wasn't awake to welcome her son, Harley, into the world. When she awoke, two weeks after the birth, she looked down and realised her bump was gone. "It's supposed to be a precious moment. Steven showed me photos of me with my newborn, but I broke down. I had no memory of the birth at all."
In 2014, she fell asleep on 24 December and didn't wake up until 12 January 2015.
"I remember the run-up to Christmas, putting up the decorations and doing the shopping, but I don't remember anything after finishing work on Christmas Eve.
"Another year, I was fine until Christmas morning, and even managed to wake the kids up at 5am. But by 7am, I could feel myself slipping into an episode. I have a faint memory of handing out gifts to the boys, but after that I just go blank.
"My mum filmed me, and watching the footage back was painful – I didn't act like me at all, I was barely recognisable.
"It was awful thinking that my children were eating Christmas dinner like a normal family, and I was on my own, in bed."
As her snoozing can last for weeks, Steven has to wake Jody at least twice a day, to eat, drink water and go to the toilet.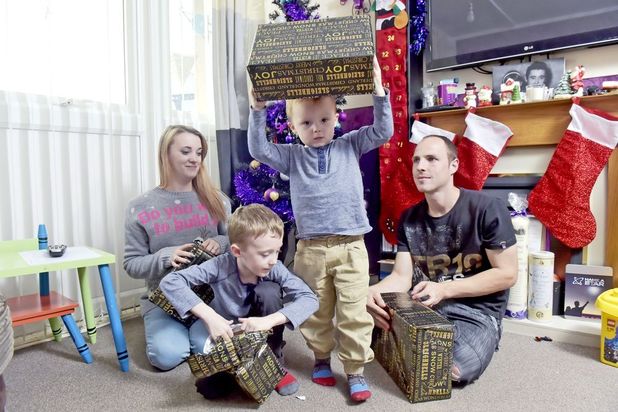 Typically, her episodes consist of a week's sleep and then two weeks of recovery.
Doctors still have yet to diagnose her. Tests for conditions including epilepsy and narcolepsy came back negative.
However, a diagnosis would still offer no answers, as there's no cure for KLS.
While Harley understands his mum needs to be left alone when she's asleep, Riley finds it difficult to adjust, often trying to force her to wake up.
"When I'm recovering, I have no energy," she says. "Riley is devastated that I can't play with him, and I feel terrible about letting him down."
Despite her struggles, Jody treasures every day she is awake.
"Trips to the park or zoo, even playing at home or watching TV, are moments I cherish," she says. "And this Christmas, I'm determined to stay awake.
"I've been super-organised to avoid any stress that could trigger an episode on Christmas Day. I did all my shopping, wrapping and preparation in October, so hopefully, this year I'll be there to enjoy it.
"I'd do anything to see the joy and excitement spread across my children's faces as they open their presents."
By Paisley Gilmour & Rebecca LewisFor exclusive competitions and amazing prizes visit Reveal's Facebook page NOW!