Animal charity PDSA have shortlisted six death-defying pets as finalists in their Pet Survivor 2015 competition.
Now, the charity is asking for the public to visit their website and vote for a worthy winner.
Fearless feline Honey, from Essex, was found covered in blood by her owner Albert Cook.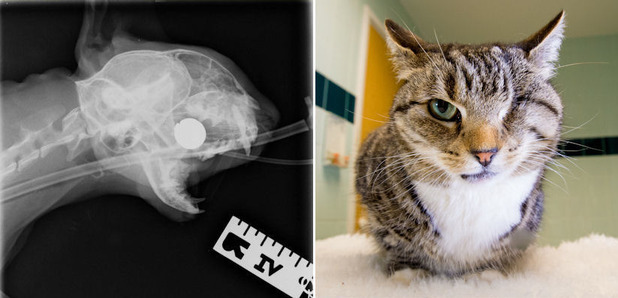 After X-rays at the vets, they found she had a huge ball bearing lodged in her skill. The poor cat had been shot in the face.
Although it was touch and go, she survived months of operations to reconstruct her shattered eye socket and jaw. Honey even had to be fed through a tube.
She may have lost her eye, but she doesn't let that hold her back and is now enjoying being back at home with her family.
Ozzy the cat was attacked by a dog near his home in Merseyside. His owner Hayley Sharples searched for 36 hours before finding the ginger cat – he was barely alive but had somehow managed to crawl home.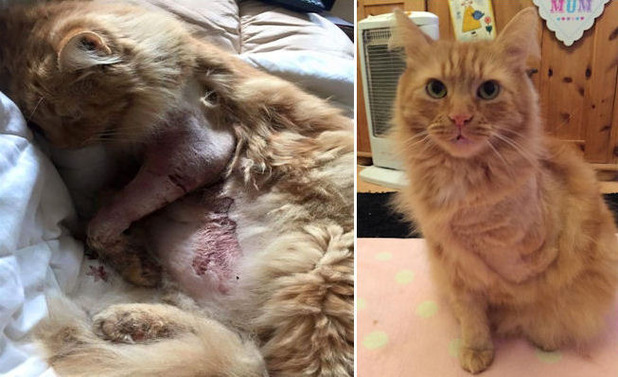 Hayley took him to a PDSA Pet Hospital in Liverpool. Vets found his front leg was badly fractured and he had a large gash on his front.
In short, he was very lucky to be alive. Despite attempts to save his leg, the bones wouldn't knit and eventually it had to be amputated.
But brave Ozzy bounced back from his ordeal very quickly and he gets around on three legs with no problems.
After escaping from her home in Berkshire one evening, Penny the pointer found herself on the A1 motorway. A lorry ploughed into her at around 50mph and left her for dead.

A couple in the car behind witnessed the incident and provided her with vital warmth and safety.
Skeldale Vets answered the emergency call and on seeing Penny's shattered shoulder, knew she required urgent surgery. Unable to trace her owner, the vet decided to go ahead with the complex operation, finishing at 2am having decided he would cover the cost if no owner was found.
Meanwhile, Penny's owner Elaine McGregor had been searching for her all night and was finally reunited later that morning.
Months of cage rest followed, but Penny's leg was saved and she can run like the wind again.
Ruby, from Portsmouth, was found as a stray kitten with severe burns, thought to have been caused by chemicals.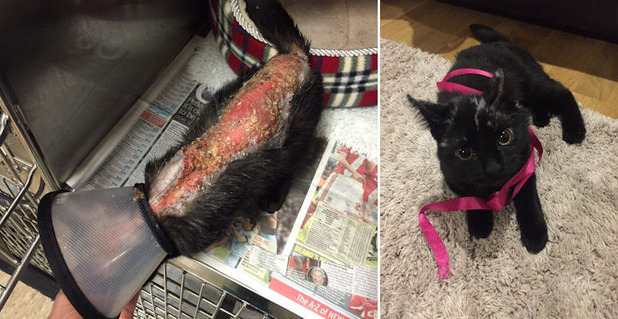 The tiny kitten was taken to Portsmouth PDSA Pet Hospital. Her life hung in the balance: she was clearly in pain but her bright and courageous nature shone through.
Natalie Lodge, who was a veterinary care assistant, fell in love with her and offered the kitten a home. She needed weeks of treatment at PDSA, then continued to be nursed back to health in her new forever home.
She has made a remarkable recovery and her fur is almost completely grown back, although some is now white.
After suffering a terrifying dog attack while out on a walk, Suki the miniature schnauzer was rushed to Gateshead PDSA Pet Hospital's out-of-hours service.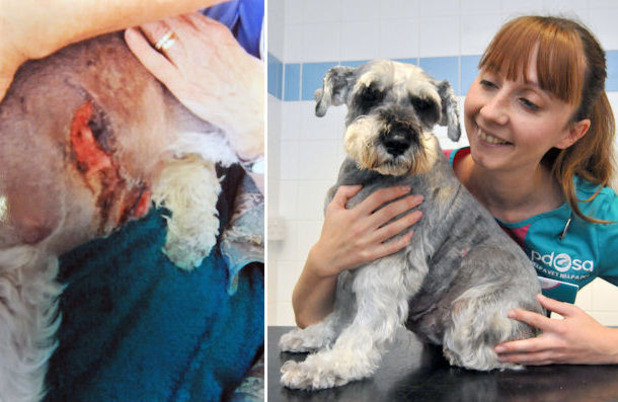 Vets warned her distraught owner, Mrs Marjorie Nicholson, to prepare for the worst. A three-hour operation repaired the extensive damage, which included prolapsed intestines, a broken jaw, ruptured spleen and bruised lungs.
Vets even found a tooth from the attacker embedded in her abdomen.
Remarkably, Suki pulled through, although she still required months of treatments to fully recover. But she was a perfect patient and is still as friendly and outgoing to other dogs as she was before her ordeal.
Ziggy the Staffie, from Watford, Hertfordshire was found wandering alone in woodland with a crossbow was lodged through his head. He was rushed to nearby Vets4Pets in Peterborough.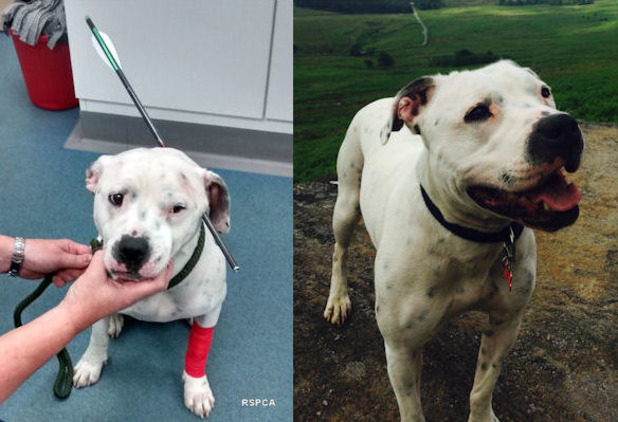 X-rays revealed the projectile had missed all vital nerves and blood vessels in his head – a one-in-a-million chance. After alerting the RSPCA, the vet conducted the delicate operation to remove the crossbow bolt.
It is suspected that Ziggy had been deliberately shot, but had turned his head at the last second then run away. He's since found a loving 'forever home' with Dominic O'Hare and Anna Burtonwood, and couldn't be happier.
Voting closes at midnight on 13 December 2015 so visit
PetSurvivor
to vote.
For exclusive competitions and amazing prizes visit Reveal's Facebook page NOW!