While a gastric band op helped Heidi Faulkner lose 8st, it left her with an unsightly, saggy butt. And her decision to have cheap bottom-lifting surgery abroad left her paying a heavy price…
After battling with her weight for years, Heidi Faulkner paid £8,000 to have a gastric band fitted in 2007.
At 16st and a size 22, the estate agent was determined to slim down. And, in the following three years, she dropped a staggering 8st.
Although, at 5ft 6in, Heidi was now 8st and could slip into a size 8 with ease, the drastic weight loss had left her tummy and bottom covered in unsightly, wrinkled, saggy skin.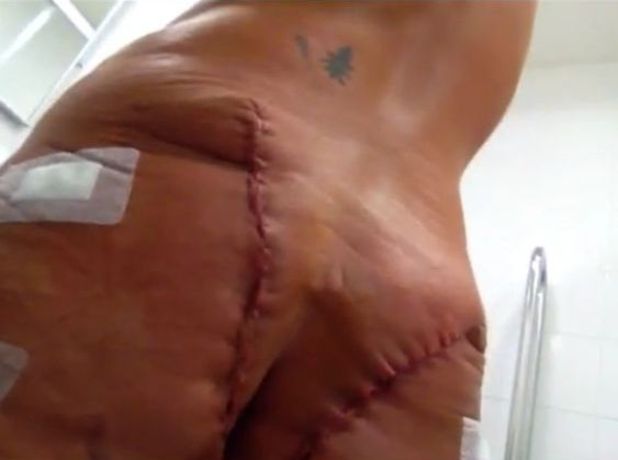 So in March 2013, Heidi flew to Prague for a cut-price tummy tuck, costing £2,000 – instead of paying £5,000 in the UK.
"I was dubious," the 32-year-old admits. "You hear awful stories about dodgy surgeries abroad. But I was desperate."
Following the two-hour procedure, Heidi had the flat tum she'd hoped for. She was overjoyed with the surgeon, and with the amazing aftercare. But she did feel there was more work to be done.
"Although the tummy tuck gave me back some confidence, it highlighted how saggy my bum was. I felt trapped in a 90-year-old's body," she says.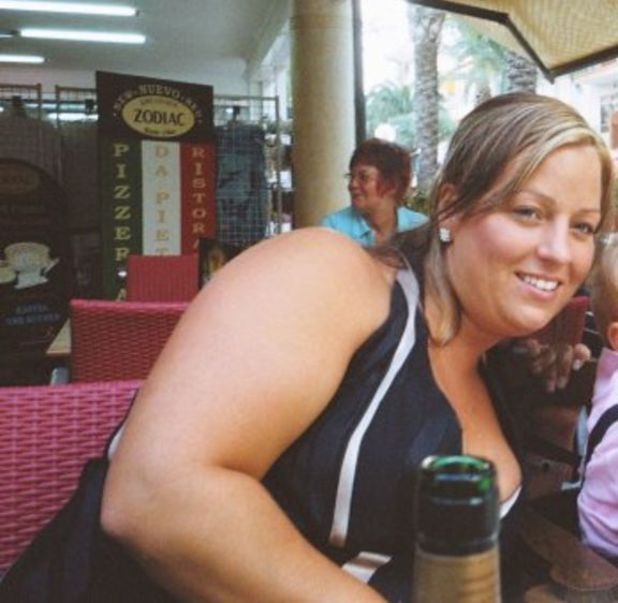 So, that December, nine months after her first op, she booked a bottom lift. "I had no doubts about going back to the same clinic whatsoever. I knew they were capable and, at just £2,000 for the surgery, it was almost too good to be true."
Leaving her son Albie, nine, with family in Hertfordshire, she flew to Prague. However, when she arrived at the clinic, she was surprised not to be greeted by the chief surgeon who'd operated on her before. Instead, another surgeon marked up her bottom with large, diagonal lines.
"I was taken aback. I said I'd have thought the cuts should be made horizontally, but he told me this would get a better result. After all, he was the professional."
Two hours later, Heidi was out of surgery and was taken to recovery, where she slept for 12 hours.
"As I came round, I was longing to see my new bum. It was painful, but that wasn't unexpected," she says.
"I was itching to unravel the bandages and take a look."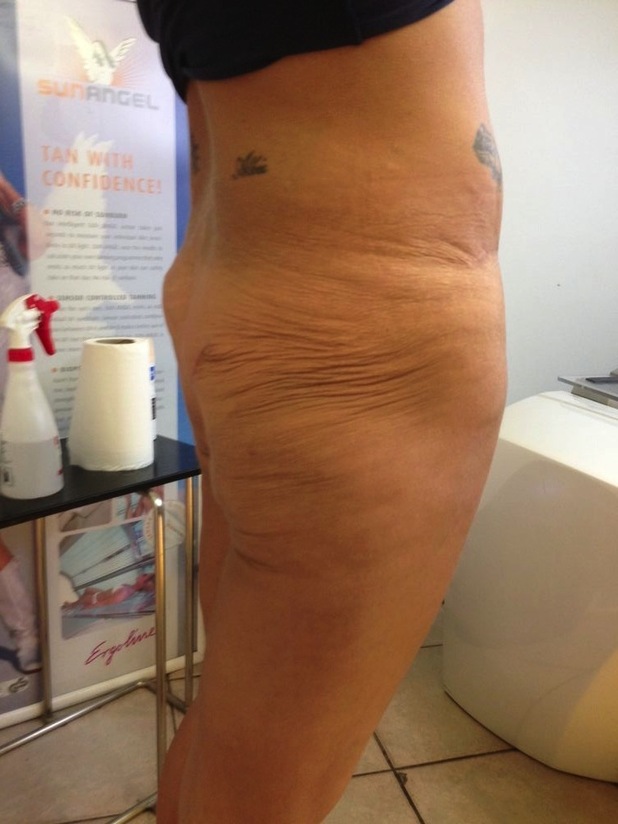 But what Heidi saw left her screaming in shock. "It resembled something from a horror movie, like a shark had bitten my bum. There were two big diagonal wounds across each cheek, and the skin looked puckered and still saggy.
"The fat had been taken out and it was just flat. I was convinced I was still woozy from the drugs, and that it wasn't real."
Heidi immediately called on staff to take a look, but the surgeon assured her it would take time for the swelling to go down. She was advised to go home and then send photos to the clinic, to show how the surgery had healed.
"They promised to fix it if it still looked bad," says Heidi.
Distraught, she sent photos of her new bum to friends and family. "Their reactions said it all," she says. "They were horrified."
When she arrived back home, Heidi was in so much pain, she could barely sit down. "Because the surgeon had removed all the fat and tissue from my behind, my tailbone was sticking out. It was so excruciatingly painful, I couldn't even lie down in the bath. The bone was bursting through my skin."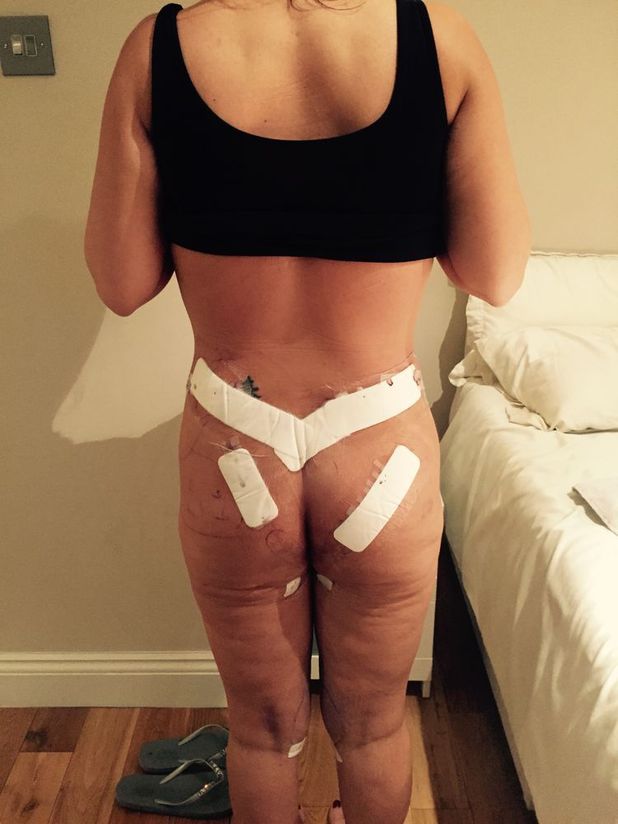 Taking a doughnut cushion with her everywhere, Heidi had to learn to sit on one bum cheek to prevent any pain.
"I've always loved horse riding," she says. "I even moved Albie and me out to a farm with a stable, so he could learn to ride and have his own horses. But, after the botched bum job, I had to give up the hope of ever riding again. It was just too painful."
Despite sending the clinic photos of her butchered behind, they rarely responded to her emails. They promised to call, but the call never came.
"I was at my wit's end," Heidi says.
"I contacted the British Embassy and wrote to the Government, but nothing worked. Solicitors told me it would cost £30,000 to take action and I might not win."
Desperate, Heidi returned to Prague four months later to see the head surgeon. "She told me there was nothing they could do. She said sorry, and sent me on my way."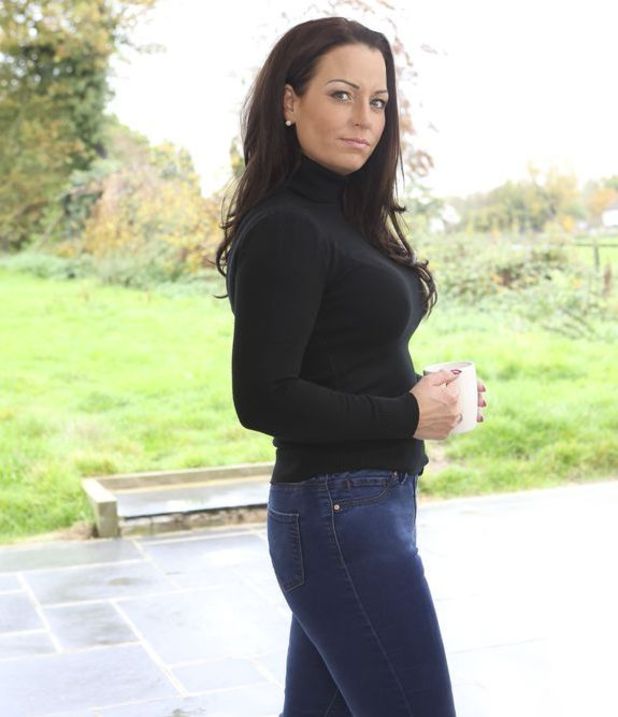 It wasn't until she heard about the Channel 4 series Botched Bodies that Heidi felt a glimmer of hope. "Showing my bum on TV was terrifying but I didn't have much choice," she says. "It was my last option."
In another two-hour operation last year, a top London surgeon sucked fat from Heidi's knees, thighs and hips and injected it back into her buttocks, once he had lifted the cheeks and erased her old scars.
"It's better, but still not 100 per cent right," she says. "People should think carefully about having surgery abroad. It may save you money but it could destroy your body.
"I still hide my flat bum under long shirts. It's knocked my confidence so much that I doubt if I'll ever be in a relationship again. I just couldn't get naked in front of someone.
"Now, I'm trying to build volume in my bum through exercise. I'm hitting the gym and squatting to get some muscle forming there. I've been left with only one hope – to get my body confidence back the natural way."
By Stacey Byles & Paisley Gilmour