A 41-year-old woman grew a third breast and had to go under the knife to get it removed.
Growing on her left breast and swelling to three times the size of her right one, it is known as an "accessory breast".
The condition, polymastia, affects up to six per cent of women. In some cases the third breast can appear as a small lump or mole. But in extreme circumstances, it can develop into a fully functioning extra boob.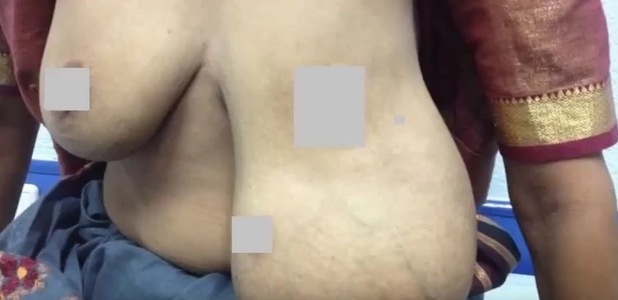 A British Medical Journal (BMJ) case report said the woman, from India, had been battling with the condition for a decade. It started to grow after she fell pregnant.
She was so worried about other people's reactions, she became a recluse. Suffering in silence, it wasn't until the agonising pain spread to her left shoulder that she sought medical advice.
Luckily, medics were able to perform cosmetic surgery to remove it.
The BMJ report was quoted in
The Daily Mirror
: "A mastectomy was performed to remove the accessory breast, and the patient was happy with cosmetic surgery.
"She fully recovered from the surgery, and started going out and meeting other people again."