Moved by the plight of refugees, Valentina Osborn set up an aid organisation from her home, and drove across Europe to help those so desperately in need
Every time she looked into her four-year-old son Hector's melting brown eyes, Valentina Osborn's joy was tinged with sadness.
Haunted by the pictures of the drowned Syrian migrant brothers, whose tiny bodies were washed up on a Turkish beach last month after the boat they were travelling on capsized, she felt so lucky that her child was safe and sound in their comfortable home in Tunbridge Wells, Kent.
Images of the tragic little boys, aged three and five, shocked the world and sickened Valentina. Unable to sleep, she knew she had to do something to help other suffering refugees escaping their homelands.
The 25-year-old started small – asking for donations of clothes and food, while planning to send them to the volunteer group CalAid, which helps refugees in Calais. But then it all snowballed.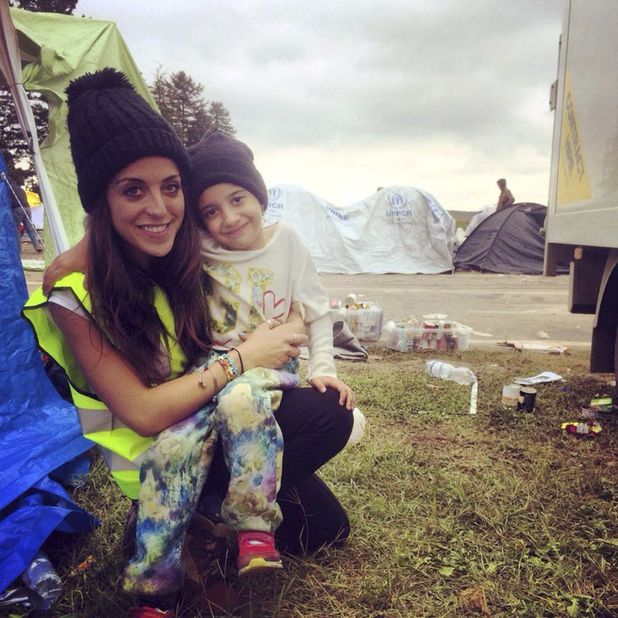 Valentina, who works for a software company, says, "I arranged a local collection, in a music venue opposite my flat, on 14 September, and sent invites out to 300 people via Facebook. It was shared 7,000 times! A staggering 2,000 people turned up.
"The event was booked for 12pm, but people began arriving at 8.30am. I'd just got out of the shower and could see crowds of people dropping off bags.
"The local council had to block off a road and waive parking restrictions, as there were so many cars. The space quickly filled up and, by lunchtime, bags were spilling out on to the street.
"Someone came to the rescue, donating warehouse storage, but we ran short of vans and drivers to ferry the donations there. It was a race against time to get the space cleared before the music venue opened that night.
"By the end of the day, we'd filled a space big enough to house nine double decker buses, and needed a second warehouse."
Foil blankets, warm coats, sleeping bags and pop-up tents were donated, alongside less practical items – stiletto shoes, tennis racquets, a ballgown, even a cake stand!
As a result of the overwhelming public response, within days Valentina launched her own aid organisation, RefugEase.
After trawling Facebook for the latest information on the refugee crisis, she decided the Syrian and Afghani refugees who were flooding into Hungary, Serbia and Croatia were in most urgent need. By the next week, she was heading to Europe in two vans filled with donations, accompanied by her schoolfriends, Simon Browne and Aaron Shaw, also 25. The drivers, plus petrol for the 2,200- mile round trip, were kindly donated by a local business.
"I saw a report that babies in Hungary were sleeping on concrete in temperatures as low as 6˚C," says Valentina. "Hungary was overwhelmed by the sheer number of refugees. Overnight, 2,000 would pop up in a town somewhere.
"Our first stop was Beremend, on the Hungarian/Croatian border. People were waiting for buses to take them to Austria. We arrived at 3am. Everywhere we looked, there were refugees. The Red Cross were really pleased to see us, as they were running low on supplies. We emptied one van, then moved on to the next camp."
Valentina had shipped the donations to an aid partner in Szeged, a town in southern Hungary, so when one van emptied, they topped it up from there.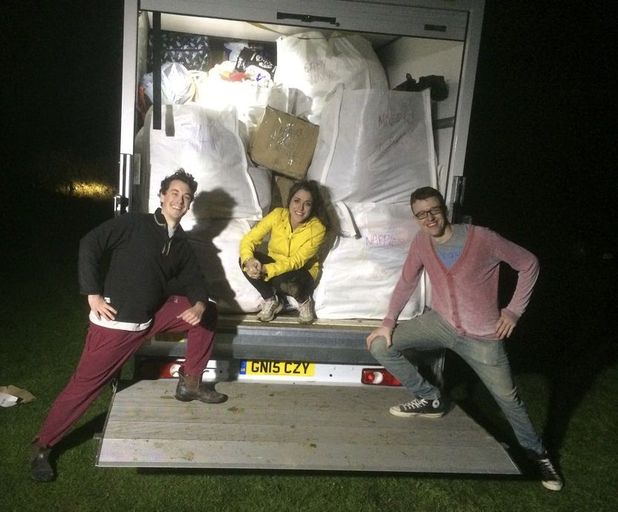 "We handed out food parcels to refugees waiting on trains," she says. "They hadn't eaten in two days. They were very calm and didn't want to appear desperate.
"There was no scrum. If they had a baby, they would hold it up, so we knew to give them baby milk. They knew the English words for food like bananas and oranges. It was upsetting, but we just focused on getting the job done."
For the next six days, they zigzagged across Hungary, Croatia and Serbia, including a stop at the notorious camp Opatovac, in Croatia. Home to around 4,000 refugees, access to it is controlled by the military.
Single mum Valentina, whose son was looked after by her mother while she was away, says, "Only the Red Cross were allowed in, but one of the guards looked at me and said, 'You have nice eyes,' before waving us through. It was surreal."
Nearby, Valentina met a little girl of about five, called Maria, who broke her heart.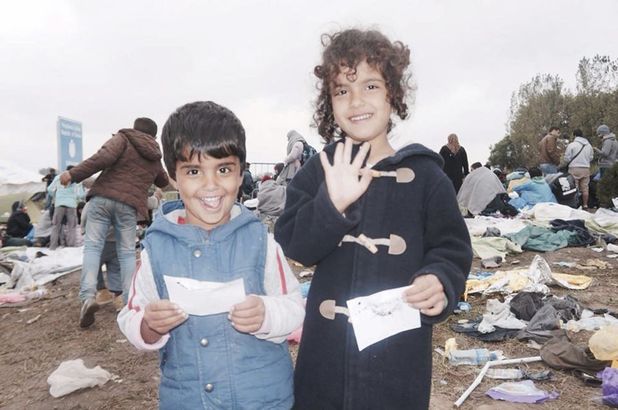 "When we opened the van, we saw how desperate people were. Little children were there who obviously hadn't eaten. Maria was one of the first to climb in and ask for food. She kept coming back to get more food for her family, and we couldn't say no.
"We gave her some sweets, but she came back, tapped me on the back and shared them with me. I had to excuse myself and go and cry in the toilet. After I'd composed myself, I came back and played with her."
Exhausted, the trio headed home after visiting five camps. "It was a relentless few days. I only slept for about 10 hours in total because I was getting constant updates on the crisis.
"It all changed so quickly. If you weren't on it, you could waste time and miss helping people, because they'd moved on."
Valentina is planning another drop to help refugees on the island of Lesbos, in Greece, next month.
She says, "The quiet dignity of some of the refugees was inspiring, and I will never forget little Maria saying to me, 'We need your help here. I love you so much.'"
By Sally Beck
To donate to RefugeEase, click here.
For exclusive competitions and amazing prizes visit Reveal's Facebook page NOW!