After eight million people viewed her video on YouTube, Whitney Thore became a reality TV star. As her hit show enters its second series, the dancing queen tells us why it's possible to be both fat and fabulous
"Fat ass and badass." That's how Whitney Way Thore describes herself. Many people would recoil at the word "fat", but the 27st dancer is reclaiming the word, and embracing it.
"I use fat in a positive way," says Whitney, 31. "We're afraid of it because it's indicative of the underlying feelings we have about fat people. We assume anyone who is fat is also lazy, stupid, ugly or unsuccessful. Sure, some fat people are ugly, but some skinny people are ugly, too."
Growing up in North Carolina, USA, she loved athletics and dancing, but traces her body image issues back to the age of 10.
"I was called a whale and a pig," she remembers. "When you're a woman, unless you're stick thin, the first thing people say to undermine you is that you're fat, because that's the worst thing you can possibly be."
By the time she was in her early teens, Whitney had developed bulimia, something she struggled with until university.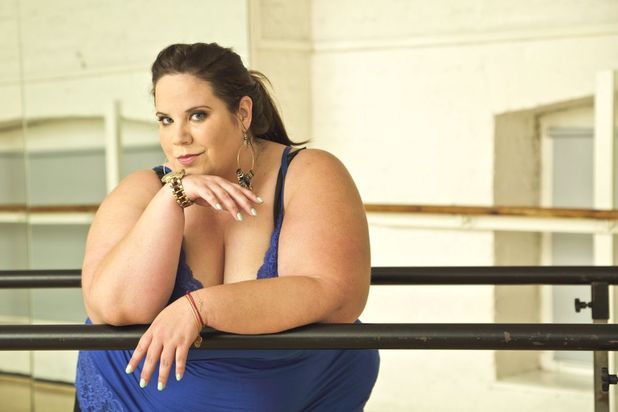 "I'd gained 3st 8lb in three months after starting university. Nobody questioned it, but people were treating me differently," she says. "Guys who dated me a few months before, when I was 9st 4lb, were looking right through me."
Within a year, Whitney had gained 7st 2lb, although her diet barely changed.
Eventually, in 2005, aged 22, she was diagnosed with polycystic ovary syndrome (PCOS). It meant her body was overrun with male hormones, leading to uncontrollable weight gain.
After college, Whitney took a job teaching English in Korea, and was faced with discrimination on a daily basis.
"I was literally the fattest person they'd ever seen," she remembers. "People pointed, laughed and asked how much I weighed. I was even assaulted and it took all that for me to say, 'Wait a minute, this isn't acceptable. I'm a human being and I don't deserve this.'"
Returning to the States, she vowed to change. In just eight months she lost 7st 2lb by working out every day and eating a measly 500 calories.
"I thought I was really healthy and happy," Whitney says. "But I was basing my entire worth on my weight. Then my lifestyle changed again and I gained the weight back."
It was the most she'd ever weighed, and, at 25st, she thought her life was over.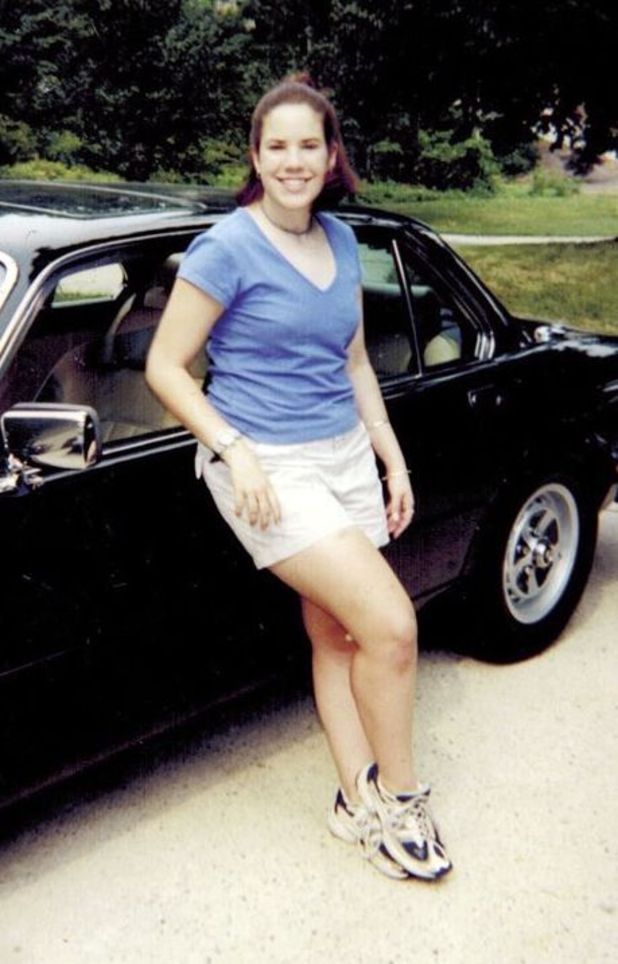 "One thing I'd never thought about was what made me happy, it was always about how I could fit into someone else's perception of beauty," she recalls. "Oddly enough, I had to be the fattest I'd ever been to become the happiest I've ever been.
"The biggest mistake is to think that you can't be happy until you're perfect, whatever that means. You'll never get there. Happiness is here, today, now."
With her newfound confidence, Whitney decided to get back into what she loved most – dancing.
"I'd been a dance teacher at 16," she says, "but stopped when I gained weight. When I came back to it after 10 years, it was clear to me why I loved it.
"Dance forced me to confront my body in a way I had been avoiding for a decade. It's a great way to be comfortable in your own skin and promote body confidence."
Whitney's passion for dance led her to upload a video of her grooving along to a Jason Derulo track on YouTube.
"I joked that maybe a few people in North Carolina might watch it," she says.
However, the video went viral. And as it did, she was hounded by lovers and haters. "People commented on the video telling me to kill myself. I just ignored the trolls and focused on the positive responses."
And those came in floods. So much so, fans started coming to her for advice.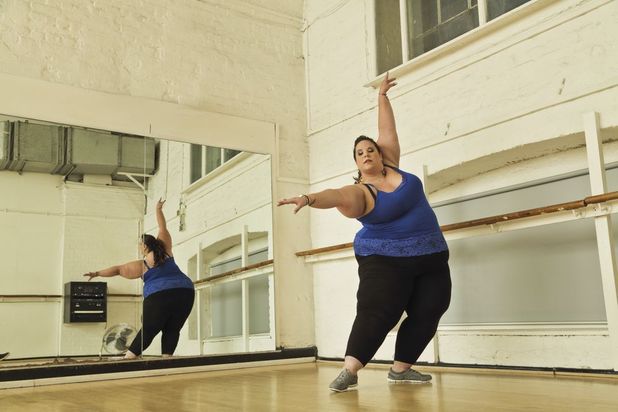 "I started my No Body Shame campaign after I put some boudoir photos online and received some really dumb messages," Whitney says. "I wanted to respond and so I created the blog. It's not just about fat shaming, everyone has issues."
Championing the mantra "Love yourself. Live fully. No excuses. No shame", it took off and she instantly became a positive role model for young women and men.
Now, with eight million views of her video, Whitney is also a reality TV star. Her show Whitney: Fat Girl Dancing, which follows her life after being diagnosed with PCOS, recently entered its second season.
"At the end of season one I was diagnosed pre-diabetic," she adds. "Until then I'd had no health problems so it was really hard.
"This season I'm trying to lose a bit of weight, to be healthier for logistical reasons. Don't get me wrong, I love how I look naked. But if I get any fatter I won't be able to tie my shoes."
As well as waving goodbye to carbs, she moves out of her parents' house and in with a friend.
"I've been riding a bike – and riding a man! I do fall in love in this series, with Lennie. I'm calling us beauty and the beard, or Whennie," Whitney says.
But with her happiness and success comes even more negativity from strangers. "I'm constantly criticised for promoting obesity, I don't even know what that means," she explains. "Does me being happy or in love encourage anyone else to be fat? Should I not smile, or go on dates?"
After a decade of battling with her body image, Whitney has become an optimistic, unstoppable force. "I'd like to get married and have kids," she says. "But I'm not sure what the future holds.
"I have this fantasy where I'm redoing the Sia video with Shia LaBeouf in the cage. I saw the video and was like, 'Shia, dance with me!' so there's always that."
Whitney: Fat Girl Dancing is on Tuesdays at 9pm on TLC