Almost 10 million people tune into BBC One's The Great British Bake Off each week, and these four men tell us about their passion for pastry…"I BAKE TO KEEP CONNECTED TO MY LATE MUM"
Stuart Green, 37, a business development manager, from Wolverhampton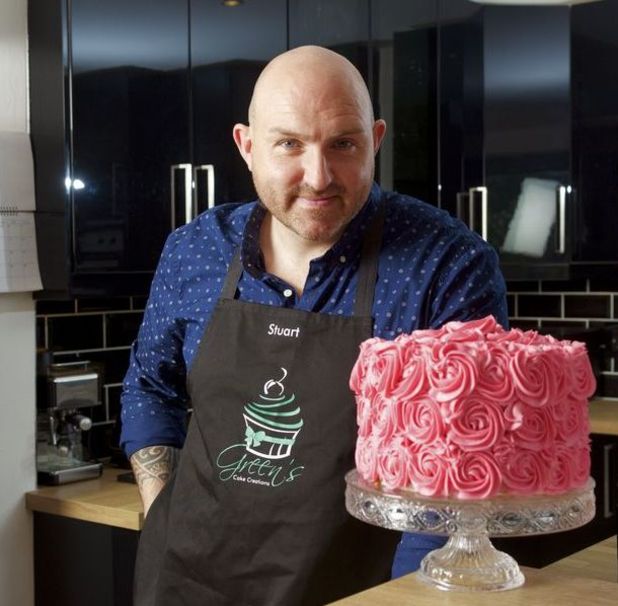 "As a kid, baking was thrust upon me. My mum was always handing me a bowl and asking me to mix, beat or stir, while all I wanted to do was go outside and play football. But the skills I'd learnt as a youngster never left me, and when I met my wife Michelle, 34, I picked it up again.
There's nothing I love more than getting creative in the kitchen. My day job is all about crunching numbers and negotiating deals, so it's nice to explore the other side of my personality.
I even took a night class in sugar craft and learned how to make beautiful edible flowers. I was the only bloke there and, after the women tried my brownies, I got three marriage proposals!
Michelle refuses to watch The Great British Bake Off with me. She says I spoil it for her because I'm always shouting at the TV, telling the contestants that they're doing it wrong. But I'm a big Paul Hollywood fan, so I record the show and watch it alone. Next year, I'll definitely be applying to go on.
My crowning glory was a four-tier wedding cake with ivory icing, ribbon and two-tone roses. Michelle photographs all my cakes and puts them on my Facebook page –
Green's Cake Creations
.
Baking is a generational thing and I'm passing the skills down to my 17-year-old daughter, Chloe-Ann.
Three years ago, I lost my mum to cancer, but I know she would have been proud. For me, baking has become a way of keeping connected with her."
"THERE'S NOTHING LIKE CAKE TO CHEER A FRIEND UP"
Mike Hawkes, 27, a content marketing manager from London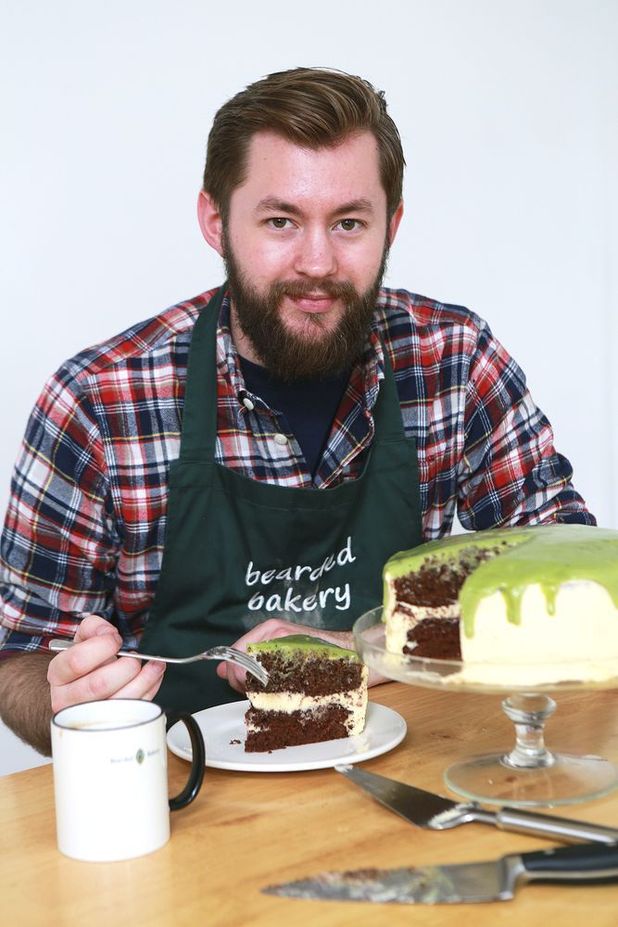 "I used to hate cooking, and my diet was pretty bad. I had to teach myself how to cook because I wanted to be healthier.
My girlfriend at the time was really into cakes, so I spent time looking up recipes. I would bake and she would decorate. I started off with cookies and biscuits five years ago, then I branched out into more complicated bakes.
My friends love that I'm always giving them cakes. I'd be a lot bigger if I didn't share them out! My signature bake is a cranberry and orange loaf – it was one of the first things I learned to bake and I give them to my family at Christmas.
A few years ago, my friend was feeling really down, so I baked her a cake and posted it to her, to cheer her up. Then, when another friend was going through a hard time, I did the same thing.
This has snowballed, and now I'm setting up a business called Cake Care Package. People will be able to order biscuits, cookies and brownies to post to their pals and perk them up.
I never watch TV, but I always catch Bake Off. Being a baker, I'm always thinking, 'Oh, could I do that?'
While I'll happily spend hours waiting for something to rise, I get itchy feet when it comes to decorating. But it's worth persevering, and I always post recipes and pictures of my achievements on my blog –
The Bearded Bakery
."
"I MADE MY OWN WEDDING CAKE"
Tom Shurrock, 29, a project manager from Oxford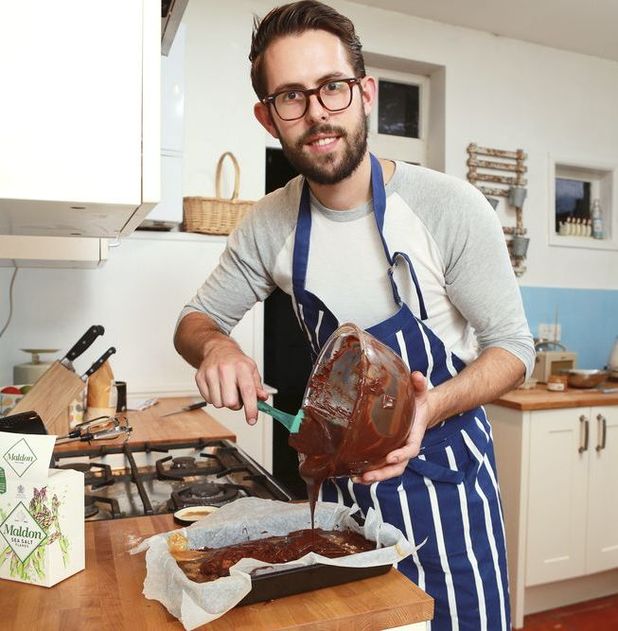 "Some of the earliest pictures my parents have are of me covered in flour, holding a rolling pin.
My mum is a fantastic cook and taught me everything I know. I got my passion for cooking from her and she still sends me recipes to try out every week.
Baking is very therapeutic and I love having Netflix on in the background so I can zone out – it's an almost Zen-like experience.
Six-layered rainbow cakes are my favourite thing to bake. I always make them for my wife Emma's birthday and for her friends. Whenever anyone's birthday is coming up, you'll find me in the kitchen.
Last month, when I got hitched, I decided to make my own wedding cake. After using 40 eggs, it was a four-tiered cake covered in hundreds and thousands and it took three ushers to move it!
Looking back, it was a little crazy to have that additional stress on my wedding day, but it went down well with the guests – and the wife!
There's nothing I love more than watching Bake Off, but I'd be too scared to go on. You'd need a degree in engineering as well as being a dab hand in the kitchen!"
"I LOVE MAKING CAKES - BUT NOT EATING THEM!"
Sam Westover, 25, an energy consultant from Essex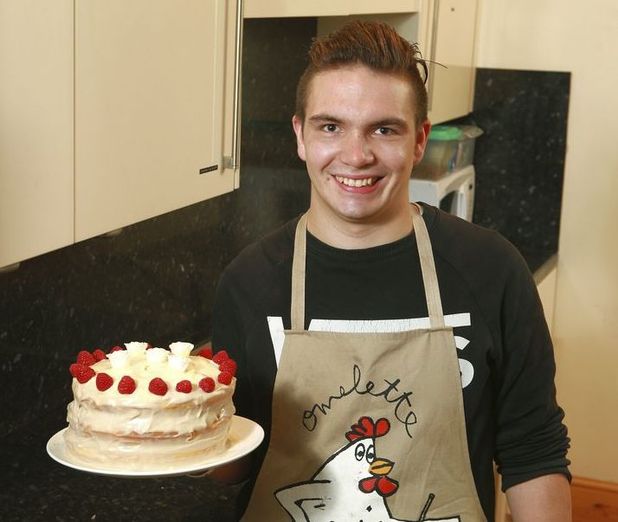 "Having a food tech teacher for a mum really sparked my love for baking. She was always encouraging me, and I owe all my basic kitchen knowledge to her.
Last year, I made a birthday cake for a friend and have been making them for pals ever since.
I try never to make the same cake twice, but I could whip up a Victoria sponge with my eyes closed. It's fun to experiment, and I've used yoghurt and oil instead of butter and milk – it comes out really moist.
Unfortunately, my girlfriend, Steph, is a savoury girl, so I mainly bake for my friends. But when her sister turned 30, I made a three-tiered chocolate sponge with ganache and chocolate lacing.
Since I started watching Bake Off three years ago, I haven't missed a single episode. My friends nag me to go on the show. I enjoy baking but I don't want to make it competitive. That would take the fun out!
James Martin is my favourite celebrity cook and I've tried a fair few of his recipes.
Perhaps the strangest thing is that I don't love eating cake. It's more about the act of making it, rather than eating it."
For exclusive competitions and amazing prizes visit Reveal's Facebook page NOW!