When Tambudzai Makinzi was told she had an aggressive cancer eating her face, she vowed to survive and watch her daughter grow up…
From an early age, Tambudzai Makinzi wanted to be a beauty queen. As a little girl, she was so pretty, she landed a modelling job while still in school.
And, in 2007, when she was 19, it was her gorgeous smile that first caught her husband Peddy's eye.
But, by 24, Tambu was diagnosed with a rare type of cancer – and it was devouring her face.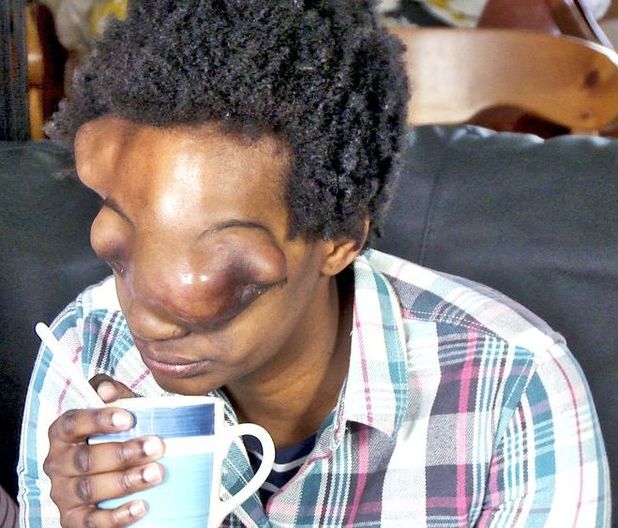 Despite doctors in her hometown of Cape Town, South Africa, making desperate attempts to shrink the chondrosarcoma, there was nothing more they could do.
Three years on, Tambu's face has been taken over by 2kg of growths. The central facial bones have been destroyed, as has her nose. She's lost
her sense of smell and is blind in her right eye. And, if the tumours aren't removed within three months, she will die.
The 27-year-old tells all about her emotional journey to undergo risky surgery in the UK in a Channel 5 documentary, The Woman With No Face.
Leaving her daughter, Pearl, and loving husband, Peddy, Tambu travels 6,000 miles to London in search of a lifeline.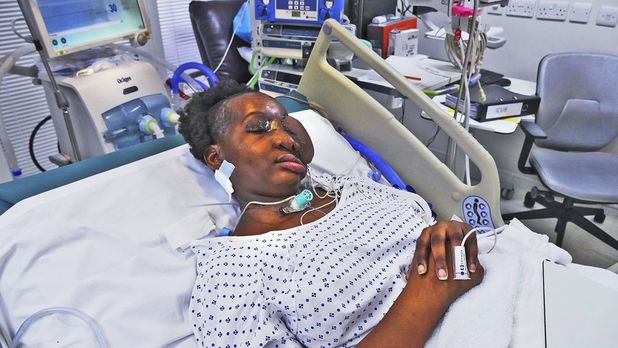 "I'm still young and I am not going to leave my daughter," she says. "I'm a determined person and I'm fighting through this. I have to be strong."
Professor Iain Hutchison at St Bartholomew's Hospital in London is her last hope. He runs the research charity Saving Faces, which works to prevent and treat facial diseases.
Tambu must undergo hours of surgery to peel back her face, cut out the growths and rebuild her entire bone structure.
If the surgery fails, she will die.
Meanwhile, in Cape Town, a distraught Peddy is holding it together for Pearl.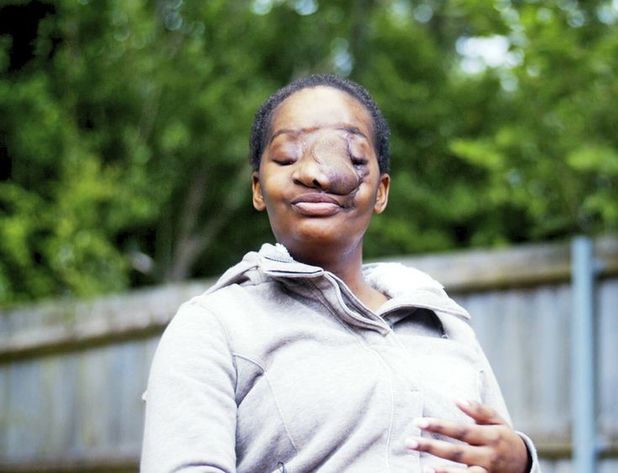 "To me, I still see the beauty in her," he says. "She's still the Tambu I saw the first time I met her. I'm lucky to be in her life, because she is beautiful inside and out."
As Peddy nervously awaits news, Tambu's doctor removes the tumours and reconstructs her face.
Using one of her ribs, he rebuilds her nose and upper jaw. And he cuts away a section of skin and muscle tissue from her back – this will act as a skin flap and will form the fleshy part of Tambu's new face.
One week after her first 26-hour surgery, it's bad news. The skin flap is dying and rotting on her face. She has been left unable to see, talk, breathe or eat.
Thankfully, Tambu's family in the UK are there to support her. "She's always been the strong one," her brother Milton says.
Her family sit anxiously as she is taken back into theatre for the second, and last, chance to save her life.
Miraculously, three weeks later, Tambu is discharged. But it will be another six months before she can be reunited with Peddy and Pearl.
"I can swallow, eat soft foods and speak to my family," she says. "It's a long process. I'm not 100 per cent, but I am getting there.
"If it wasn't for Pearl, I don't think I'd have fought it.
"Nothing has changed, I'm still the same old me. Peddy was there for me when this started and he's never left my side."
by Paisley Gilmour
The Woman With No Face aired on Channel 5, Monday 14 September, 10pm