After a tiny two-week-old tiger cub was sadly rejected by it's mother, a whole host of adoptive parents came to the rescue - humans and dogs!
The female tiger cub was rejected after being born at the Siberian Tiger Oasis in Senec, Slovakia to inexperienced mother Bublinka. The youngster was four-year-old Bublinka's first cub and, according to keepers, she was left panicked by the experience of labour.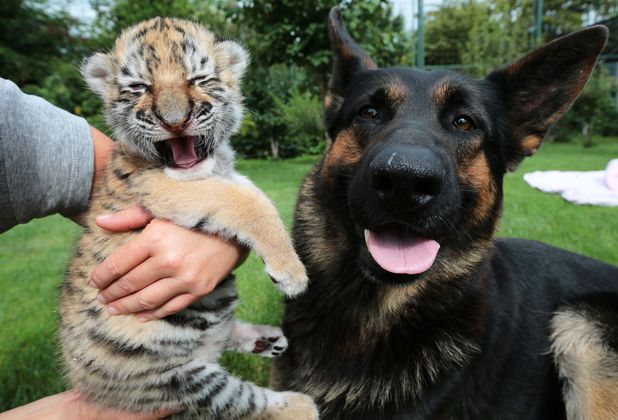 Keeper Ludmilla explained: "The poor thing did not know what was happening to her and her tummy hurt she was snuggling to the caregivers at first and then she gave birth."
Ludmilla added that it's not uncommon for tigers to reject their first cub but that a second pregnancy for Bublinka should have been a happier outcome.
It's a very happy ending though, as now the young cub is being cared for around the clock by a loving team including human mums Yveta and Miskla and furry four legged doggy carers Blackie, Jenny and Hugo.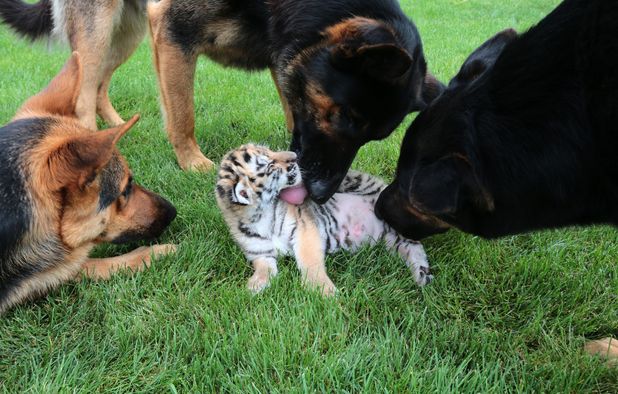 We think they make the most adorable group of siblings, don't you?!
The cute cub currently spends her time being fed from a bottle of milk, as well as playing and sleeping. Sounds like paradise to us!
Her doggy companions are always there to keep a protective eye on her and offer up a loving lick. Aww, the animal kingdom just never fails to amaze.
For exclusive competitions and amazing prizes visit Reveal's Facebook page NOW!