Tesco's decision to axe Ribena and Capri-Sun among others from its kids' drinks shelves is the hot topic of the day on Twitter, with many users reacting in outrage.
The supermarket giant has confirmed the popular added-sugar drinks will disappear from shelves by September in a bid to cut childhood obesity, and will be replaced by no-added-sugar alternatives or Tesco own label no-added-sugar drinks.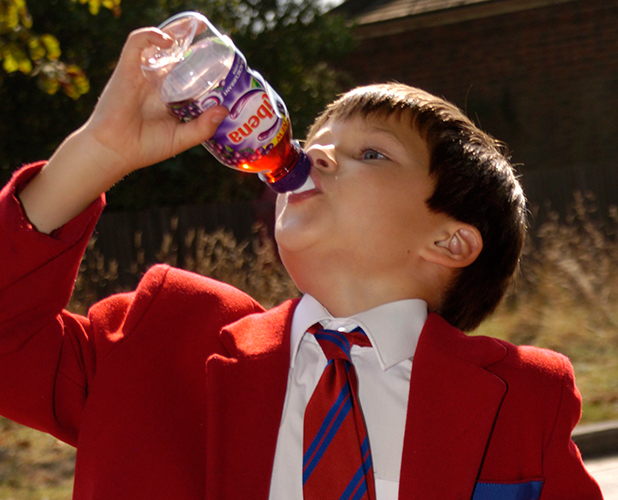 But with fizzy drinks, crisps, sweets and the rest still available on shelves, the decision has been met with confusion, anger and the inevitable internet humour. So here's seven ways social media users have reacted to the story:
1. Those who are taking action!
I'm quitting my job and am going to start selling Ribena outside my local Tesco. Start up donations gladly accepted

— Lily Bailey (@LilyBaileyUK) July 28, 2015
You can take our lives but you'll never take our Ribena! #Tesco #Ribena

— Adam Coleman (@adamxcoleman) July 28, 2015
2. Those who are predicting the future!
wait they're banning ribena? i can just imagine ribena dealers in the corners hahaha they be like "you got the stuff?" then pulls out ribena

— JCorregidor (@JCorregidor0) July 28, 2015
Psssst, Wanna buy some Ribena? Ive got all types, or what about some C? Thats Capri sun to you, but dont shout it loud.

— LorraineHershon (@LorraineHershon) July 28, 2015
Tesco banning #Ribena mean that people are going to start selling it on the black(currant) market.

— Nick (@n_jobz) July 28, 2015
3. Those worried about the effect on their health (not waistline)
woah woah woah - getting rid of Ribena? what am I supposed to have hot when I'm dying of Manflu now?

— Chris Owen (@wonky_donky) July 28, 2015
4. Those who are being defiant!
The #Ribena nonsense makes me want to buy a bottle. May pick up bumper bags of sweets, ice cream, cakes, biscuits & other snacks too.

— Janet (@Jan02040) July 28, 2015
5. Those who are just baffled by it all.
Where is the logic in stopping the sale of #Ribena if fizzy drinks, sweets, alcohol and cigarettes are still available?? #what

— faith (@faithbxx) July 28, 2015
It's always #Ribena and #caprisun fault for obese children, and never incompetent parents. #fat #sugar #parenting

— Kez Simpson (@Kezly) July 28, 2015
We live in a society where we trust teenagers to have responsible sex but we don't trust them with sugar drinks #Ribena

— Lukas Mikelionis (@LukasMikelionis) July 28, 2015
Wait why is @Tesco banning #Ribena? I love ribena and I'm an adult who can make my own choices. I hate all this #nannystate nonsense

— Amy Nicholson (@Freak_like_me85) July 28, 2015
6. Those who don't seem to mind too much.
Tescos banning #Ribena is a good start but until we have CCTV in all homes we will never know what people are really eating

— Yveette Copper (@YvetteCooper_MP) July 28, 2015
Really like the fact that @Tesco are removing #ribena from sale. I find other European countries have no sugar as standard.

— Ste (@Mr_StJennings) July 28, 2015
Interesting move from #Tesco, positive in terms of excessive sugar-drinks but a larger brand would send a stronger message. #Ribena

— Dan B (@danbullock) July 28, 2015
7. Those who are taking it one step further.
I would also like to campain to bring back the orange plastic sellophane wrappers on #Lucozade ..whilst we are talking #Ribena

— Hebba (@countrymousie) July 28, 2015
Tesco's soft drinks buying manager David Beardmore told The Grocer: "This is part of our 10-point plan against obesity and we have decided that from September we will only sell no-added-sugar drinks in the kids' juice category. Most of the suppliers are supportive of it and understand what we are doing."
But a rep for Lucozade Ribena Suntory said: "We believe it is important to offer choice for parents. We will have no-added-sugar flavours available in multi-pack cartons.' CCE and AG Barr declined to comment."
According to
Guardian
, adult-sized bottles of Ribena will still be available, as well as the no-added-sugar versions, and the cull on Ribena is only actually in the kids' drinks sections in small cartons and pouches. The sort of drinks designed for children's lunchboxes.
A Tesco rep said: "We want to help our customers make healthier choices and that's why we have pledged to continue to cut sugar from the food and drink on our shelves. From September all the children's juice drinks we sell will have no added sugar in them because we know it'll make a positive difference to children's health."
Try Reveal 's digital edition On iPhone & iPad. Subscribe now!