How cute are these giant otters?
We always thought baby otters were
tiny, fluffy little things like these ones at Chessington Zoo
, but over in LA they are celebrating the arrival of three giant otters.
Though, these guys are actually a couple of months old having been born on 28 March, 2015 at Los Angeles Zoo's Rainforest of the Americas Habitat.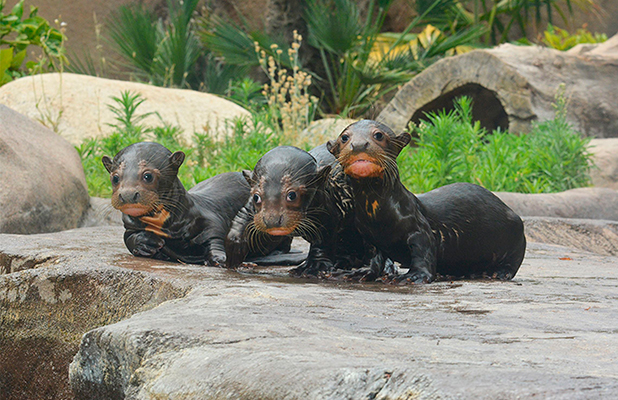 They're the first giant otter pups to be born at the Rainforest area and are now in an enclosure visible to the public. They're also the first non hand-reared baby otters born at the zoo.
Giant otters are an endangered species that originate from South America. They are the noisiest in the otter family and are a rare sight in US zoos.
Curator of Mammals at LA Zoo, Jennie Becker, said: "The giant otter family continues to flourish in a home that was designed with their best interests in mind to include a holding area that is temperature-controlled which comes in handy with new-borns, multiple nest boxes for resting and sleep which allows the family more options, and a landscape that is a nice mix of water and land which allows the family sufficient room to explore and play.
"The new habitat provides a more natural environment similar to what would be found in nature, and these details have had a noticeable impact on the animal's behaviours.
"We weren't really sure what to expect from the parents since the female was hand-reared by Animal Care staff, but we're happy to see that the family group is doing very well. The juveniles are very watchful over their new, younger siblings and are helping the parents teach the pups basic skills. This is how it would be done in the wild."
Try Reveal 's digital edition On iPhone & iPad. Subscribe now!