A nurturing dog has been helping care of a tiny baby takin at Cincinnati Zoo in Ohio, USA.
Blakely the Australian shepherd has been called the zoo's resident nursery dog and part-time nanny after taking three-wee-old takin Dale under his wing. Or paw, we should say.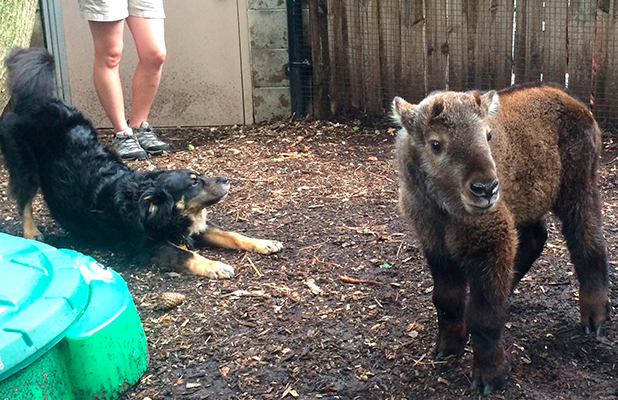 Adorable little Dale is being hand-reared by the zoo's staff after his birth mother rejected him.
Staff feed the fluffy takin every three hours between 6am and midnight, while Blakely gives him lots of cuddles, affection and attention.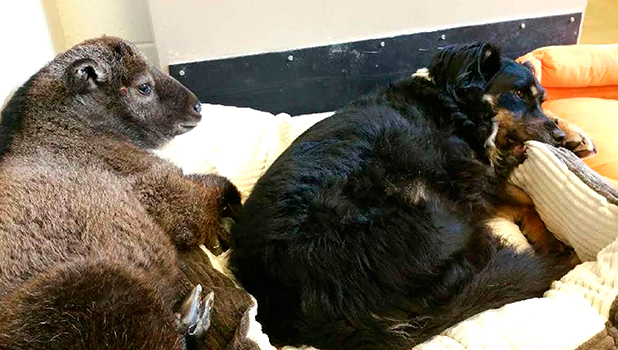 Blakeley's also helped nurse baby animals in the past, looking after cheetahs, foxes, wallabies and an aardvark among others.
Dale will need a few more weeks of care at the zoo nursery before he is allowed to live with the rest of the takins in their Wildlife Canyon paddock.
He's the seventh live takin birth at the zoo, which is one of only 17 places in the US that house the animals.
Takins are a species of goat-antelope found in the Himalayas although the largest actively breeding herd of Takins actually live in Ohio. They feed on grass, leaves, buds and shoots and usually live 12 to 15 years.
Try Reveal 's digital edition On iPhone & iPad. Subscribe now!