This beautiful cat Sassie is a life saver – literally.
When the nine-year-old cat's owner Ellen Kay collapsed in the middle of the night and was unable to get up or call for help, it was her faithful pet that managed to raise the alarm.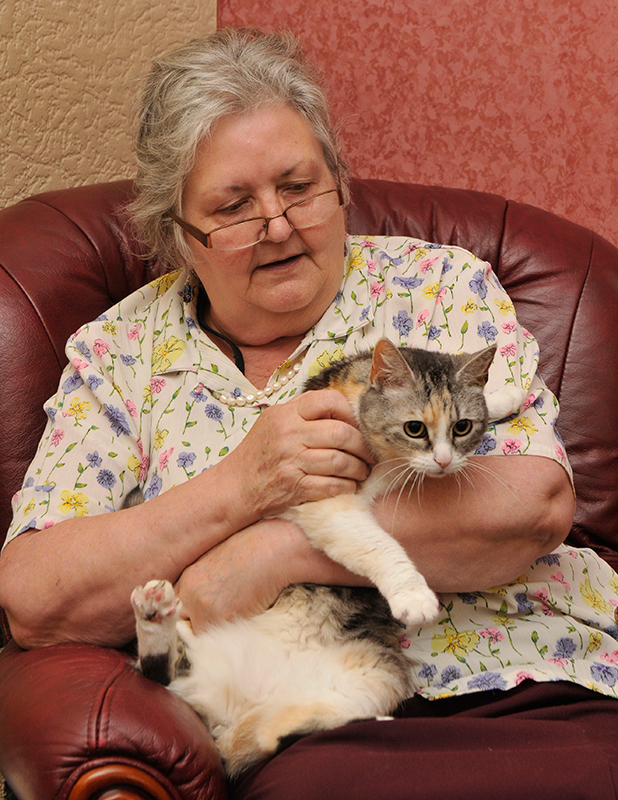 Ellen, 72, had got up in the middle of the night to make herself a hot drink but collapsed, sustaining spine and head injuries that left her unable to movie.
Her cat Sassie leapt into action, scratching on the windowpane at the front of Ellen's home in Kirkcaldy, Fife. Her movements attracted the attention of a passing newspaper boy, who found the scratching odd.
Nathan Dunsire decided to investigate. He peered through the window and saw poor Ellen lying helpless on the floor. He alerted the emergency services who broke into the home and took Ellen to hospital.
"I was delivering the morning paper and I walked up to the woman's house," he recalled. "I saw the cat looking distressed, it was clawing the window and the blinds were still shut and it was nearly time for school.
"I looked through the letterbox and saw her lying on the floor, I didn't have my phone on me so I went to speak to her neighbour to see if they had the key. They didn't so I ran home and told my mum, who called the police".
After spending a week under the care of doctors, the cat lover is now home and so grateful for both Sassie and Nathan's actions. She told Nathan: "I'm so glad to meet you. I'm pleased to bits. I can't thank you enough. Some might not have bothered".
Nathan's dad Brian added: "I'm very proud of him. You see too many stories of kids doing wrong. It's good we have one of them doing right."
Reveal is now on Google Plus! Join us here for the latest pictures, fashion and celebrity news!