Fed up with tidying up after her fiancé, Jennifer Hutchinson booked him on a crash course to transform him into the perfect husband-to-be
All couples argue over the housework, but when Jennifer Hutchinson was lumbered with cleaning up the kitchen one time too many, she reached breaking point. In a desperate attempt
to transform her man, Nick Hogarth, 30, into a domestic god, she enrolled him into the Groom Academy.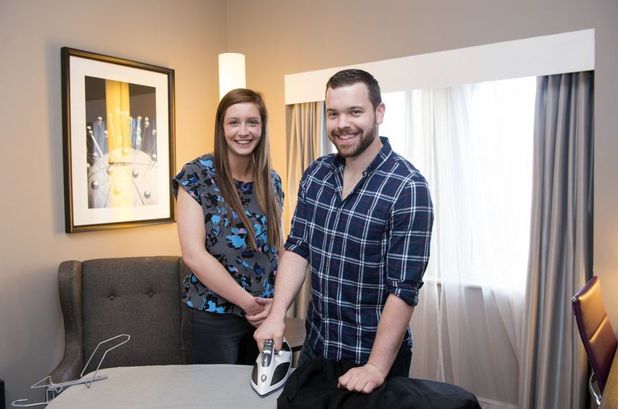 The one-day course promises to teach men basic housekeeping skills, to keep their other halves happy. And now, as Jennifer watches her fiancé expertly press his own work shirts, she can barely believe he's the same man who once expected her to sort out his pile of ironing.
"I was the stereotypical nagging fiancée," Jennifer, 28, explains. "We'd bicker over him leaving the toilet seat up, strewing towels on the floor, never making the bed, and the fact that there was always shaving foam all over the sink.
"We don't argue a lot but, when we did, it was always over housework. He'd get miffed with me moaning at him, but it was driving me mad!"
The couple met eight years ago, when Jennifer – who lives in Edinburgh and works as a structural engineer – got a student job as a waitress at the hotel Nick managed. They moved in together after a year, and Nick popped the question in January 2014 at their local ice rink, where they'd had their first date.
"Nick's always been quite messy but, as he's got more comfortable in our relationship, he's slowly got worse. It took me a long time to realise what was happening," says Jennifer. "I was sick of tidying up after him. He'd leave cups and bowls everywhere. It was like living with a child – I was more like his mother than his fiancée!"
Despite accepting his marriage proposal, Jennifer knew she needed to teach Nick some housekeeping skills before they officially tie the knot this August, at Rothesay Castle on the Isle of Bute.
Unluckily for Nick, it was him who first jokingly told Jennifer about the Academy: "Nick came home and was laughing about a new course that was starting at the hotel down the road, a husband-to-be academy to teach blokes household chores," she says.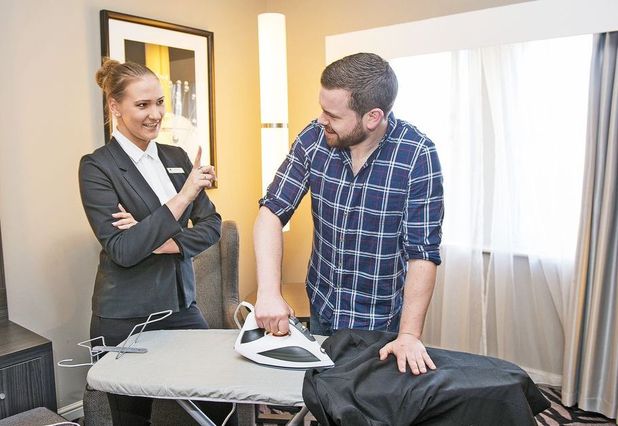 "It was as if a lightbulb had gone off in my head. He totally shot himself in the foot by telling me about it as, two days later, I'd booked him in."
The £199 course – which runs from 10am to 4pm – teaches men basic household skills, like how to clean, hoover, polish and iron, and there's even a cocktail-making class, so they can fix their long-suffering ladies a drink at the end of a long day.
"I knew Nick wouldn't get stroppy at me signing him up for Groom Academy, as he loves being the centre of attention," says Jennifer. "On the day, he made me laugh so much – he looked like he expected some kind of award for changing a pillowcase!
"But then he redeemed himself by making me an amazing pineapple-and-passionfruit cocktail and a French Martini. I could certainly get used to that.
"Now, when we make dinner together, we clean up together, too. Loads of my friends are interested in signing up their blokes, too, but we'll see if Nick's still pulling his weight in six months' time. I'm optimistic!"
"New man" Nick adds, "I'm glad Jennifer sent me on the course. Learning how to iron properly was the most useful skill, and now I know how to make the bed like a professional – something I'd always left to Jennifer.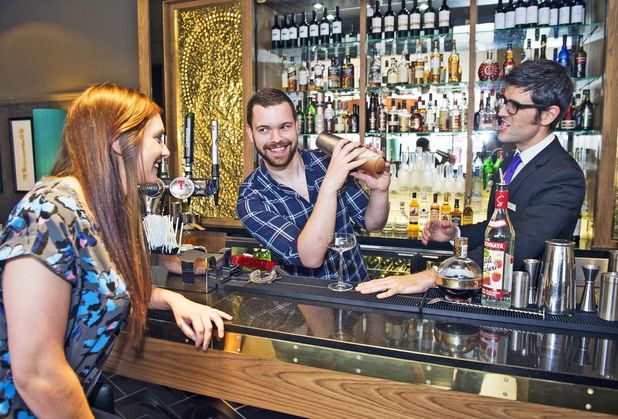 "The downside is that, now I've been on the course, I really have no excuse not to get more involved around the house. Unless I get a bad dose of man flu!"
And Jennifer is the first to admit that she's enjoying her newly trained man.
"Nick always used to be on his PlayStation. He could sit and play it for five hours at a time. At the weekend, he'd zone out and not know what time of day it was – he'd forget to eat sometimes! But, now that he helps out more, I even have time to lie in the bath reading a magazine.
"Splitting the housework 50/50 would be a dream world, but he's getting better."
There are even some domestic tasks that Nick can do better than Jennifer now. "He had a conversation with a chambermaid on the course about the best way to hang clothes when they're drying, so now he hates the way I hang everything up."
The couple's friends and family loved the idea of Nick attending Groom Academy, but many were shocked that he'd got away with his bad habits for so long. Jennifer says, "Hopefully, now we won't be spending our married life bickering over him not doing the washing-up.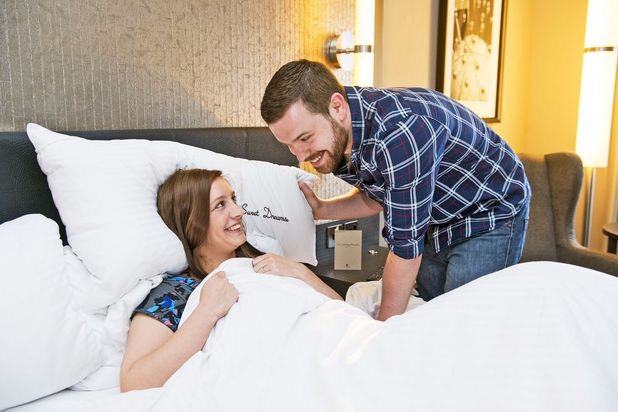 "It's nice that I'm no longer the only person in our household who knows how to work the hoover, or tuck the bed sheets in. I love coming home and not having a list of household chores to do.
"Not many people can say they've sent their future husband to groom school, but I'd recommend it to anyone. I'm definitely dating a gentleman now."
by Charlotte Nisbet and Deborah FraserFor exclusive competitions and amazing prizes visit Reveal's Facebook page NOW!