A new TV series follows expectant mums in the US as they make the radical decision to give birth far from hospital in the arms of Mother Nature herself...ON A CAMPING TRIP IN ARIZONA
With eight labours already under her belt, Amy Hammond, 35, is an old hand at childbirth. But she wants a completely different experience for her ninth arrival, and somehow she persuades her husband Jeff, 37, and their growing brood, that it will be fun to combine a camping trip with the birth.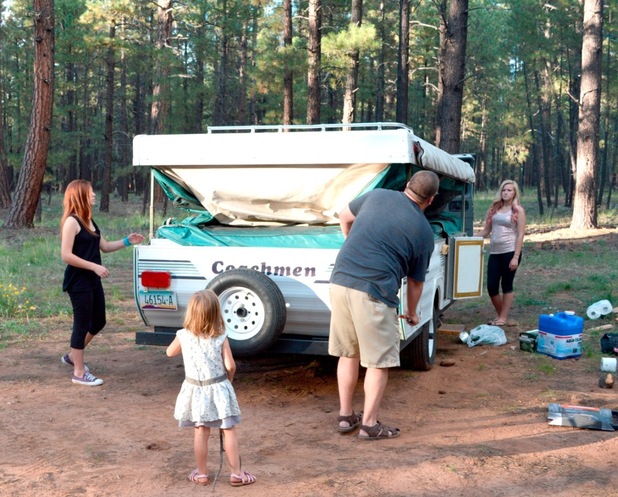 Amy's plan was originally to deliver her son in the desert 10 minutes from her home in Arizona. But as her due date approaches, the mercury rises, and instead the couple relocate to a remote forest two-and-a-half hours away where the weather is considerably cooler.
Midwife Mary, who has previously delivered five of the couple's children, reluctantly agrees to join them. As the labour progresses into the night, the Hammond kids must huddle together for warmth around a campfire.
Ironically, having escaped from the heat, midwife Mary becomes increasingly concerned that the baby will end up with hypothermia because it is so cold in the delivery tent.
Fortunately, baby Levi manages to keep warm under the pile of blankets and duvets that Jeff brought with them. And as the children crowd around to meet their brother for the first time, with almost magical timing, a wild elk starts calling out through the darkness.
It is a spellbinding moment and, although unsure about the alfresco birth at first, Jeff, like Amy, is now desperate to repeat the experience.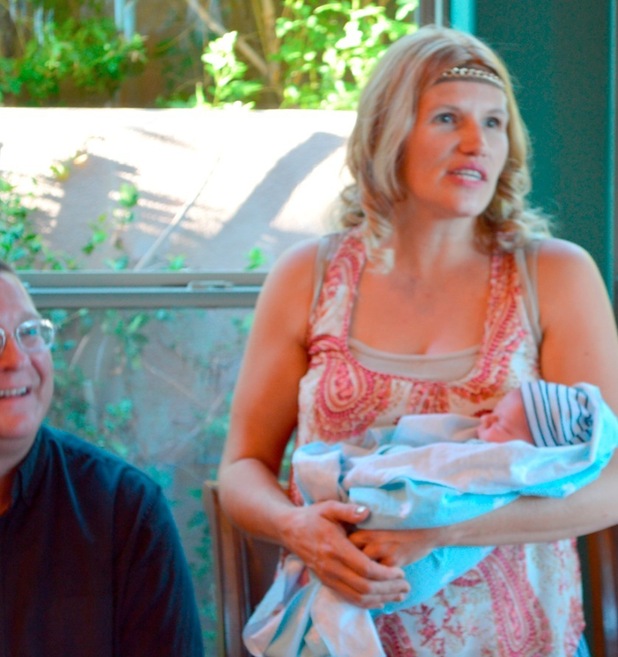 "Just being under the stars with the trees rustling and the elk calling was so wonderful," he says. "Amy is already talking about giving birth on a beach next time – and I'm already there. I can already hear the ocean waves lapping against the shore."
A TENT IN ALASKA - 150 MILES FROM A HOSPITAL
Audrey Bird, 24, passionately believes that modern medicine forces women to fear birth instead of embracing the experience. After a traumatic hospital delivery with her first child, the trained midwife, who lives in an uninhabited corner of Alaska, was determined to make her third birth as natural as possible – by bringing her child into the world in a tent overlooking a lake.
The mum-of-three was so sure she could cope on her own that she opted to have her daughter, Piper, 150 miles from the nearest hospital, with just husband Peter, 28, and her mum for support.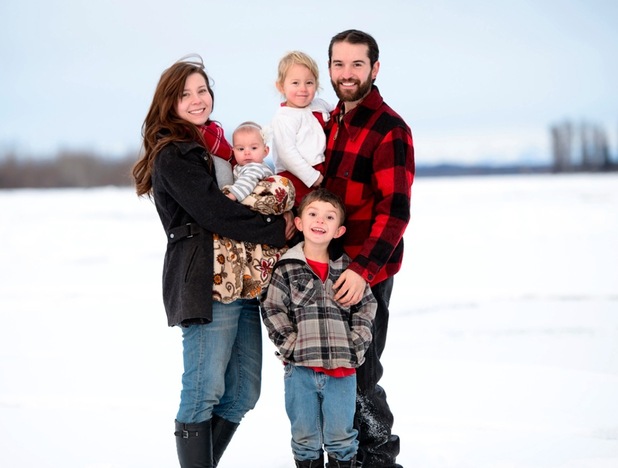 "Everyone thinks it's so dangerous to give birth outside because there's the elements and they assume it will be unhygienic,' says Audrey. 'But it is beautiful being surrounded by the lake and the mountains, and birth is such a natural thing."
But, as Audrey's contractions quicken, a storm sets in and fearless birth partner Peter has to contend with wild bears, a swarm of mosquitoes and a leaking tent. Then there's panic as Audrey realises her unborn daughter is facing the wrong way and is stuck in the birth canal. Normally a child in a posterior position needs to be delivered with forceps or a C-section, but as time ticks on and the baby stops moving, Audrey has no choice but to force her daughter out.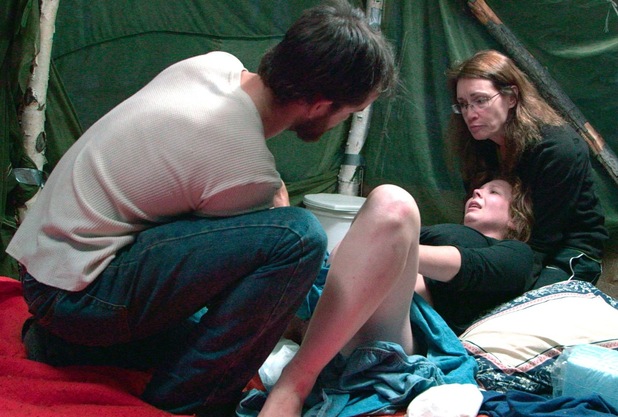 Yet the couple has no regrets. "It was quite a ride but I wouldn't change it for the world," says Peter. "There will always be the most incredibly beautiful bond between me and the baby I delivered myself in the wild."
A REMOTE FARM SURROUNDED BY WILD PIGS
Perfectionist Phallin Black has planned her fifth birth like most women plan a wedding. She wants an authentic outside experience, complete with handcrafted pergola, birthing pool and the breeze blowing around her.
Only her midwife Joann and her doula, best friend Brittany, are less enthusiastic when Phallin opts to give birth in the middle of a blueberry farm in Georgia.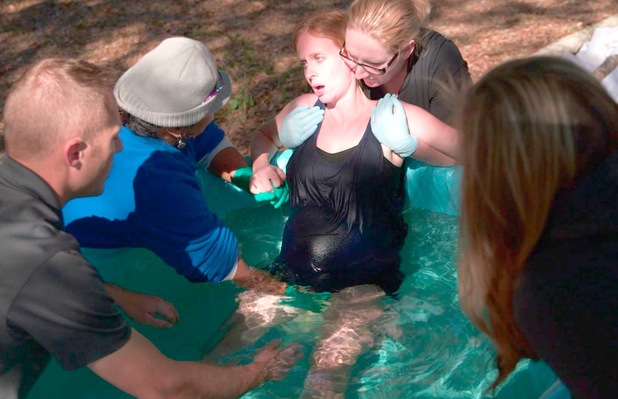 "I think she's crazy," says Brittany, who is also expecting her fifth child. "I simply wouldn't contemplate giving birth like that."
Undeterred, Phallin and husband Levi, both 28, venture into the remote woodland with their four other children for the birth, only to discover the beauty spot is also the home to ferocious wild pigs. Thankfully Levi's mum rescues the kids from danger, but when Phallin goes into labour, wild animals are the least of Levi's concerns.
First the pergola collapses, then Joann discovers that the water in the birthing pool is dangerously hot. Phallin is forced to cross her legs as it cools. But she isn't in the pool long before Joann discovers the cord is wrapped twice around the baby's neck.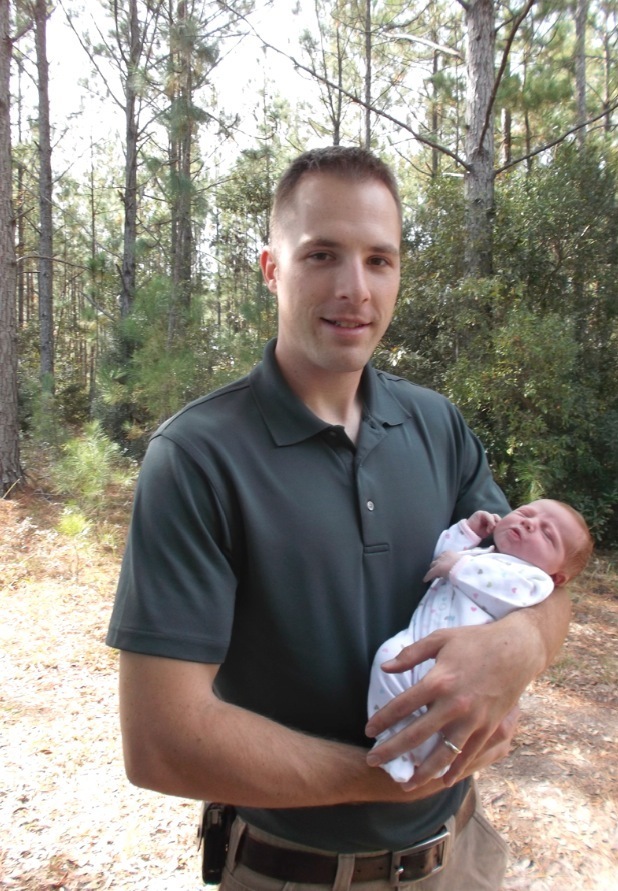 Luckily Levi and Phallin's daughter Liadan is delivered safely, and despite all the stress, Phallin looks back fondly. "I am so glad we decided to have our baby at the blueberry farm, as we plan to take the family back there to go camping, and it will be so beautiful to tell her that this perfect spot was where she was born," she says.
by Lucy Benyon
Born In The Wild continues Sundays at 9pm on Lifestyle
For exclusive competitions and amazing prizes visit Reveal's Facebook page NOW!