Meet Hooch the super-slimming pooch who once weighed a paw-some 21 stone.
The 11-year-old Rottweiler has shed an impressive 8st after his current owner Leslie McCormack rescued him four years ago.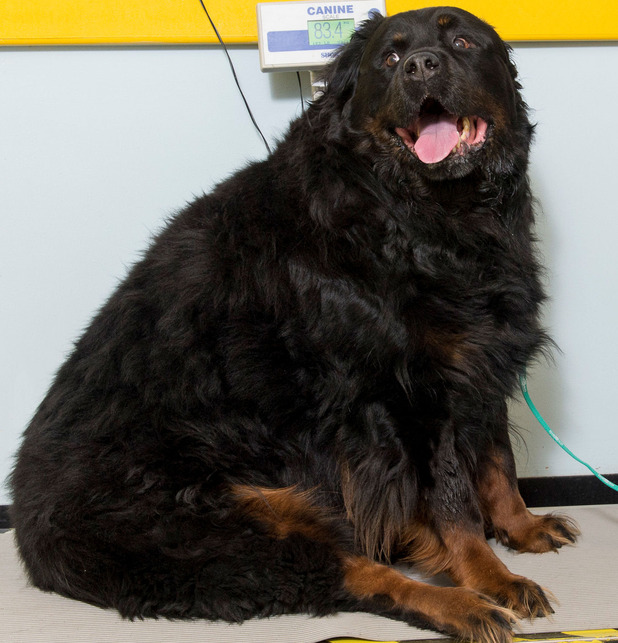 Hooch now weighs 13st, since his diet was cut down from five tins of food a day to two with several walks.
Leslie, 58, from Hull, said: "Hooch was mistreated before so he's a bit wary of strangers. He's already lost so much weight but I want him to be healthy and happy and to live as long as he can."
Hooch is just one of the many pets battling for the title of UK's biggest pet loser.
Vet charity PDSA have revealed some of the country's most obese animals as they weighed-in for its annual slimming competition, Pet Fit Club.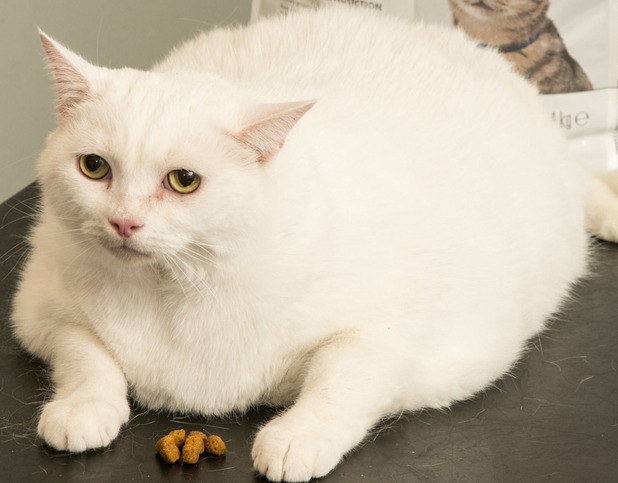 Other slimming hopefuls include greedy Guy the cat, from Leicester, who is one of the fattest moggies every to take part in the challenge.
Guy, aged eight, is a housecat and has a habit of eating his fellow moggies' dinners.
His dislike of exercise and love of food has caused him to balloon to 10lbs meaning he is 116 per cent overweight.
Cocker Spaniel Harley is also carrying a large amount of excess flab, so much so that he's been mistaken for a PANDA by Chinese tourists in Edinburgh.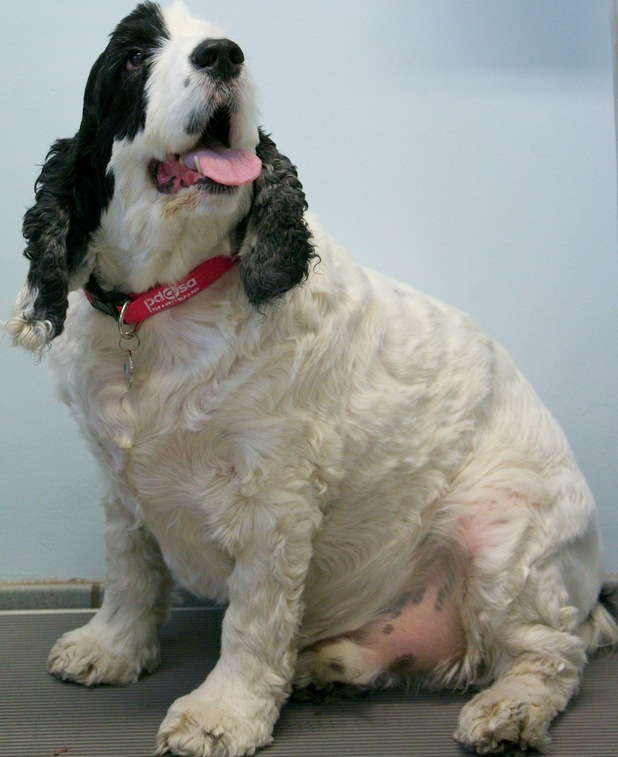 Owner Lisa Mitchell said she has been stopped by confused sightseers in Prince's Street who often ask to take photos of her six-year-old podgy pooch due to the uncanny resemblance.
Harley weighs 4st 4lbs and is nearly 60% overweight.
PDSA Pet Fit Club was launched in 2005 and has already helped 63 dogs, 26 cats and six rabbits lose a total of 60st 6lb.
by Tammy HughesFor exclusive competitions and amazing prizes visit Reveal's Facebook page NOW!