A woman with a deep-rooted fear of dentists fixed her crumbling teeth together with superglue.
Mum-of-one Angie Barlow, 48, from Greater Manchester put herself through a decade of DIY dentistry.
And her mouth became such a mess that she was too ashamed to leave the house.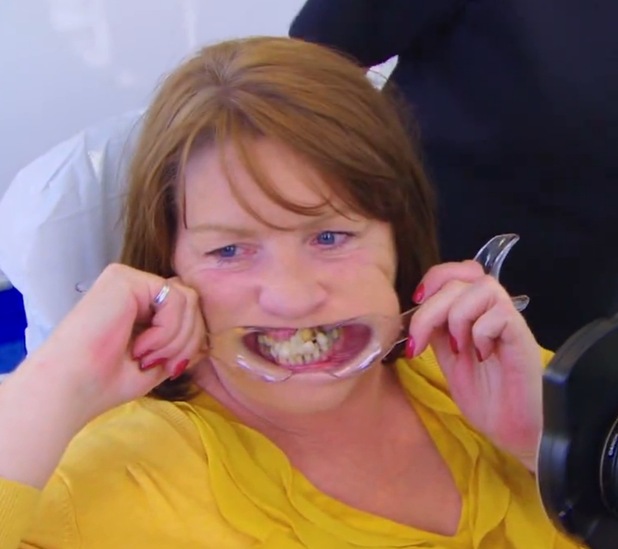 When her teeth fell out, professional dog-walker Angie simply glued them back in.
She finally plucked up the courage to have professional treatment after 10 years of living like a recluse.
Unfortunately, toxins from the glue had rotted the bones in her mouth, and she had to have most of her teeth removed.
But thanks to dental implants, Angie now has the confidence to smile again.
She told the Manchester Evening News that her intense phobia began when a dentist discovered her mum had cancer.
"I've always been scared of the dentist because my mum died at 34 from throat cancer," she says. "She had a tooth out, and that's how they found she had cancer."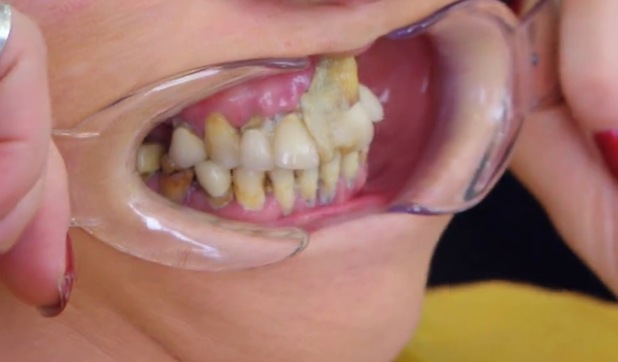 Angie's tooth loss was linked to smoking, and she admits that when one came out she would simply stick it back in to try and cover the gap.
But she became so self-conscious that she couldn't even talk to her son without covering her mouth.
Before her life-changing operation, everyday outings were an ordeal for Angie.
"Even going in the shop, I feel embarrassed, they'd be like, nudge, nudge, look at her, you know."
Angie's story will feature in The Truth About Your Teeth on BBC One on Thursday at 9pm.
By Lucy BeynonFor exclusive competitions and amazing prizes visit Reveal's Facebook page NOW!