It's bad enough having to go under the knife but having two operations?! That seems really unfair!
So we feel really sorry for Vicky, a 30-year-old Bornean orangutan, who became the first of her kind to undergo double surgery in the UK.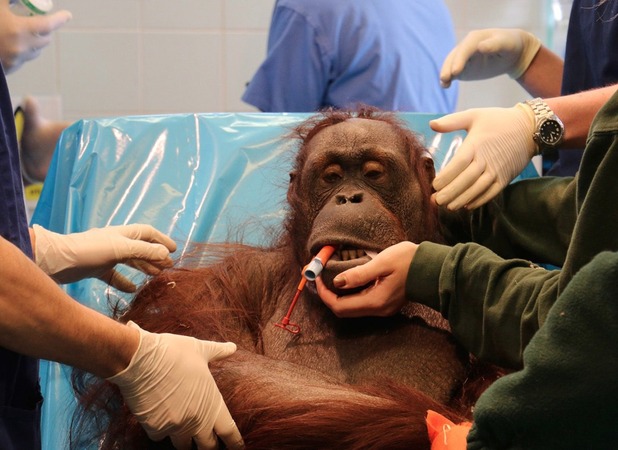 The Great Ape lives in Blackpool Zoo but has been suffering from severe congestion.
She's already had two different operations to help her breath easier back in April 2014 but this time she had both done again, at the same time - one on her sinus's and the other on her air sac.
Thankfully, the procedures were both successful and less than 24 hours after the operation, she was back with her daughters, Summer and Cherie. We hope they're taking care of her!
Mr Tahery, the consultant ENT surgeon who carried out Vicky's first functional endoscopic sinus surgery in 2014, said: "As an ear, nose and throat surgeon I have carried out this procedure many times, but it is very rare to get the opportunity to operate on an animal.
"The anatomy of an orangutan and a human are similar but the orangutan doesn't have frontal and ethmoid sinuses and their bones are much harder."
We can't imagine she's feeling too great about her claim to fame just yet!
For exclusive competitions and amazing prizes visit Reveal's Facebook page NOW!
CBB's Cami Li talks ex-fiancé Kirk Norcross, TV plans in the UK
David Beckham, Victoria Beckham moving back to the UK?
Hit US show 'Here Comes Honey Boo Boo' is about to air in the UK!