Hazel Roberts, 24, and her 50-year-old father Dave have become even closer – and much fitter – after discovering an unusual new hobby together
While many dads and daughters bond over family meals, the odd father-funded shopping spree or a love of similar films, Hazel Roberts and her father Dave have found a more unusual way of spending time together. The 24-year-old personal administrator and her 50-year-old dad are the UK's only dad-and-daughter pole dancing pair.
Not only do the duo dance on single poles, they also take part in doubles competitions, where they perform some moves together on one pole, then split off on to separate ones to do the same synchronised moves.
"I've always been a daddy's girl but this has definitely brought us closer together," Hazel explains. "Lots of people think it's unusual or weird, but it's not at all. It's just good fun."
Initially, neither of them had any idea that the other one was taking part in the unconventional exercise classes. Hazel was studying in Ireland in February 2013, where pole lessons were all the rage.
"My friends and I all wanted to go to a class together but we were never free at the same time," she remembers. "So eventually, I thought, 'Bugger it, I'll go by myself.' When I saw the instructor demonstrate some of the moves, I thought I'd never be able to do them, but even by the end of the lesson I was impressing myself. I was dying to go back."
Meanwhile, back at home in Swindon, warehouse manager Dave and his then-girlfriend had seen Bendy Kate, a renowned pole-dancing and acrobatic act, on the Sky 1 show Got To Dance in May 2012. Deciding she wanted to give it a go, his now-ex persuaded Dave to go along with her. Always up for a laugh, he agreed.
"I weighed 15st, and I think everyone was shocked when I walked in," he says. "They had no idea why a middle-aged man was even interested. At first it was just to support my ex-girlfriend but, the more classes I went to, I realised just how strong you have to be to do the different moves.
"I wasn't in shape at all and the first lessons were really hard. But I really enjoyed it and my fat soon turned to muscle. The women teaching me were really supportive – and the better I got, the more they pushed me."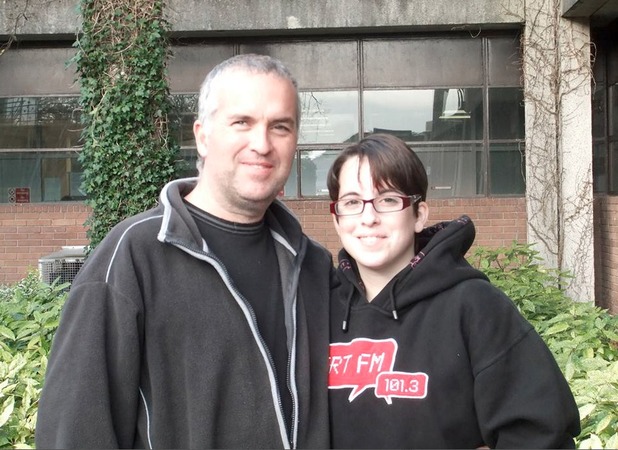 The father and daughter didn't find out about the other's pole dancing pastime until Hazel sent her dad a picture of herself doing a spin, saying: 'Guess what I've been doing today?' Dave then replied with a picture of himself in the same position and said,
"Funnily enough, I did the same thing two weeks ago!" Hazel remembers. "I couldn't believe it when Dad sent the picture! But I was really impressed. And when I moved back home in May 2013, I immediately noticed a difference in him. Dad was really toned and had lost 3st. I'd been worried about his weight before, so I knew it could only be a good thing.
'When Dad was going to his next lesson, I went along too. It was kind of weird and kind of wonderful to watch, but he was great. And I got to show him some of my moves too. It is definitely not a normal father-daughter activity, but seeing Dad work that pole with confidence – and the change in his physique – made me so proud."
Hazel and Dave then started going to classes together regularly, so when they progressed to pair-work, it seemed natural that they should work together.
"I trusted Dad wouldn't drop me and, with his strength and my flexibility, we thought we'd make a good pairing. We'd also be able to inspire each other to go to lessons and keep losing weight."
They started practising and, to the shock and astonishment of family and friends, they became skilled enough to compete in the UK Amateur Pole Performing Championships in October 2013. They made it to the finals, making them the first father-and-daughter team to get that far.
"We were so proud,' says Hazel, who has also lost 1st 7lbs since she started. "And the best thing was celebrating with Dad. It's made us a real team."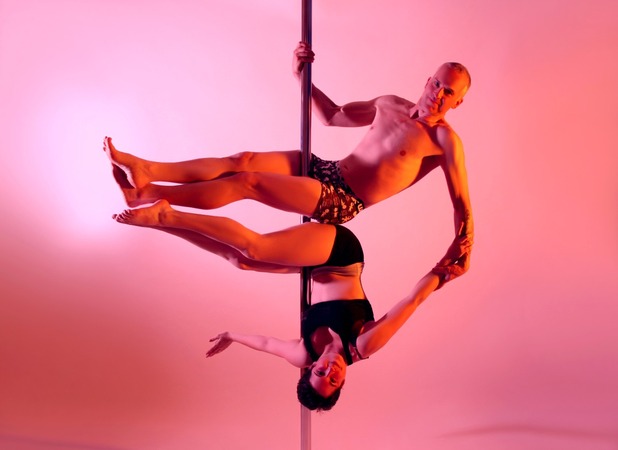 And not only has poling brought the pair closer, it has also improved their family life, as Hazel's mum, who is divorced from Dave, goes to watch the two perform.
"Oddly, it's brought us all back together and it's lovely to have Mum support us both," says Hazel.
However, the sexual stereotypes of pole dancing mean that the father-and-daughter team have had some mixed reviews.
"Whenever I tell people, they always raise their eyebrows or say, 'What? With your dad?' They seem to think it's pervy or weird. They can't seem to get past the idea that pole dancing is something that happens in strip clubs.
"But that's a really outdated view, and they don't understand what doubles pole dancing involves. We just ignore them."
And, far from being embarrassed by his passion for the pole, Dave is proud of what he's achieved, saying that it has transformed his life.
"I now have the body of a much younger man, I've shed my flab and I get to spend quality time with my daughter," he says.
"I don't care what people think. I'm fit at 50, I've discovered muscles I never knew I had and I'm having fun. More dads should take it up!"
By Alley EinsteinFor exclusive competitions and amazing prizes visit Reveal's Facebook page NOW!