According to a recent survey, the average British couple makes love three times a month. But how often do our three couples actually do the deed?THREE TIMES A MONTH
Holly Davison, 31, and James Burbridge, 36, from Tipton, West Midlands
"When James and I got together, we couldn't get enough of each other. Our honeymoon period lasted five years and we had sex nearly every day.
Long after most couples we knew started to flag, we were still going strong. Then we had a baby. Isaac, now two, was a terrible sleeper and for the first eight months, he slept in our room.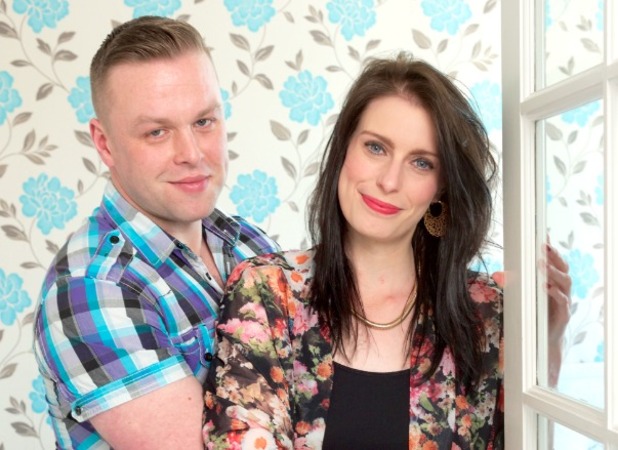 So, instead of our bedroom being fun, it became a place where we were stressed and exhausted. For the first time in our relationship, I didn't feel like sex.
My body had also changed shape. I'd always been a size 10 but I struggled to lose the three stone I'd gained during the pregnancy. It made me feel paranoid and shy.
We'd always been great communicators but the lack of sex came between us and we avoided talking about it. The only time it came up was when we were arguing and that wasn't exactly an aphrodisiac.
We tried sexy underwear and then agreed we'd do it every Wednesday but that took the spontaneity out of it.
When Isaac was nine months old, I went back to work at a call centre and life was even more frantic.
At first I felt guilty, but I don't now. I'm done feeling pressure to perform.
Today, Isaac is sleeping better and I feel more body-confident. James and I have sex as and when we have the time and energy, around three times a month.
I was amazed to find out that was the national average. I always thought everyone was doing it more than us.
Though we're having less sex now, we're having more fun in the bedroom than we have done in ages."
TEN TIMES A WEEK
Kelly Heslop, 34, and David Pattinson, 35, from Carlisle
"It's not unusual for me to be lying on the sofa in my sexiest underwear at 5.45am waiting for David to arrive home from night shift. I often set my alarm to make sure I'm ready for a quickie before I get the kids up.
From the minute we met through friends in 2010, we've had wild, passionate sex.
And even when David moved back to Australia, we spent three months getting up to no good on Skype and falling in love while we were at it. That was when David moved back to the UK permanently.
My daughter Ella, eight, lives with us. And in 2011, we had a son, Caleb. But I don't see children as a passion killer.
We usually have sex before the school run and again at night. Most weeks, we do it around 10 times.
For us, sex is key to a successful and happy relationship. If we make love lots, we get on great, but if it drops, we start to bicker and fall apart.
Friends tell me they don't have time between work, the kids, the gym and social commitments. But a quickie is always worth making time for.
I'm always tired – I have two children and a job. But sex shouldn't be a chore you dread. It gives you energy and makes you feel confident. Just like going to the gym. You might feel too tired to go but you always feel better afterwards.
Humans are designed to enjoy sex, rather than just doing it to procreate. Turn off the telly and turn on your man."
ONCE A MONTH
Emma Pearce, 31, and Allan Blake, 26, from Cornwall
"Our early days, in 2011, were so mischievous. Some days we didn't even get out of bed. It was the best sex of my life.
Before I met Allan, I was 7st and, at 5ft, I felt great in – and out – of my size 6 clothes. At 11st, Allan was a beanpole himself and, confident in ourselves, sex came naturally.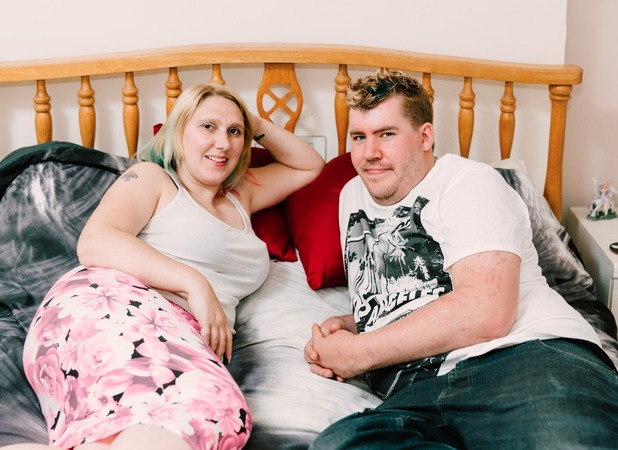 But as we settled down, we stayed in more, ate more and gained weight. Allan grew to 17st, while I climbed to 10st. The weight gain left me insecure and our sex life petered out.
I was convinced Allan didn't want me. He said it was only natural our sex life would calm down. But in time, he admitted he felt self-conscious of his body too.
It didn't help matters when we stopped sharing a bed a few months ago. Allan has sleep apnoea and I'm a light sleeper, so it just sort of happened.
In the old days, a late-night cuddle could have turned into something more. It's hard to have those spontaneous sex sessions when you go to sleep in separate rooms.
We plan our sex now, which isn't romantic, but if we didn't, it might never happen. I'd like to do it a few times a week but Allan is happy to have sex as and when it feels right.
We're going to try for a baby this year and I'm excited because I know that'll mean lots more love-making.
We have sex about once a month now and it's great. Quality not quantity – that's what I've learned."
by Kim WillisFor exclusive competitions and amazing prizes visit Reveal's Facebook page NOW!