One cat got himself caught up in a terrible tangle of trouble - after feasting on shoelaces!
Ana Barbosa took her two-year-old kitty, Garry, along to her local PDSA Pet Hospital for his annual vaccination.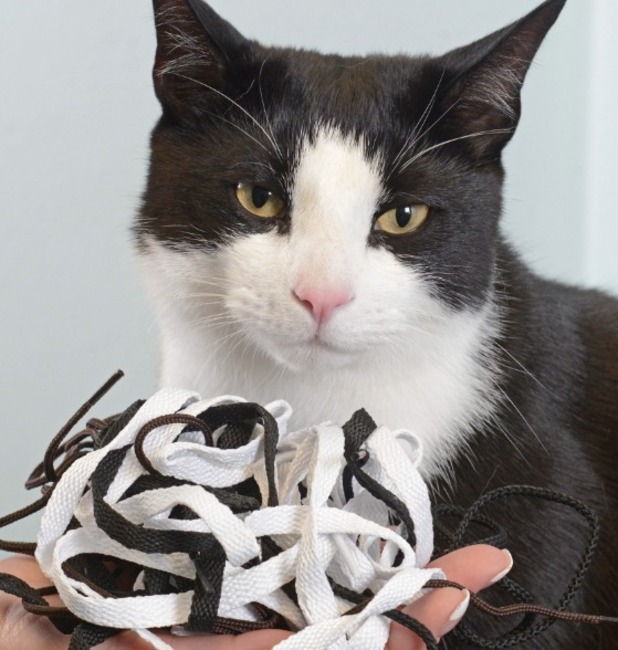 But when the vet examined him, they discovered an unusual mass in his stomach.
The 32-year-old owner was told to expect the worst, as they initially suspected it was a tumour.
But during surgery, they discovered a combination of laces, hair bands and plastic in Garry's tummy. What a naughty cat!
It was lucky that they did discover it though, as the blockage could have been equally fatal.
Ana, from Hove, East Sussex, said: "Garry is a very cheeky little chap who has always preferred playing with human things instead of cat toys. But we had no idea he was actually eating the shoelaces and hair bands.
"We're so grateful to the PDSA for saving Garry's life - he's a big part of our family and we had be heart-broken if we had have lost him so young.
"Now we know how mischievous he can be, we'll definitely be keeping a closer eye on him in future."
PDSA vet Jess Maguire urged owners to be vigilant where peckish pets are concerned.
She said: "We often see dogs who have eaten odd things, but it is quite unusual for a cat to eat so many different items."
For exclusive competitions and amazing prizes visit Reveal's Facebook page NOW!