Eighteen-year-old twins Lucy and Maria Aylmer, from Gloucester, might look like complete opposites but the bond they share is unbreakable
When Lucy and Maria Aylmer walk down the street, laughing and joking with arms entwined, people assume they are the best of friends.
But the 18-year-old pair are so much more than that because, despite their extremely different appearances, Lucy and Maria are twins.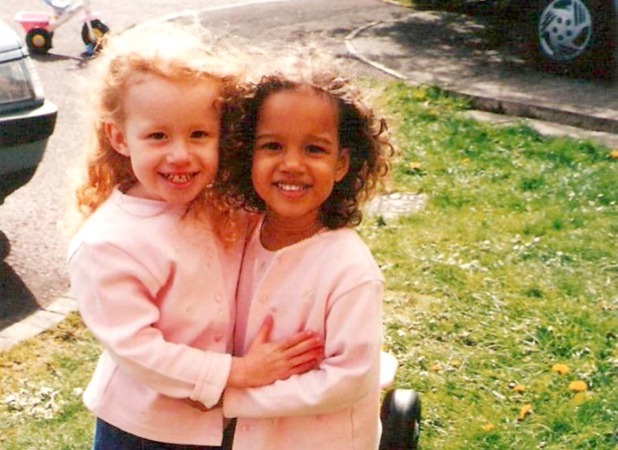 In an incredible million-to-one chance, Lucy was born white, while Maria is black. Though their three older siblings are all of mixed race appearance – their mum, Donna Douglas, is half Jamaican and dad Vince Aylmer is white – the twins are at completely different ends of the spectrum.
"No one ever believes we are twins because I'm white and Maria is black," says Lucy from Gloucester.
"Whenever we meet people for the first time they refuse to believe we're twins and some have even made us produce our birth certificates to prove it!"
The duo's personalities are as different as their looks. Red-headed Lucy studies art and design at Gloucester College while raven-haired Maria studies law and psychology at Cheltenham College.
Shy Lucy loves cats and the wintertime, while outgoing Maria loves dogs and is a self-confessed sun worshipper. But despite all this, the sisters couldn't be closer.
On 16 January 1997, their mother Donna gave birth naturally. Lucy came along first, weighing 6lb 7oz, and Maria followed 27 minutes later, weighing 6lb.
Lucy says: "It was such a shock for Mum because obviously things like skin colour don't show up on scans before birth. She had no idea that we'd be so different. When the midwife handed us both to her she was just speechless.|
Donna and Vince were totally unprepared for the highly unusual situation they found themselves in. Their three eldest children – George, now 23, Chynna, 22, and 21-year-old Jordan – were all a perfect mix of their parents' heritage.
"When she took us out in the pram people would stop and ask her which baby was hers, and if she was the childminder.
"No one believed her when she told them that we were both hers – and that we were twins," says Maria.
"After we started infant school, we were always put in the same class but we missed out on all the tricks twins usually get to play on their teachers!"
Lucy adds: "Mum had dressed us alike since we were babies but of course we never looked the same. So I asked her if we could stop wearing the same clothes when we were about seven.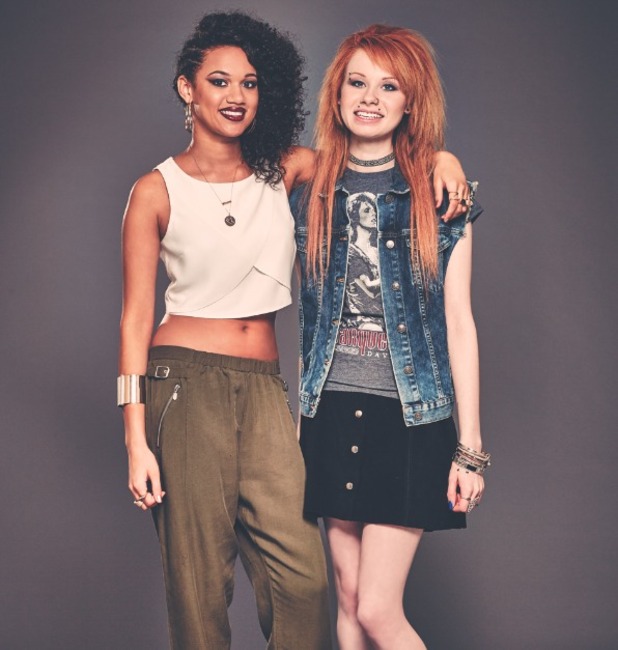 "Maria and I knew that we looked so different from each other, so we decided we wanted to dress differently as well – to reflect our own identities."
But as they grew older, it was their difference that began to cause issues. Lucy continues: "My grandmother on my mum's side has a very fair English rose complexion, just like mine, which I've obviously inherited from her.
"People used to think I was adopted when I was little as I look so different to all my brothers and sisters. That was pretty hard to cope with growing up. It went on all through junior school and even into high school – people calling me an albino or a ghost. Maria tried to stick up for me but aged 12, I ended up moving schools to escape the bullies."
Skin colour is thought to be determined by up to seven different genes working together after conception. If a parent is of mixed race heritage, their eggs or sperm will contain a mixture of genetic codes for both black and white skin in their child. However, if both the egg and sperm contain all white genes the baby will be white, and vice versa.
"Most twins look like two peas in a pod but Lucy and I couldn't look more different if we tried. We don't even look like we have the same parents, let alone like we were born at the same time," says Maria.
"We have such a hard time convincing people that we're twins, Lucy even has a copy of her birth certificate on Facebook to prove it!"
Today, the striking sisters celebrate their differences and they have developed an unbreakable bond.
"Maria is the confident, feisty twin while I'm the quiet, sensitive one. She's always had lots of different groups of friends and loves going out on the town, while I'm happier staying at home watching horror movies,' says Lucy, who hopes to be an architect or an interior designer.
"But though we're so different, we're as close as any other twins."
It's clear the teens have found their signature looks, which they were happy to share with us in our stunning fashion shoot.
Maria, who plans on a career in law and business, says: "My style is girlie and glam. I like following the current fashion trends and I'm obsessed with everything Rihanna wears – I love her!
"Lucy goes for a more casual look – grungy with heavy make-up. She loves Prince and is much more of a rock chick than me. I think she looks great.
"I'm so proud that Lucy's my twin and I know she's proud of me. We're each comfortable in our own skins and in that way, we're exactly the same."
By Lucy Laing & Su KarneyFor exclusive competitions and amazing prizes visit Reveal's Facebook page NOW!