Rafaela, Rocheli and Tagiane Bini spent their wedding day as they've spent the rest of their lives – side by side.
It's fair to say that, at most weddings, all eyes are on the bride. But guests who saw Rafaela, Rocheli and Tagiane Bini walk down the aisle last month had their work cut out – there were three identical brides in the same long, white dresses with veils trailing behind.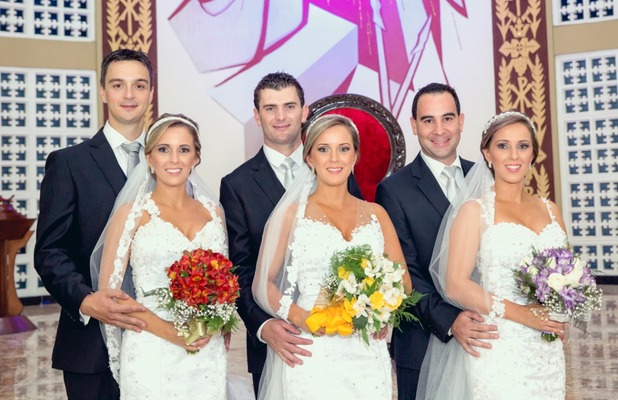 None of the guests could tell them apart – even their grooms admitted they worried they might marry the wrong woman.
But for the 29-year-old Brazilian triplets, there was nothing unusual in sharing their big day. They've done everything together in the same way since they were born.
As well as choosing to get married at the same time, the triplets, from the town of Passo Fundo, wore the exact same style wedding dress, hairstyle and make-up. Even the men they married – Rafael, Gabriel and Eduardo – look similar.
Rafaela says: "We've always done everything together, so why should getting married be any different? For us, the more things we do together, the better."
Rocheli adds: "I never entertained the idea of getting married on my own. We are one, not three, that's how I see us."
Rafaela, Rocheli and Tagiane are monozygotic triplets – siblings that form from a single egg and sperm – who share the exact same looks, likes and personalities.
Their parents, Pedro and Salete, had one daughter, Lisieli, when they decided to add to their family but never expected that three more girls would come at once. Each was born just a minute apart on 5 August 1985, Tagiane first and Rafaela last, and they have been inseparable ever since.
The three sisters even shared the same bedroom right up until last year when, aged 28, they moved out to live with their prospective fiancés. Rafaela says: "In all our lives we've never gone a day without at least speaking to each other.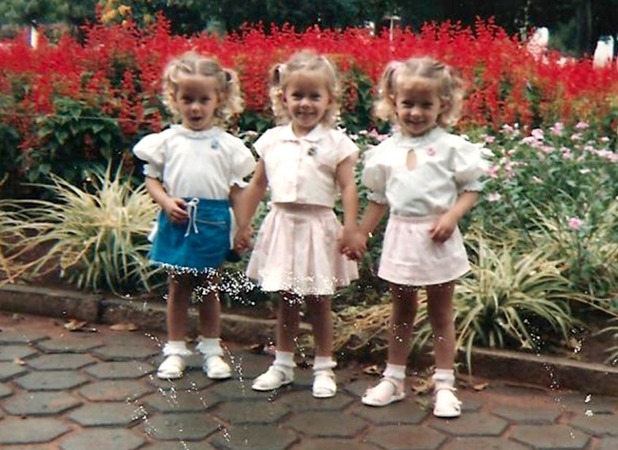 "We're completely identical, there isn't even the tiniest freckle that sets one of us apart. Only people who have known us for a long time manage to tell us apart, but even they can't pinpoint exactly what it is that's different. We like the same things, clothes, food, music, everything."
And she swears the three share a special connection: "There are things I can't explain. When we were seven, Tagiane cut her arm, but I felt the pain in the same spot on my arm where she'd hurt hers."
Not surprisingly, the girls have to deal with getting constantly mixed up – even by their own mother. "When we were toddlers my mother would sometimes bath one of us twice, and another wouldn't get a bath at all!" laughs Rocheli, a bank manager.
"Even now, we get people stopping us in the street and speaking to us as if they know us. They obviously know one of us, so we just pretend we're whichever sister they know, so as not to embarrass them."
Though they share so much, the sisters have never shared men. Rafaela, an administrator, says: "I was the first to start dating, when I was 19, and Rocheli a year later. Our boyfriends never showed any interest in any of the other sisters. Even now, each man says that his wife is the most beautiful of the three!"
The sisters and their boyfriends did, however, enjoy triple dates: "There was never any discussion, all of us would go out together to drink tea or to eat. The boys never complained. They're almost like brothers and get on really well."
The idea of a joint wedding arose after Tagiane, a company assistant, started dating Eduardo three years ago and all three couples got engaged.
Their father was delighted at the suggestion. The only dilemma for Pedro, a farmer, was how he'd walk three daughters down the aisle at the same time. The pews in the cathedral would be moved to allow all four to walk halfway down the aisle and then Pedro would take one at a time to the altar.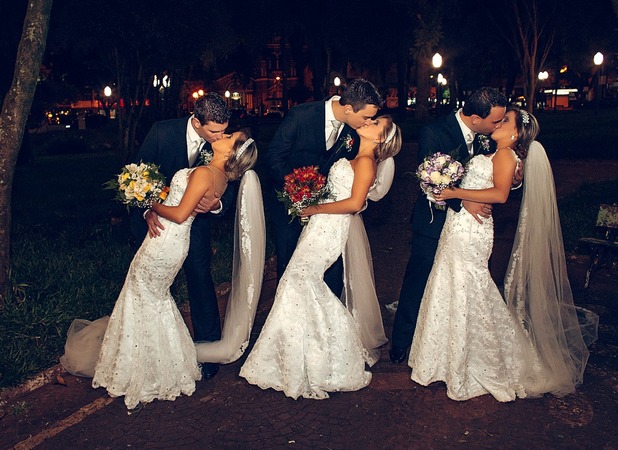 At the ceremony on 21 March, they had 18 bridesmaids and page boys, each using the colour of the bride they were representing, yellow for Rafaela, blue for Rocheli and red for Tagiane.
Though the sisters had initially intended to opt for different looks for their big day, it soon became clear that they wanted the same thing. "We tried a number of styles, but we all liked the same one. It's not even worth trying, it always ends up like that," says Rocheli.
To help guests tell them apart, they carried different coloured bouquets, and made adjustments to the shoulder straps of their white lace gowns.
After tying the knot, the newlyweds had envisioned all six of them jetting off on honeymoon together but a booking mix-up meant Tagiane and Eduardo were forced to holiday alone in the Domincan Republic while the others enjoyed candlelit dinners and romantic beach walks together in Maceio, northeastern Brazil. "That was the only downer," says Rocheli. "That Tagiane couldn't be with us as well."
As they embark upon married life, the inseparable trio insists nothing's changed. "We're more together than ever, and we still see or speak to each other every day. We've always had the same birthday, now we share the same wedding anniversary too," says Rafaela.
"We've always been one, and nothing, not even marriage, will change that."
By Matt RoperFor exclusive competitions and amazing prizes visit Reveal's Facebook page NOW!