Mum-of-two Sam Duncan, 28, was terrified when her daughter Brooke was diagnosed with cancer of the eye. But then a miracle happened…
"The 'C' word is terrifying and brings up all sorts of desperate images. Hair falling out, faces becoming gaunt or bloated because of steroids. So when I found out my daughter, Brooke, had a tumour behind her eye, I panicked. Not outwardly – I didn't want to worry her – but inside, I was hysterical.
I'd always felt so lucky to have my family. James, my husband, worked in the RAF and we had two children, Brooke, now eight, and James, five. They're both happy, bright and bubbly children and, although they fight like cat and dog like most siblings, they are also best friends.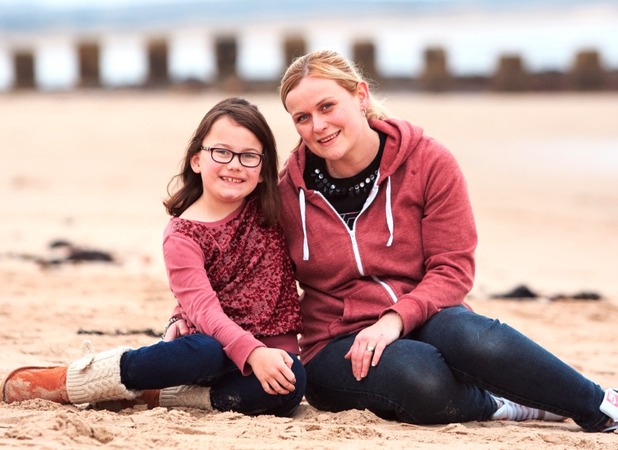 But in June 2013, my daughter began complaining of headaches, I just thought she was watching too much television so I told her to take regular breaks from the screen. When she started saying she was constantly exhausted, I put her to bed earlier.
When the symptoms lingered, James, 29, suggested she might need glasses, so we booked an appointment at our local opticians in Elgin, Moray. Brooke's test showed that she did need glasses – but there was also a shadow behind her left eye. 'I'm sure it's nothing but I'd have her checked out at Elgin Hospital,' the optician advised.
Doctors there suggested it could be a cyst but, admitting they weren't sure, they referred us to Royal Aberdeen Children's Hospital. By now, my fears were escalating and even my usually calm husband had started wondering why, if nothing was wrong, we were being referred again.
At Aberdeen, doctors discovered that Brooke had a rare condition called Ehlers-Danlos Syndrome, which meant her joints were hyper-mobile and her bones were fragile, and could be fractured easily.
As we struggled to learn about the condition, our attention was distracted from Brooke's eye. So when doctors at Aberdeen called in December and said they were referring her to the retinoblastoma unit at Birmingham's Children's Hospital, I was stunned.
Having never heard of it before, I immediately turned to the internet. And what I found made me freeze. Cancer. It was like my worst fears were being realised.
Because of Christmas, our appointment wasn't for another fortnight and, as James was serving in Afghanistan, I forced a smile and celebrated the festive season with the children as well as I could.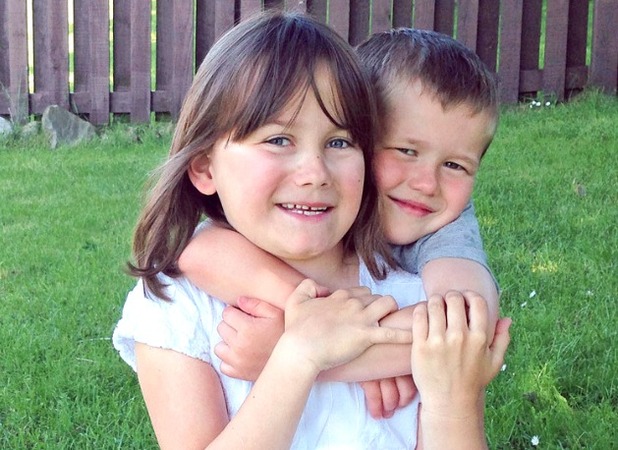 In January last year, Brooke spent a full day undergoing various tests, ultrasounds and having the back of her eyes photographed extensively.
The results confirmed she had a cancerous tumour behind her eye. As the doctor explained they'd need to do more tests before they decided on her treatment, my eyes strayed to Brooke playing innocently with her brother. My gorgeous, funny little girl had cancer? She could die? It seemed impossible.
'You've got a snowflake in your eye,' I told her gently, comparing it to the weather outside that she loved. 'You need some treatment to make you better.' But Brooke was unfazed, pausing her game briefly to nod brightly at me.
Next I had to call James. I didn't want to tell him when he was so far away but he had to know. My voice cracked as I said the words. I hated to be the one to throw his world into chaos.
I managed to make it through the rest of the day, pulling Brooke in for close cuddles whenever I got the chance. But when I put her and James to bed, the sudden silence gave me time to think. Stunned by the surreal day, I was convinced it couldn't be true, that I must be dreaming. Or rather, having a nightmare.
But the next day, when we woke up and returned to the hospital, I knew it was real. Brooke endured more tests and I gripped her hand, wishing I could be in her place, take away the pain I knew would soon be coming. But when the doctor called us in for the results, he had shocking news.
'I can't explain this but the tumour has regressed,' he said. 'In effect, it's died.'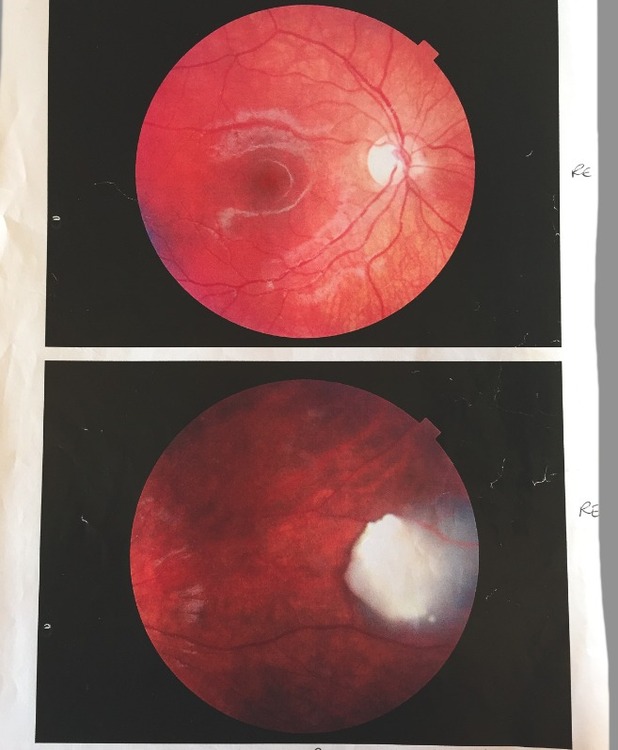 My mind spun, barely able to keep up with the news. But he showed me the pictures and talked me through what they'd seen the day before and today.
'Are you sure?' I kept asking. But they were. To understand how the tumour had died, he explained he'd have to remove my daughter's eye, which obviously wasn't an option, but he was adamant it had stopped itself. He'd never seen anything like it.
I can't explain what it felt like to have such horrendous news, followed by such a relief. To have gone from fearing for my daughter's life one day, then to be told she was clear the next, was mind-blowing.
I've never felt more grateful.
The doctor warned us the tumour could start to grow again and organised regular check-ups. But so far, it hasn't. Further tests have confirmed that Brooke has a rare blood mutation that causes tumours to grow, so we've told her she might need to be looked after a bit more than her friends.
However, at the minute, she is fine. She has had to quit her kick-boxing club because of her fragile bones but she enjoys going to Brownies, swimming and she can even do gymnastics.
Throughout it all, Brooke has been amazing, as strong and smiley as ever. A lot of parents may think their child is a one-in-a-million, but mine is even rarer than that."
By Lucy Laing & Sarah WhiteleyFor exclusive competitions and amazing prizes visit Reveal's Facebook page NOW!