One in five British adults has a tattoo, while many others have piercings. But here, we meet three people who have taken their body modifications to the extreme…The dad who's spent £15,000 on tattoos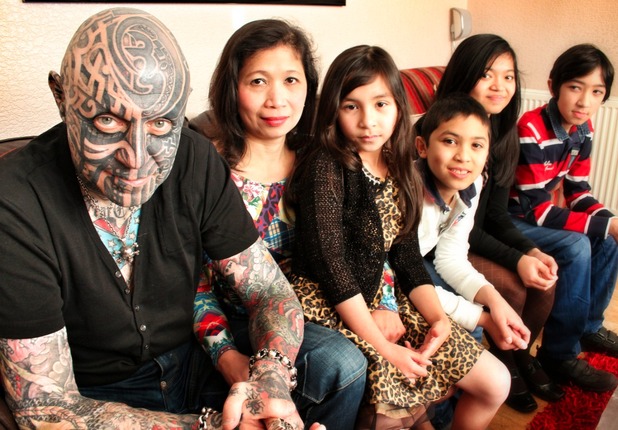 Keith Gordon is an admin assistant, a dad of four and a loving husband to wife Lisa. However, people are often so intimidated by his appearance that they cross the road to avoid him because of the tattoos that cover not only his whole body but his face as well.
When he married Lisa, who is from the Philippines, his skin was clear. However, in 2008, after six years of marriage, he got his first tattoo – the start of a nine-year journey that has cost him an eye-watering £15,000 and has led to him being one of the most tattooed men in the country.
Keith, 58, has the words Satan and Jesus tattooed onto his eyelids and skulls and wolves on his arms – among many, many others. He puts his love of inking down to the OCD he suffers from, saying: "It makes me focus on things to the point where they occupy me 24/7. I just want more and more of the drug and that drug is tattoos. Tattoos are a drug."
However, not many people are as obsessed with his look as he is. In particular, Lisa wishes he hadn't altered his appearance in the way he has as her husband is now the subject of stares and hushed whispers whenever they leave the house in Romford, Essex.
"I wish it was just a mask. A mask he could take off," she says firmly.
After living in the same neighbourhood for 10 years, the family are trying to move to a new area – and are facing a lot of problems. With one neighbour comparing Keith to the "grim reaper" and another predicting his new neighbours will "probably give him a wide berth", it seems that the move might not be easy.
The "modified" girl who can't find love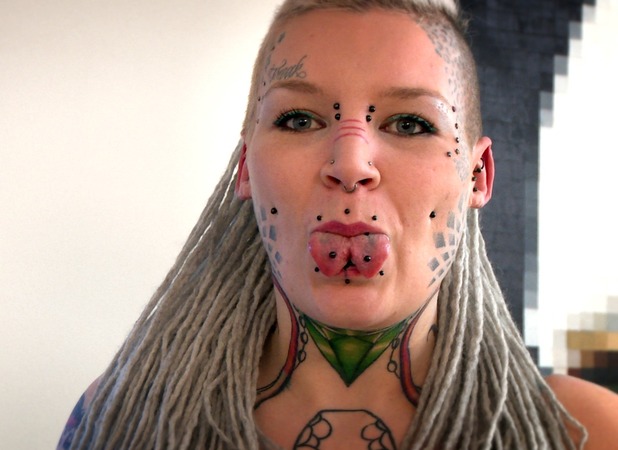 While lots of twenty-something girls worry about finding love, Torz Reynolds believes she has a special reason she won't find Mr Right – her unusual appearance.
The body piercer has spent the last 20 years drastically altering the way she looks with numerous tattoos, piercings and – perhaps most shocking of all – having her tongue split.
Torz, 28, started her body modifications when she was just eight years old, when she begged her parents to let her have her tongue pierced. "Obviously they are not going to let an eight-year-old get a tongue piercing, so they compromised on a nose piercing at eight and a navel piercing at 10," she says.
Since then, she believes she has 'found' herself through her modifications and says she won't be stopping soon: "I'm not even remotely covered yet. This is nothing. When I run out of skin, I'll have to stop, I suppose."
The singleton, who lives in Colchester, Essex, has always been unlucky in love and, despite having four boyfriends' names etched onto different parts of her body, things have never quite worked out.
She has since had one name covered and another, on the inside of her lip, eventually faded. However, the other two she cut from her skin and gave back to the men in question.
So, after being single for 18 months and not having been asked on a date in more than a year, she's determined to find not just someone who will accept the way she looks, but who will embrace it.
The man who changed his name to Body Art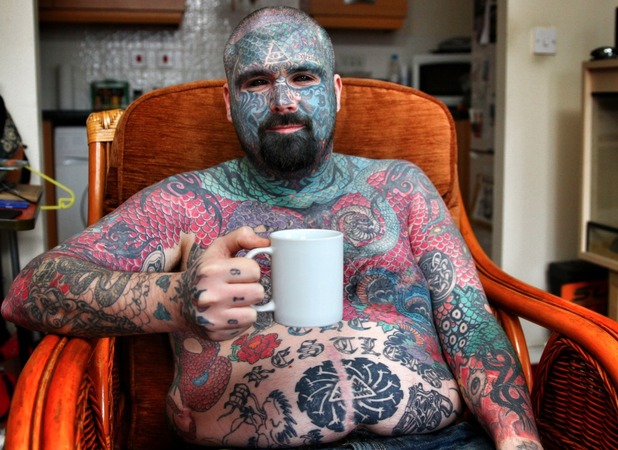 Matthew Whelan is truly dedicated to the tattoo cause. Not only has he covered his whole body in etchings – including having his eyeballs stained, a huge snake drawn around the crown of his head and his penis inked blue – he has also sliced both of his nipples off to create a smoother surface for his markings.
Not only that, but Matthew has renamed himself King of Inkland, King Body Art, The Extreme Ink-Ite. Or, if you were wondering, Body Art for short.
"I'm covered in body art, so why not look like body art by being a body art?" is how the 35-year-old from Birmingham explains why he changed his identity.
But although he feels more like the man he should be by 'abandoning' his previous name and changing his look so radically, it is clear it has left his parents devastated. "He knows I've never understood it. And I can't come to terms with it. I've accepted it, with the help of your mum," says dad Patrick. "But I'll never like it. And I can't understand the name thing. I should be able to call you Matthew."
It's no wonder they worry about their son. Body Art – who's splashed £30,000 on his tatts – is open about the fact that his extreme inking incurs some extreme responses. He's been verbally abused and was slashed with a knife on the doorstep of his home, an incident that nearly killed him.
Now, the entrepreneur and Birmingham City fan wants to start his own business. But will his appearance make him stand out from the crowd for the right reasons or will it stand in the way of success?
For exclusive competitions and amazing prizes visit Reveal's Facebook page NOW!