Tourette's syndrome sufferer Ellie Grant thought she'd never find love – until she met her ideal man, deaf fiancé Jordan Pettifer
When Ellie Grant suddenly developed Tourette's syndrome, the 22-year-old was worried she'd never find a boyfriend who could put up with her inappropriate outbursts.
But months later, she found the perfect match in her deaf partner Jordan Pettifer, who endures her uncontrollable tics by simply switching off his hearing aid.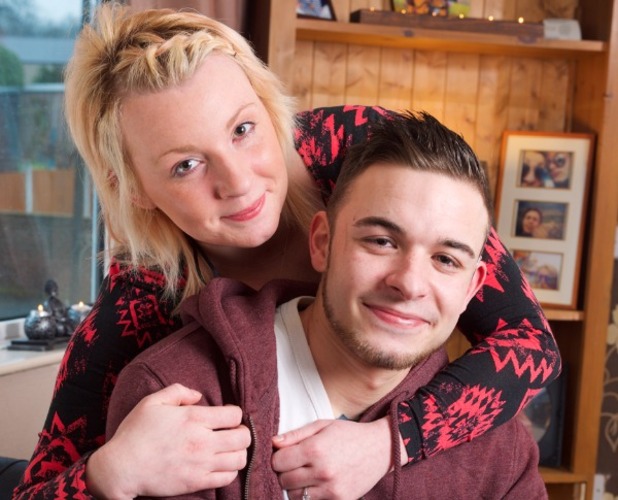 "We're a match made in heaven," Ellie, from Nottingham, says. "I was so embarrassed about my condition but when I met Jordan he said: 'If you don't want me to hear them, I won't.' And that was that.
"He'd turn down his hearing aid and was oblivious to my rude outbursts. It was perfect – we were made for each other."
Ellie, now 23, started suffering from the antisocial condition in January 2014, when she began blurting out the word "marshmallow" in the supermarket.
By the next day, she was involuntarily yelling swear words and racial insults and lashing out with kicks and punches. "It was the weirdest feeling, I couldn't stop it," Ellie remembers. "I called my doctor but even as I sat in the waiting room, I couldn't control my arms. They were swinging about, hitting me in the face. I kept swearing and shouting abuse at people. I was mortified, I'd never used language like that before."
Her GP advised she see a specialist and Ellie and her mum rushed to A&E at King's Mill Hospital in Mansfield where MRI scans confirmed she wasn't suffering brain damage. Weeks later, she was diagnosed with Tourette's syndrome, a neurological condition which affects the brain and nervous system.
"I had no idea what it meant at first, so I was laughing at some of the things I came out with," Ellie says. "But as I learnt more about it, I realised how serious it was.
"Lots of suffers become so embarrassed, they develop OCD and anxiety and that's what happened. I hated going out because I had no idea how I'd act and had to quit work. My whole life had collapsed and I hated not being in control of my body."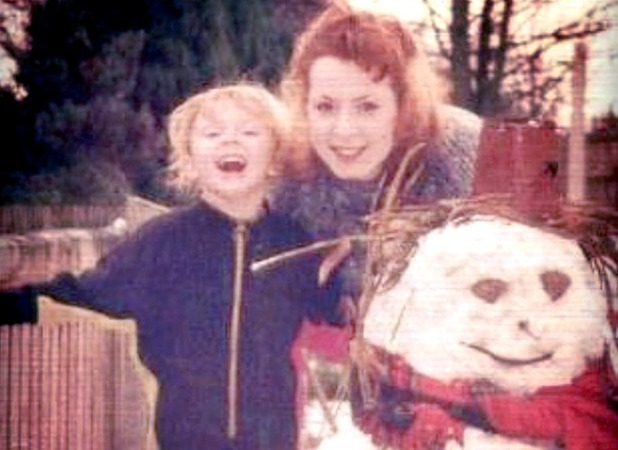 Unable to cope, Ellie retreated behind her front door. However, her aunt Annie refused to let her become a recluse. She visited often and encouraged her niece to go for walks and drives in the car.
About a month after her diagnosis, Annie drove Ellie to a nearby pub and insisted they went in for a drink: "I tried to tell her I wasn't ready but she having none of it. When we went to the bar, I was so paranoid. It felt like everyone was staring and talking about me. All apart from one guy. That was why he stood out. I couldn't understand why he wasn't laughing at me.
"But later on, I saw he was wearing a hearing aid. All of a sudden, I started saying: 'Deaf, deaf.' I'd immediately picked up a new tic. I apologised but he said: 'I'm deaf, it doesn't matter what you said, as I can't hear you anyway.' I couldn't help but laugh. We hit it off straight away."
Jordan, 22, asked Ellie on a date. She was really nervous, not only of how she'd behave but also of maintaining a conversation with someone who couldn't hear her. Jordan's matter-of-fact nature and jokey personality soon broke the ice.
"When I swore, Jordan sensed how embarrassed I was, so he'd turn his hearing aid down or off. It made me relax, which in turn helped calm my tics down. He also reminded me to look at him when I spoke, so he could lip-read."
As the relationship progressed, Ellie grew more comfortable with her new boyfriend. Even when she worried about staying with him as her tics continued through the night, Jordan put her at ease by turning off his hearing aid in bed.
They moved in together in July and Jordan is Ellie's carer, helping her do things her physical tics make impossible, such as chopping or cooking food and making tea.
"When I lived at home, I kept my mum up all night with my outbursts but now, living with Jordan, the only one I wake is the dog," Ellie says. "It's perfect – I've been able to help him too. He didn't like going into social situations where he didn't know anyone, but now he's much more confident.
"On my birthday in February, Jordan took me for fish and chips and said: 'I don't want anyone else, I just want you, Ellie. Will you be my wife?' I was ecstatic as I feel the same way. I can't wait to marry him."
Jordan, who has been 97 per cent deaf since having meningitis when he was five, says: 'Meeting Ellie completed me. Her tics were never a problem for me. If I'm being honest, I thought they were cute.
"I used to get frustrated at not being able to hear things properly but now, we even each other out. Things I can't do, like make phone calls, she does and I do the things she struggles with, like chopping food. We're a perfect match and I can't imagine life without her."
By Harriet Rose-Gale & Sarah WhiteleyFor exclusive competitions and amazing prizes visit Reveal's Facebook page NOW!