Naomi Cook's seven-year-old daughter, Hana, has been gaining weight at a dangerous rate after an operation to remove a brain tumour
"When your child tells you they're hungry, it's your natural instinct to give them food. But for me, handing my daughter Hana a biscuit, a bag of crisps or even an apple when she asks for it is the worst thing I can do.
Because, after having an operation to remove a brain tumour, my seven-year-old has been left feeling constantly hungry. Since then, she's put on five stone, making her morbidly obese – and she's gaining more every week.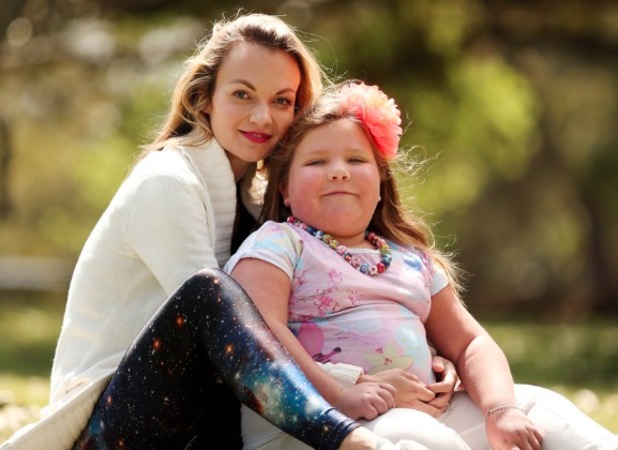 My husband Nour and I moved to Sydney, Australia, in 2005 from England. After I qualified as a nurse and Nour as an orthodontist, we started a family. We had two gorgeous girls, Hana and younger sister Maryam, now four.
I love being a mum. Nour and I are triathletes, and we would spend weekends taking the girls to competitions. They cheered us on as we swam, cycled and ran.
As they grew, we realised Hana wasn't the same slim build as Nour and me but we just thought she had a different physique. But in December 2013, she started feeling tired and increasingly thirsty. We also realised she wasn't growing as quickly as other children her age.
Suspecting an underactive thyroid, we made an appointment with a specialist. In the two weeks we waited to see them, Hana suffered excruciating headaches, so painful she could barely stand.
I knew from research it was going to be far more serious than a thyroid problem and a CT scan confirmed she had a benign brain tumour, growing substantially.
Back then, I was relieved. With surgery, this was treatable. I wasn't going to lose my little girl.
Doctors warned us about the risks of brain surgery but without it, the tumour could leave Hana brain-damaged, or even kill her, so there wasn't a choice. Holding her hand as she was given the anaesthetic, I prayed it would be successful.
Three hours later, doctors told us it was. However, it wasn't long before we realised that, although she'd survived the surgery and the tumour had been removed, something was wrong.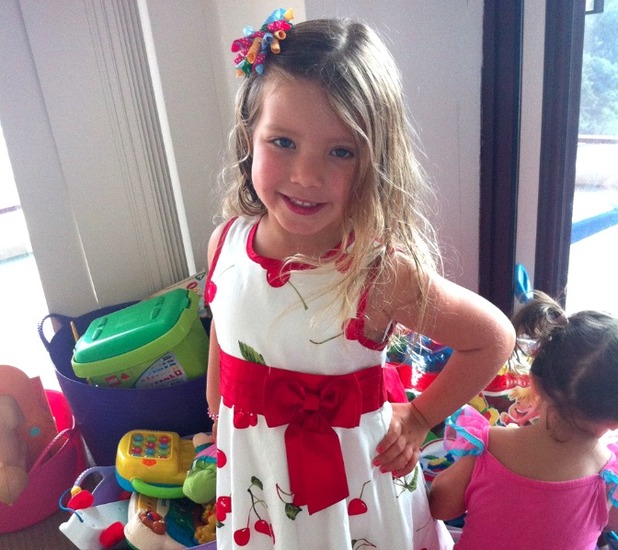 The smiling girl who'd loved playing with her sister had changed. At first, Hana suffered from hallucinations and memory loss. She barely seemed to know who we were and shied away from cuddles.
When she started asking for more food minutes after eating a meal, we put it down to her forgetfulness and desperately hoped her brain was just taking time to recover after the trauma of the operation.
But when she was allowed home from the hospital two weeks later, it was as if there was a stranger in the house. Our daughter had once been full of fun, always laughing and giggling. But now she avoided us, preferring to obsessively count and organise her pens.
Soon, we realised her appetite was here to stay. I tried giving her small and regular meals but nothing seemed to satisfy her.
The consultant explained that the hypothalamus – the part of Hana's brain that controlled her appetite and hunger – had been damaged during the removal of the tumour. She would no longer be able to feel full. It had also affected her metabolism, which meant her body couldn't break down the food as quickly and she'd gain weight easily.
She'd already gained 11 pounds in hospital and was still growing at home.
It was devastating. Yes, I still had my little girl but she was like a completely different child. I turned to the internet for help, scouring medical websites and herbal alternatives. Suddenly, in May 2014, I came across oxytocin, a hormone that her brain was no longer producing. It had been used to help children with similar symptoms – so why not Hana?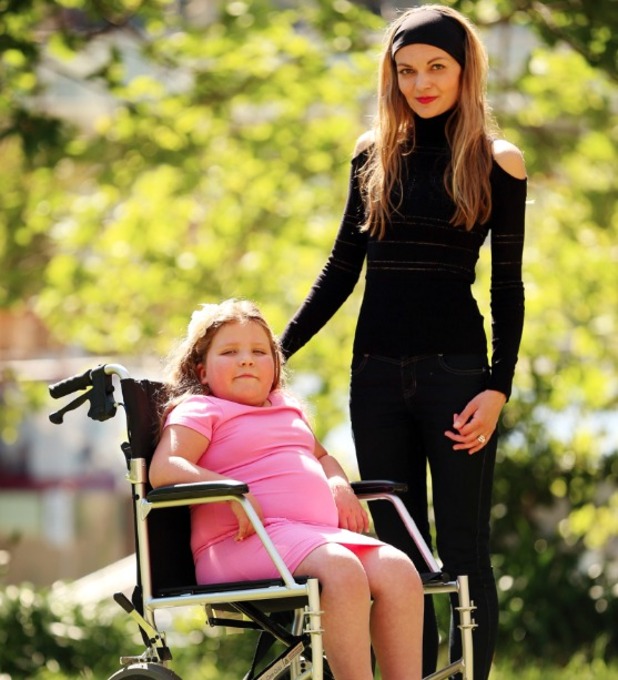 After talking to her doctor, we decided to give her hormone replacement therapy. And as the drugs took effect, my little girl returned. She became affectionate again, smiling as she snuggled up to us and showing Maryam more attention.
However, it had no impact upon her constant hunger. Since coming home from hospital, she's gained about five pounds every month and now, at 8st 7lb, she is far too big for her 4ft 1in frame. Her BMI (body mass index) is 34 instead of 19.
Hana suffers from sleep apnoea, which could stop her from breathing while she sleeps. And she's become so heavy that she needs a wheelchair to get around. It's heartbreakingly tragic that the side effects of the operation that saved her life are now endangering it a second time.
The worst thing for Hana is being tormented by thoughts of food. Now, after she's eaten, she'll say: 'I'm full.' After half an hour, she'll tell me: 'I'm still full but I'm thinking about food now.' I can't bear to think about how much pain she's in.
We try and manage her condition by giving her three meals a day with two healthy snacks, so it's never too long in between for her. But on bad days, she'll ask for more every five minutes.
Luckily, because she is so young and innocent, she doesn't understand she looks different to Maryam and her other friends. She also showed her classmates at school a film in which we explained her condition, so none of them will tease her.
We're now considering a reversible gastric lap band. This won't cure Hana but it would hopefully stop her gaining weight until she grows into her size. It helped another girl in Hana's situation, so although there are no guarantees, we're willing to give it a go. Because we'd do anything to save our little girl."
By Megan Reynolds & Sarah WhiteleyFor exclusive competitions and amazing prizes visit Reveal's Facebook page NOW!