Grace Slattery, 32, feared she'd never be a mum after she lost every baby she conceived. But now she has a bigger family than she ever thought possible
"Unless you've been through it, it's impossible to imagine the pain of losing a baby. But I know better than most. Because I've lost four, all before they were born.
The heartache of having another child slip away was becoming so unbearable, I was considering adoption. I was pretty much resigned to the fact I'd never become a biological mother.
Little did I know, the fifth time I fell pregnant there would be four tiny heartbeats. And this time, they would all survive the pregnancy, finally fulfilling our dreams of becoming parents.
I met James in a nightclub in our hometown of County Limerick, Ireland, in 2004 and six years later, we committed to be together forever at our fairy-tale wedding. Having children seemed like the next natural step.
After six months of enjoying married life, we started trying and I fell pregnant straight away. Like any expectant mother, I couldn't wait to tell everyone.
But tragically, just before my 12-week scan, I lost the baby. I was devastated but doctors reassured us that one in four women suffer miscarriages and we could try again as soon as we were ready.
It didn't take long for me to conceive again but after 11 weeks, I woke up and, although there were no signs of a miscarriage, instinctively I knew something was wrong. A scan confirmed my worst fears. I'd lost another baby.
This time, James and I decided to have some private tests to make sure everything was OK. They all came back fine but when I fell pregnant for a third time, the same thing happened again. It was like a recurring nightmare.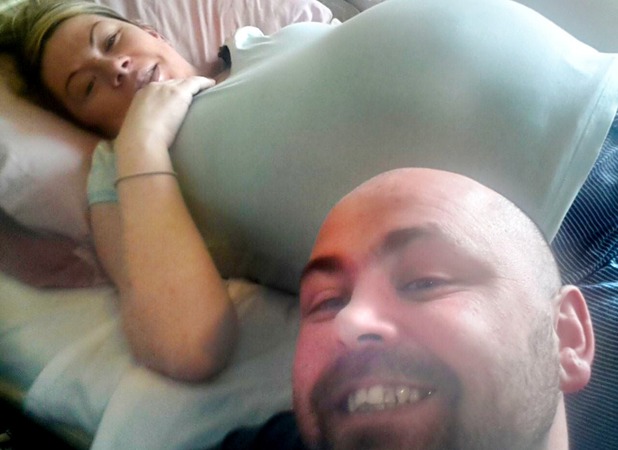 We went to a fertility clinic in Dublin to have more extensive tests and doctors there agreed nothing specific was causing the miscarriages. Having no answers was incredibly frustrating. At least if doctors knew what was wrong, they could fix it.
We prepared ourselves again but although I fell pregnant again, within six weeks I'd lost our fourth baby.
One miscarriage is distressing enough for any couple but four was unbearable. I'd stopped telling anyone apart from our parents that we were still trying and could hardly cope with hearing about other women having children, even on the television or radio. I'd never felt so alone.
Doctors suggested we try IVF but we decided to try on our own for the last time.
When I realised I was pregnant this time, I didn't even celebrate. And predictably, I started bleeding again at five weeks. I felt numb as James drove me to the scan, trying to prepare myself for the bad news I was sure would come.
Instead, though, I was told there wasn't just one heartbeat, there were four. And they all looked healthy. However, despite the amazing news, I couldn't let myself be happy. I knew from my research how risky multiple pregnancies were and the consultant backed up what I already knew, explaining it was highly unlikely all of the quadruplets would survive.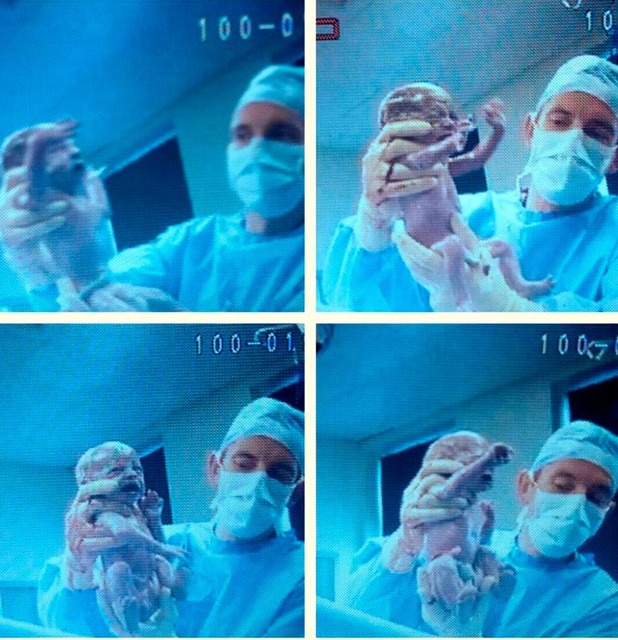 I was scanned every week. Every Monday, James and I held our breaths until the nurse found all four heartbeats. But every week, they did.
At 26 weeks, we were given bad news. One of the babies, who we named Amelia, was diagnosed with a congenital diaphragmatic hernia, which was pushing her organs into the wrong place. Because no pregnancy of quads goes full term, she'd probably be too small to operate on when she was born. She had little chance of survival.
Although I knew what the doctors were saying, I was quietly convinced all of my babies would make it.
I could always feel Amelia kicking and wriggling and on the scans, she squirmed more than the others. I couldn't help but think it was her way of telling us she'd be OK.
Eventually, I reached 30 weeks and doctors started making plans for the birth. Slowly, I believed it was finally happening. I was going to be a mum.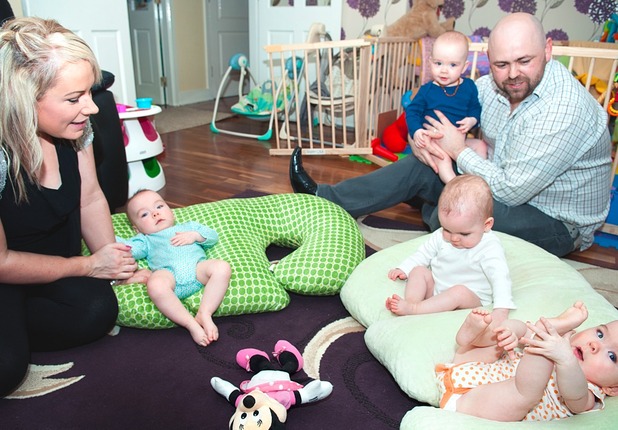 I was scheduled to have a C-section just before I reached 33 weeks but the quads couldn't hold on. The day before, on 26 May 2014, my waters broke and we welcomed Amelia Helen, Mollie Rose, Lily-Grace May, and our son, Lucas James, into the world.
They were all so tiny and perfect. 'We have four babies,' I repeated to James in astonishment, as I stroked their silky-smooth cheeks. 'We're finally a family.'
Thankfully, at 4lb 3oz, Amelia was the biggest and had life-saving surgery as soon as she was born. She's had regular check-ups since but she's doing so well, they've been reduced to just once a year.
Now they're nine months old, our babies are thriving. They're all developing their own personalities and the only time they cry is when they're alone – they're just not used to it. Although Lily-Grace's the smallest, she's the cheekiest and has already learned how to stick her tongue out at us. Lucas, on the other hand, is extremely calm and even now is used to shrugging off his sisters' teasing.
We get through 36 nappies a day, as well as 16 meals and eight bottles, so I can't deny it's hard work. But every sleepless night and endless load of washing is worth it. Because finally, I'm a mum."
By Paige Haydon & Sarah WhiteleyFor exclusive competitions and amazing prizes visit Reveal's Facebook page NOW!