At just nine months old, Romany Rose Rowland has heaps of designer gear and a cabinet full of beauty pageant crowns
With a £3,000 Rolex, her own mini Range Rover and countless designer dresses, shoes and handbags, Romany Rose is the new mini diva in town.
Single mum Witney Rowland, 20, from Plymouth, has spent a whopping £30,000 to ensure her pageant princess baby has a wardrobe to die for. And there's no denying that, despite being just nine months old, her daughter has an extravagant array of luxury products.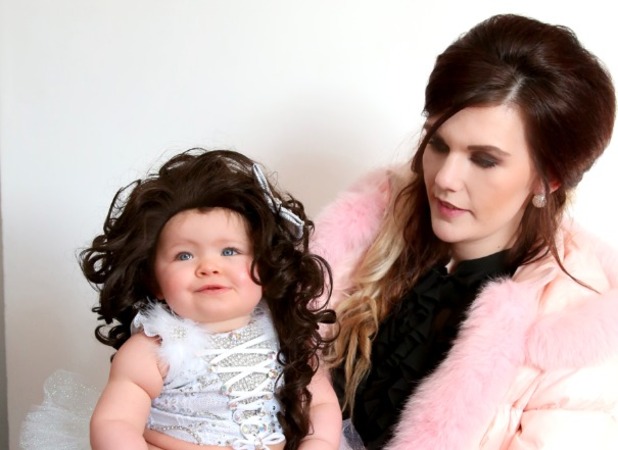 Witney has bought her baby girl five prams costing around £1,200 a piece, plus a £340 baby bath, £800 earrings, a £150 Gucci handbag, an antique crib worth £2,000 and around 500 designer dresses worth at least £100 each. She's also having a nursery built with four walk-in wardrobes and a £3,000 castle bed.
It's a bling obsession that Witney hopes will make Romany Rose a celebrity.
"I want her to be the beauty pageant queen – even bigger than Honey Boo Boo," she says. "Recently, newspapers picked up on Romany Rose's story. It was all I'd ever wanted. My local paper said she was set to become a TV star, and a newspaper in Australia ran the headline: 'Is Romany Rose the most PAMPERED baby in the world?' I loved every second of the fame!"
Before Witney became a mum, she was busy running her hairdressing salon and living for the weekend.
"I'd spend all my money on dresses for myself. I was 19, a typical teenager, and having a baby wasn't on my agenda," says Witney, who lives at home with mum Christine, 39, and dad Maurice, 52.
When Witney discovered she was seven weeks pregnant, she wasn't in a relationship and decided to raise the child with the help of her parents.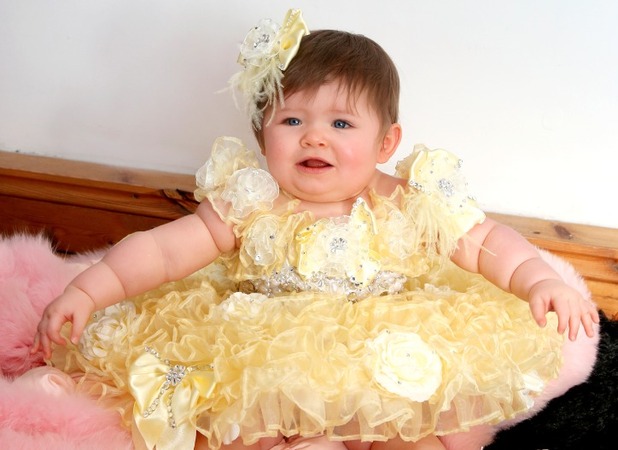 "Having Romany Rose was the making of me. My life has meaning now. After the 20-week scan, when I was told I was having a girl, I started shopping," says Witney.
Two days after the scan, Romany Rose's first present arrived – a £1,450 carriage-style pink pram.
"Dad gave me £1,000 so I could splurge," explains Witney. "I blew it on baby designer dresses, a crystal-encrusted dummy and hair bows."
Luckily for Witney, her father is a successful businessman who owns a metalworks company, and when Romany Rose was born on 1 June last year weighing 6lb, he was smitten by his granddaughter.
"Dad loves her so much he lets me buy her whatever I want," Witney says. "Although he won't let me near his credit card! I have to tell him what I want and how much it is.
"People might think I've gone too far, but Romany Rose is always smiling. She loves it when I dress her up. When she sees a camera, she smiles. Fake eyelashes, hair in rollers – she laps it up."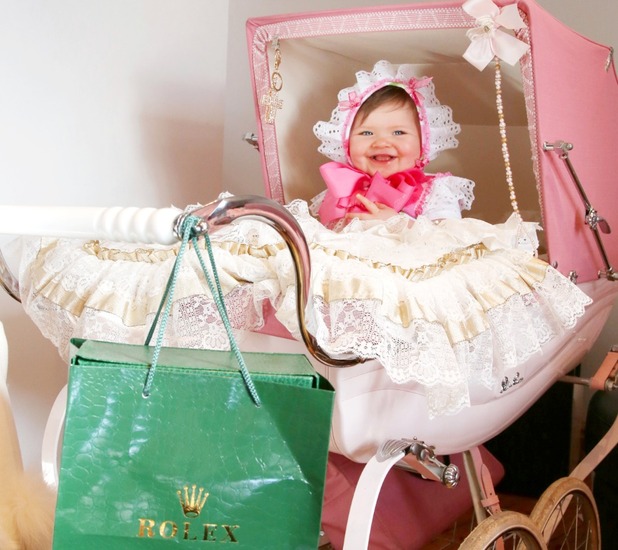 Maybe that's why the tiny tot has already done so well at beauty pageants. Witney entered Romany Rose into her first online pageant when she was just 21 days old – and she won.
"A crown, a sash and a beauty queen before she was a month old!" Witney says.
The baby has since won five sashes and three crowns: for Cutest Baby, Best Dressed, Best Eyes, Miss Glitz and Best Smile. Her mum is sure there are plenty more titles to come.
"I put her in fake eyelashes but I don't glue them to her actual eyelashes, I just stick them to her eyebrows. She doesn't mind and it makes her look so cute. If she cried or protested I'd take them off, but she doesn't," says Witney.
When it comes to special occasions, Witney believes in going all out. "I spent about £5,000 on Romany Rose for Christmas, even though she was only six months old.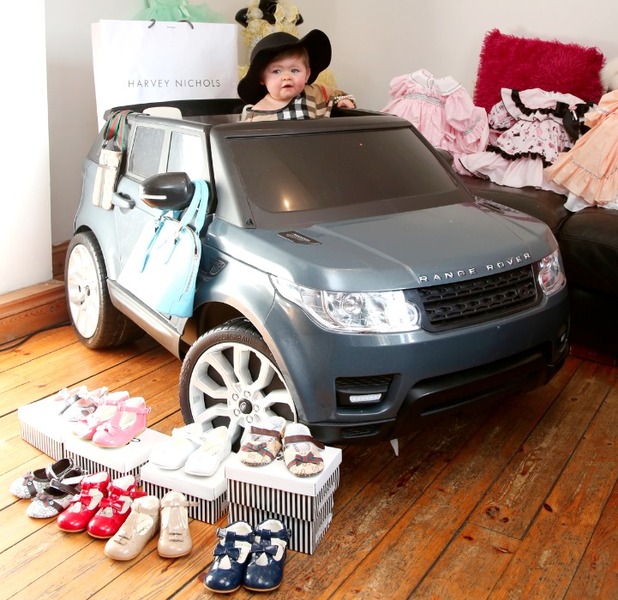 "But as I carried her into the living room and she saw the presents wrapped in pink paper, her eyes lit up. She may be a baby, but she knows what's going on and she loves it," explains Witney.
The pint-sized princess received the already-mentioned £350 electric baby Range Rover, even though she's too small to drive it, a £400 cashmere cape, a £350 coat, £1,000 worth of designer dresses, and a huge pile of toys.
"Now, I'm planning Romany Rose's first birthday. It's going to be themed like a fairground, with bouncy castles, a bucking bronco, a blow-up candy shop, toffee apples and candyfloss. There will be a real Cinderella and Sleeping Beauty."
In the meantime, Witney is creating a nursery fit for a princess: "Romany's room is magical. Whenever she's in there, she's dazzled by all the glitter and sparkles. What child wouldn't want a bedroom like that? I want her to be a star, so she needs the right outfits and accessories.
"She's not just any baby, she's my baby megastar."
By Kim Willis and Su KarneyFor exclusive competitions and amazing prizes visit Reveal's Facebook page NOW!