Last year, we told you about the seal who tried to surf with two pals - now there's one who caught a lift on a kayak!
Andrew Linstead captured the gorgeous seal pup as it attempted to clamber aboard his mini-boat in Poole Bay, Dorest.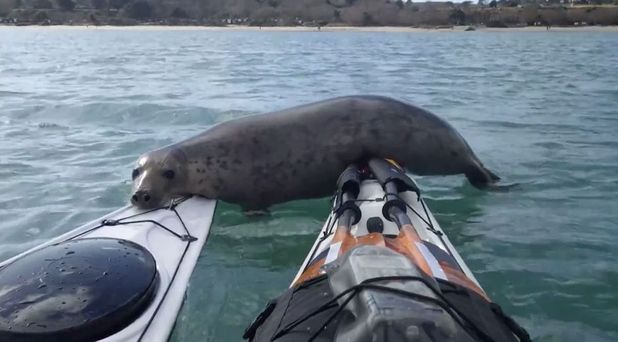 The cheeky critter fell off several times, before eventually managing to balance between Andrew's kayak and another person's.
This little 'un is often spotted by locals and has even been nicknamed Ron – after the waterproof wood stain product Ronseal!
In fact, Andrew and Ron are becoming firm fishy friends, as this is their third recent encounter.
Back in November, Andrew was practicing rolling on his kayak when Ron spotted him and decided to get involved, by rolling every time Andrew did!
How cute!
A month later, the seal jumped on the back of Andrew's boat and hitched a ride for several hours.
But this latest meeting must have really cemented their friendship, as generous Ron even gave Andrew a fish he'd caught.
Surely in sea world, that's the equivalent of sharing your last Rolo?!
For exclusive competitions and amazing prizes visit Reveal's Facebook page NOW!