Sally Hall, 36, is determined to help three-year-old son Jesse fulfil the wish her eldest son Skye made before he died of a brain tumour aged only five
"Skye has a fantastic imagination and makes the most of every opportunity. It has been a delight to have him in nursery. His unique personality has left a mark and his absence will leave a hole.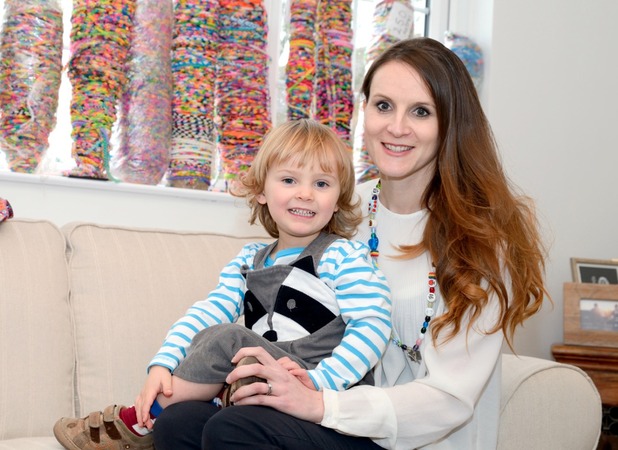 When I first read this report from my son Skye's preschool teacher as he left to go to school, my heart swelled with pride. Any mum loves to hear such lovely words about her children and, in just a few short sentences, she'd summed up my blonde-haired, blue-eyed boy perfectly.
Now, I can't think of her words without being ripped apart with grief. Because, after being diagnosed with a brain tumour at four years old, Skye passed away. Just like his teacher said, his absence has left a hole in my heart that can never be filled.
With my husband Andrew and my two sons, Skye and Jesse, our family was always close but when Andrew, 43, took a sabbatical from his job as a teacher and we travelled around South Africa, Australia and New Zealand, we bonded in a way I'd never thought possible. Cramped together in a camper van for four months, it was the happiest time of our lives.
Which makes it seem even crueller that it was just after we returned to our home in Abingdon, Oxfordshire, that Skye became ill. In July 2013, when he started vomiting every morning, I assumed he had a stomach bug. But when it didn't clear up, we found ourselves at the hospital.
Hearing that your four-year-old has a brain tumour is news you wouldn't wish on your worst enemy. But I had to be strong for Skye's sake.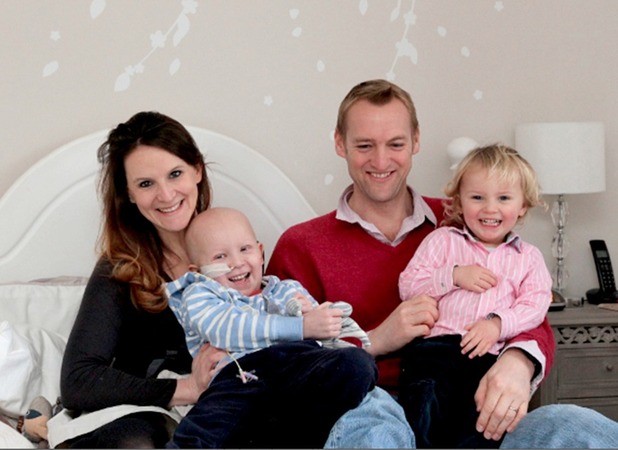 First, he underwent an eight-hour brain operation, then aggressive chemotherapy and radiotherapy.
It was impossible to explain to someone so young why his treatment was making him feel worse, not better and as he slept, his little hand would stretch out from under the covers, looking for comfort. I never left his side.
We were in hospital for months but it's a mother's job to turn the worst days into the best, so we'd spend hours making badges or cards.
But his highlight was always visits from Jesse, now three. He worshipped his big brother and would do anything to make him smile. Together, they'd play magic tricks on the nurses, giggling hilariously between themselves.
After his high-dose chemotherapy, Skye and I were on an isolation ward for eight weeks. Even then, Jesse would play charades with us through the window or hold up pictures for Skye to see.
Finally, in April 2014, we got good news. The tumour had gone. Watching him come home, sleep in his own bed and even go to school part-time, I relaxed for the first time in months. It was like being able to breathe again.
Sadly, our happiness was short-lived. In a month, doctors discovered his treatment affected his brain and spine. 'He's so weak, I'm surprised he's conscious,' the doctor told us. 'We don't know what will happen but we suspect he won't recover.'
The news hit me like a blow to the stomach and the shock sent me into denial. So while I spent my days ensuring Skye was having as much fun as possible, I spent my nights on the computer, desperately searching for solutions.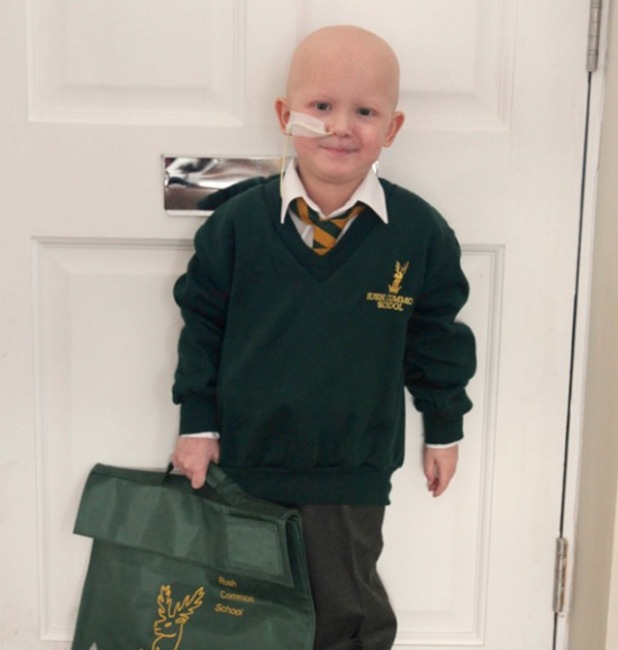 In hospital, he spent hours in an oxygen tank, wearing a special helmet. 'You look like you're going to the moon,' I joked.
At the time, Skye was making loom band bracelets. 'Let's loom to the moon, Mummy,' he said excitedly.
Seeing his face light up, I agreed to help him make the world's longest loom band to raise money for the charity we'd set up, Blue Skye Thinking, to fund research and treatment for children like Skye.
But my bright, bubbly boy was deteriorating quickly. A few days later, he lost the use of his hands. But by that point, the word had got out. Friends, family and even strangers started sending us their loom bands. As each parcel arrived, Skye and, in turn,
Jesse were thrilled.
As Skye became weaker, Jesse grew more protective, rarely leaving his big brother's side.
On 29 August 2014, Skye turned to Jesse. 'I need you to help me loom to the moon,' he said. 'I'm tired today.'
I swallowed hard, fighting the rising panic inside me. But when Skye insisted he give Jesse his birthday present – a pink guitar – that day, even though it was a month early, I didn't stop him. As Skye's eyes closed, Jesse sang and played to him.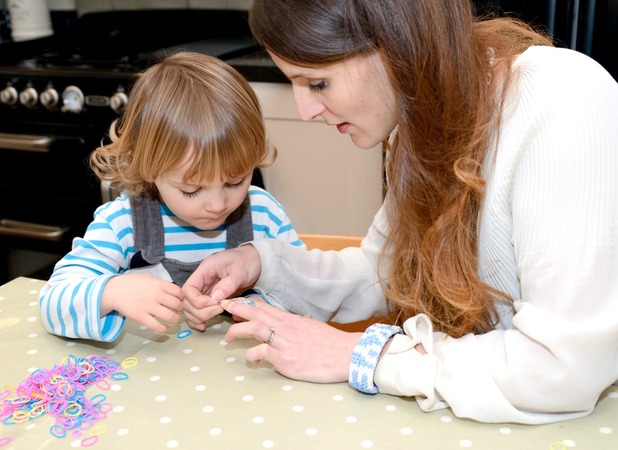 'I love you to the moon and back,' I whispered to my oldest son. And he replied as he always did. 'I love you to infinity.' With those words, Skye slipped away. He was five years old.
The days since his death have brought unimaginable pain. Some days I can't stop crying and others I don't want to wake up.
I only make it through by focusing on fulfilling Skye's wish. So far, the loom bands have reached 28,000 metres, so we're outside the Earth's atmosphere. We've even got celebrities such as Denise van Outen and dancer Danielle Peazer helping us.
Jesse talks about his brother every day and says he is in charge of the loom bands. Every time more come, he looks up to the sky and says: 'We're getting closer.'
Although he's still so young, our loss has made Jesse old beyond his years. He's already decided he wants to be a doctor to stop his friends from dying. He has the same caring attitude as his older brother. Through Jesse and through the charity, Skye will never be forgotten."
Rachel Mostyn and Sarah Whiteley
For more information on loom to the moon, visit blueskyethinking.org
For exclusive competitions and amazing prizes visit Reveal's Facebook page NOW!