Three months ago, Ann Summers launched their first ever erotic fiction competition.There was just one rule - in each sex story, the woman must be in charge.Ann Summers received over 400 entries from budding adult fiction writers around the world.
With over 400 entries, up and coming talent Matt Cole-Wilkin caught the judges' attention with his story of workplace lust, On Top.Feast your eyes on Matt's winning entry right here...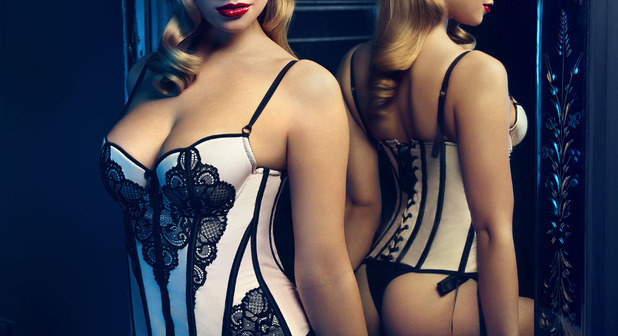 The world had gone home. Or to party, seeing the New Year in with champagne, friends, lovers. Everyone except me.
The glass walls of my office telling me everyone had gone; a dark, empty floor aloft a hollow monolith. I look out over the city; all lights and life contrary to my standing here alone.
I studied my watch, a rather-too-expensive-gift commemorating my promotion, given, queerly enough by Joshua Moran, my only competition for the position I ended up with.
"Congrats Emily, really, you'll do wonders at the helm." I heard his deep voice again, rich with accent. Leinster I think he told me, somewhere outside Dublin. Face-melting, hearing him speak, criminally satisfying. I shook free of my reverie, eleven-forty, turned back to the cityscape; there would be fireworks soon.
Thoughts of Joshua crept back, he was infuriating truth be told; was he genuine? Six weeks bidding for promotion, six weeks of him undermining me, yet I emerged on top and suddenly he's all, "you'll do wonders" and generous gifts, all closeness and kindness, stubble and tight trousers – Christ!
Dizzy, I steadied myself on the desk behind, warmth filled my abdomen, I caught my own smile in the faint reflection ahead.
"You're not at drinks." A voice behind me, my smile dropped to shock, NO! That voice again, that silk-for-the-ear accent, Joshua.
I turned to the man in the doorway, a brazen smile cast my way. Picture perfect; coarse, peppered stubble, top buttons unfastened, trim shirt spread over substantial torso, sleeves stretched around swollen – fuck! I'm staring, words… use words!
"No…" Calm please, my stomach lurched, heart pounded – I said calm! "I thought you - "
"I went." He interrupted "Came back. What kind of a works party is it, absent the boss?"
I blushed, still getting used to it: "boss".
"I brought bubbles!" He raised the bottle in his hand, two flutes wedged between fingers. He'd clearly already been celebrating; he had the clumsy enthusiasm of the pleasantly tipsy.
"That's sweet, shall we toast the New Year then?" I relaxed, strode out, perched on the Joshua side of the desk.
With a "thunk" and a "clink" we were sipping quietly, momentarily awkward, then silence broke with – "I'm buzzed for you Emily, really I am. You worked so hard to get here."
He cast an arm lazily at the room. "I'm super jealous though." He grinned an alluring smile, his lips a little moist from the drink, plump, soft… thoughts turned to kissing him and the ache began.
"Couldn't get my mind off you tonight," his grin had changed, now a darker, intense expression.
He stepped closer, the ache began throbbing, I pictured him on me, felt the pressure of his fingers against my swollen sex.
I snapped back to life with his hand on mine, in a flurry he downed his glass, pushed the flutes across the desk and brought my mouth towards his. I met his lips, feverish, furious, I welcomed the kiss; opening my mouth, teasing his tongue with mine.
My head spun, longing for more, I felt our intentions match as he gripped my hips and lifted me onto the desk, skirt tugging its way up my thighs with the movement.
His hands began a sporadic journey over my body, one stroking along my thigh, pushing my skirt to my midriff, one over my breast. I reeled from his touch, pulling my head back, he seized the rhythm break and sunk a gentle bite into my neck.
I whimpered and he pulled me closer, my ass half over the edge, I felt his hardness against my thigh. I reached down, clasped my hand around his firmness; felt him swell, matching the warm, wetness growing between my legs.
He moaned and pressed his lips back into mine, his tongue darting forward, grazing my own.
His hands moved down, one under my ass, lifting me, the other between my thighs, in a single move he tore fabric away from my soaking mound, sparks as his fingertips brushed my swollen bud, a coarse tickle as knickers tugged off my hips, down my thighs and dropped to the floor.
I forced his belt open, tore his fly in two, he worked with me, dropped his trousers, his boxers, revealing impressive girth, a pulsating member begging to bury itself in my soft wetness. This was it; all I craved, my mind a cluster of thoughts. I needed his c*ck, I needed him inside me, I would let him have me; this could be his victory…
… No, not his. With his c*ck poised, ready to take me, I took hold of his face, ran my hands into his hair, curved my lips into a smile and pushed him down.
He collapsed to his knees, his breath hot against my exposed p*ssy. Our thoughts entwined; he buried his face between my thighs, my mind exploded, his tongue stroked at my lips, darted upwards, circling my clit.
My body shook, waves rolling over me, his tongue tracing the length of my sex. A heightened sense of things and I was ready, I pulled on his hair, stood him up and hopped off the desk. He wavered, pawing at me, eager to feel my now dripping p*ssy, he would wait; I'm the boss.
I turned him, forced him to lay back on the desk, his sizeable manhood planted there, waiting. I climbed on, mounting him, took hold of his shaft and placed his swollen head between the lips of my sex. A whimper from us both at the touch, I was dripping, I knew he'd slip straight into my tightness, despite his size.
I rolled my hips and dropped myself onto him, my wetness enveloping his solid c*ck, he filled me, stretched me as I slid down his length. He gasped, I moaned, the electric ecstasy surging through us both, the throbbing edged nearer climax as his size filled me. Now, I would have him, this was on my terms. This was my victory.
For exclusive competitions and amazing prizes visit Reveal's Facebook page NOW!