Ahead of Red Nose Day on 13 March, three young women tell us what a difference the £100m raised by the last Comic Relief fundraiser has made to their lives…"Your donations have helped my whole family"Emma Sykes, 18, from Hull
As a schoolgirl, Emma Sykes remembers wearing red noses with her classmates and joining in with the bake sales to raise money. Little did the teen realise that one day she'd receive a lifeline in the form of support from charities funded by Red Nose Day.
Emma was 16 when dad Rob was diagnosed with early onset dementia in his early fifties.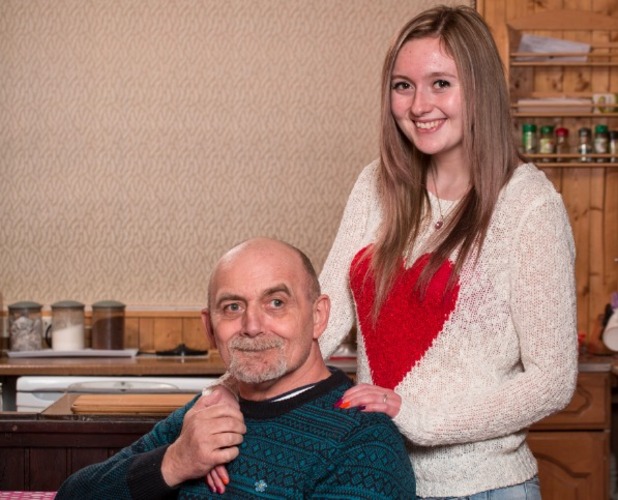 "It was a shock to me and my mum," says Emma. "We thought he'd had a stroke as he lost the use of his right side. When doctors told us what it was, I knew things would never be the same.
"Dad used to take me out all the time on long walks but now he couldn't go to the shop for a pint of milk by himself. Suddenly, he had no independence and Mum and I had to help with everything. It's heartbreaking when he stutters because he can't remember what he wants to say."
While dealing with these huge changes, Emma finished school and went to college to study travel and tourism. As well as the physical aspects of caring for her dad, the emotional pressure was intense too.
"It was like our roles reversed overnight. My dad always looked after me, his only daughter, but now he depended on me. I felt like I'd lost a part of him.
"Before a college trip to Edinburgh it all came to a head as I didn't want to leave my dad. I felt no one understood my problems as their only concern was what to wear. I ended up bursting into tears in the classroom."
Emma's tutor encouraged her to get help. It led her to Hull CVS to attend a voluntary group that gives support to young carers and receives funding from Comic Relief, thanks to Red Nose Day.
"I had one-on-one support that allowed me to get my feelings out for the first time and I eventually attended group sessions. It's been a huge help. Everyone's there for similar reasons, so we don't have to talk about it.
"We go on activity days such as going bowling or to restaurants. We visited unis too and it made me consider it. CVS also supported me when I had my daughter Lexi-May, now 10 months."
Emma's dad also attends Butterflies, a memory-loss support group funded by Red Nose Day, which runs activities for people with dementia to keep their minds and bodies active.
"It's been great for Dad," says Emma. "It keeps up his skills, such as cooking, and my mum speaks to wives going through the same thing.
"My whole family gets help from Red Nose Day donations. It just shows how really important it is."
"I'm a champion weightlifter thanks to Red Nose Day"Monique Newton, 22, from London
Monique Newton had a desperately hard childhood. At three years old, she was diagnosed with neuroblastoma, a cancer of the nerve cells. After two operations, chemo-, radio- and MIBG therapy, she was finally given the all-clear by doctors. However, this was just the start of her troubles.
By the time she'd turned 15, her relationship with her mum had broken down so badly that Monique left home. Sofa-surfing at her gran's and friends', she struggled to hold down her part-time job and keep up with her engineering course at college.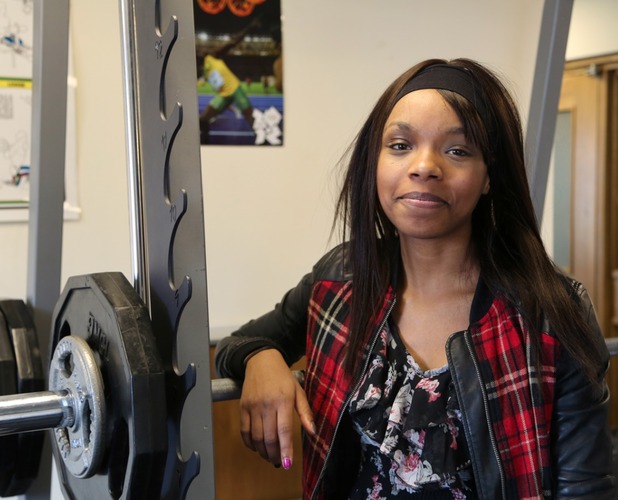 "Not knowing where I'd be sleeping every night was really tough," Monique remembers. "I had to work five nights to make enough money for food, so I started missing more classes. Some days I'd just have enough for a portion of cheap noodles. Eventually it became too much. I was worried and exhausted all the time."
Not knowing where to turn and feeling isolated, Monique took an overdose in May 2009. She was diagnosed with depression and admitted to The Priory.
"I thought it was going to be full of people walking around silently in gowns, so I didn't want to go," Monique admits.
"But when I got there, everyone was completely normal. It was nice to have people to talk to who could understand what I'd been through.Even so, it took months to open up to my therapist."
In the rehab centre, Monique took part in drama, music and games therapy, as well as exercising and completing coursework her college tutor sent her.
When she was ready to leave in November 2009, staff got her a room in a young person's hostel, run by Centrepoint which receives vital funding through Comic Relief. Finally having a home helped Monique fit the other pieces of her life back into place. She went back to work at weekends and she decided to change her course at college to plumbing.
"Although I was working and studying, having a permanent address made such a difference to my state of mind. I discovered I really loved working out. I left the centre feeling mentally strong and wanted to be physically strong too.
"One of the first things I did was sign up to a gym and speak to a weightlifting coach. I'm really slight, so he laughed when he first saw me. But when he realised I was serious, he started showing me the proper way to use weights.
"It was great. Everyone at the gym was so friendly and welcoming, I felt a real sense of belonging straight away."
In April 2010, Monique took part in her first competition. To her amazement, she came first and broke a British record by completing a 90kg deadlift. Her confidence soared and she was soon entering competitions every month.
"Now I rent a flat and work as a mental health care assistant, as well as volunteering for the Dame Kelly Holmes Trust which mentors and supports disadvantaged kids through sport. I wanted to help people the way that I was, because I'll never stop being grateful."
"A charity project saved my life"Rhiannon Holbrook, 22, from Swindon
Though many of us complain about having to go to work, Rhiannon Holbrook can't wait. The Olive Tree Cafe in Swindon is a safe haven for the 22-year-old and she credits her job there with giving her a newfound confidence and purpose in life.
As a little girl, Rhiannon knew she was different from other children but she didn't know why.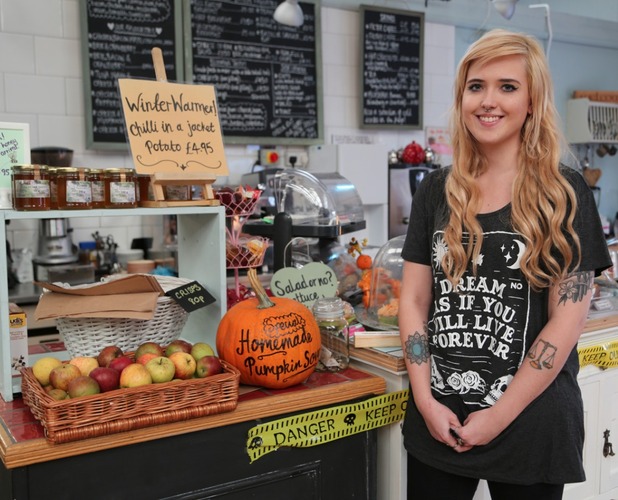 "School was a daily struggle,' says the cafe assistant. 'I didn't know how to express myself properly. I tried to come across as warm and friendly but I think I ended up coming across as just the opposite."
Each year, Rhiannon's anxiety grew, leaving her feeling worn out and depressed. At 16 she finished school and went to college to study photography.
"I loved the subject, I used photography to express my feelings without words," she says. "But I found the lack of structure at college difficult to cope with. By the time I was 18 the depression had built up over time and hit me really hard."
After confiding in her parents that she felt different to other people, Rhiannon was finally diagnosed with Asperger syndrome – a form of autism that impairs a person's ability to interpret facial expressions, tone of voice and body language.
"At first I felt relieved to have a diagnosis. It meant I could stop feeling angry with myself for being different. It wasn't my fault," remembers Rhiannon.
"But within a couple of months I began to find it really hard to function. I couldn't see a future for myself with Asperger's. Everything seemed entirely hopeless."
With her tutor's help she scraped through her course but things soon went downhill. Rarely leaving the house, Rhiannon spiralled into self-harming and was plagued by suicidal thoughts.
Eventually, she was seen by mental health services and received therapy. But the real turning point came when she was invited to volunteer at The Olive Tree, a community cafe for people affected by mental health issues that uses cash raised by Red Nose Day.
"I was too scared to join at first," says Rhiannon. "But I started out washing up and that way, I didn't have to interact with anyone and I went at my own pace.
"At first I couldn't even bear to make eye contact with any of the customers or staff. But as time went on my confidence grew and I began taking on more responsibilities, taking orders, preparing drinks, serving customers.
"It was a great opportunity to improve my communication skills and learn new things. And now I'm a paid employee working three days a week. I love it."
As well as now enjoying chats with the regular customers, Rhiannon enjoys being part of the support network for new volunteers at the cafe.
"I'm a solid part of the cafe now and I'm so proud of what I've achieved. It's lovely to see how people of all ages change by coming here."
When not working in the cafe, Rhiannon is busy drawing and making wooden crafts through a group called Every Cloud, even selling some of her pieces.
"I feel now like I have a future and that's the most important thing. If it wasn't for The Olive Tree, I don't think I'd be here. It saved me."
Su Karney & Sarah WhiteleyFor exclusive competitions and amazing prizes visit Reveal's Facebook page NOW!