Super-size Sarah Reign works as a security guard during the day, but when she gets home, she starts her sexy sideline
Getting home from work, sometimes you just need to raid the cupboards and shovel down a whole packet of biscuits.
But for Sarah Reign, it's not strange for her to wolf down five quarter-pounders as soon as she walks in the door.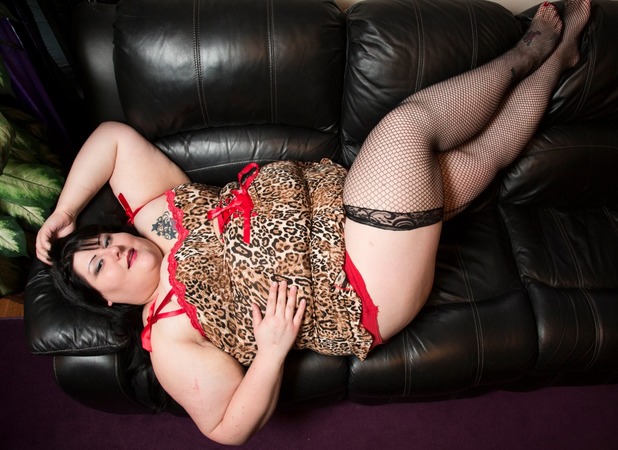 Weighing in at 26st, the 26-year-old New Yorker is a 'feedee' who guzzles down mammoth meals and super-size treats on camera after working shifts as a security guard at a factory.
Fans love to watch Sarah, who is a size 30, doing everything from smearing a whole chocolate cake over her face as she eats it to covering herself in butter – so much so, she earns around £1,000 a month from her sexy sideline.
"No-one at work knows about my secret double life," Sarah says. "I like to keep the two separate.
"On the rare occasions I have 'run into' someone from the website, it's all very pleasant and they've kept it to themselves."
Even as a child, Sarah had always been big but her weight didn't bother her.
In 2008, aged 20 and weighing 20st, she celebrated her figure by posting glamour shots of herself online in skimpy clothing.She went on to join a site for bigger women who like to flaunt their curves and soon had plenty of male attention.
"My confidence was sky high," Sarah remembers. "So when men started to request seeing me eat on camera, I thought, 'Why not?'"
She started chatting to men via webcam, so called "feeders" who request what she eats and watch her on-screen. Chomping down on pizzas and boxes of cookies, her popularity grew and she set up her own video channel.
"At first it felt quite awkward, eating on camera because my fans love to watch me chew every mouthful,' Sarah says. "But I eat so much anyway, I soon got into it.
"It's sexy to be big and, as I've started eating more on camera, I've grown even bigger. I've put on six stone since I started. Lots of men want to feed me so much that I can't move any more, but that's not my thing. I still want to be active enough so that I can do my day job."
Her lingerie drawer is overflowing with different outfits for her appearances but the most common request she receives is for a farmyard friend.
"I have a piggy nose and ears that I eat really messily in, covering my face with chocolate," reveals Sarah. "Sometimes I take the camera into the shower and film myself washing. That's really sexy."
And the requests from men don't end at just eating online. They want to feel the full weight of Sarah's eating enterprise by having her squash them.
"I had so many men ask before but I didn't take it seriously until a guy who lived nearby wanted to try it. I watched some videos the night before to prepare but nothing fazes me.
"We met at a hotel and he lay down on the bed and I climbed on top of him. I found it hard not to laugh at first. I spent a full hour sitting on his chest and crushing him. It was fun, making him struggle. It's a form of domination, so I stopped caring if he could breathe."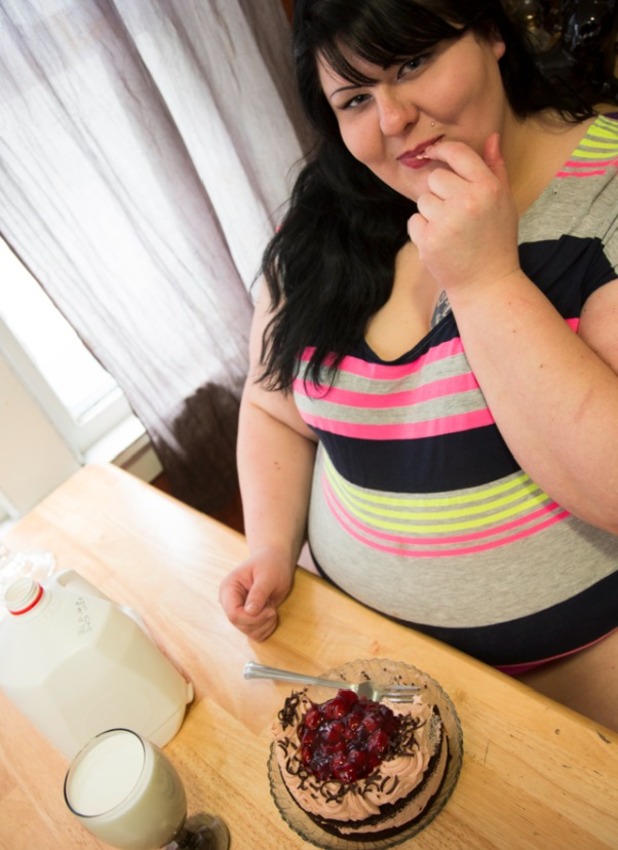 Sarah has had eight squashing clients and, although they can be open with her about what they want, some won't admit they love big women in their 'real' day-to-day lives.
"They're in the fat closet,' she jokes. 'They say how thin their girlfriends are and they're obviously worried they'll be the butt of their friends' jokes if they admit to fancying a larger lady.
"And on the other hand, lots of girls won't believe that men think fat is sexy. They want to slim down, not embrace their curvier shape."
With the weird and wonderful requests Sarah gets, she has quickly learnt not to judge her punters for what they want. Even those who have asked her to fart for them.
"I'm open-minded, it's giving them what they want and it can be an outlet for them," she says.
"Lots of men have asked me to make videos of me farting and even sitting on the toilet, so I started doing those this year. Those can take a while to film though because I don't like to fake it."
Another of her sidelines is posting out lacy knickers – after she's worn them. And the price goes up depending on how dirty they are.
"If I wear them for a day they're £20, but for a week it's £125 and they get a video of me wearing them. I have several orders a month. There's a wish list on Amazon too where they can spoil me.
"I've asked for everything from sexy lingerie to sweets to a slow cooker – I'm expecting a lot of gifts this Valentine's Day."
While it would be easy to imagine that Sarah's controversial career would put a lot of men off pursuing a relationship with her, she's had long-term boyfriends since she became a part-time squasher.
"It's not been an issue for them. Some of them have watched the videos, some of them haven't. Most of them have supported me and didn't care.
"I'm single right now but I wouldn't rule out going on a date with an online fan.
"I have men ask me out all the time. But it's not practical as sometimes they're in other countries. I have lots of fans in the UK and Germany.
"But if they were from the US, I'd never say never."
By Phoebe Jackson-Edwards
Reveal is now on Google Plus! Join us here for the latest pictures, fashion and celebrity news!