One little owl has been enjoying a much-needed bath after getting into a right sticky mess!
The poor tawny owl was found covered in engine oil in an old feed trough and immediately rushed to the RSPCA East Winch Wildlife Centre in Norfolk.
And it looks like this cutie appreciated a good old soak – just look at her sweet face!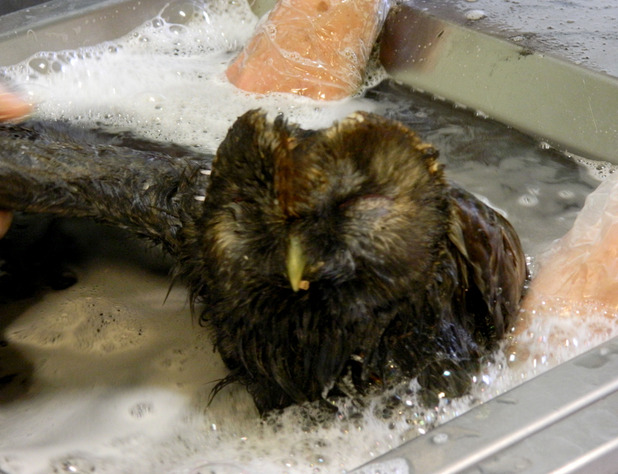 Staff at the centre helped to brush and wash her wings with washing-up liquid and warm water in order to get rid of the dangerous liquid.
Oil can cause birds to develop hypothermia, as it stops their feathers from protecting their skin properly. The birds may also try to preen their dirty feathers, which can lead to them ingesting the oil.
Thankfully, after a second wash, the feathery youngster has been put into an aviary and it's hoped she'll soon be released back to where she was found.
Wildlife administrator Sue Levings said: "Luckily, apart from the thick coating on her feathers, she seems quite well. She is looking much better and seems happier now that she is cleaner."
Sue added: "We are hoping she will make a full recovery so we can release her back into the wild in the coming weeks."
After all that pampering, this gorgeous bird is bound to feel right as rain before long!
Reveal is now on Google Plus! Join us here for the latest pictures, fashion and celebrity news!