With age gaps of up to six decades, these couples have dealt with being ostracised, disowned and even labelled paedophiles and gold-diggers, all in the name of love.
They've been accused of being cougars out on the prowl or sugar daddies just looking for some arm candy. Now, from sex drives to dentures, these age-gap couples spill the beans on what it's really like when you fall in love with someone old enough to be your grandparent…
Ebony, 33, & Peter, 65
Sixteen years after they met, this loved-up couple from Norfolk take a trip down memory lane, visiting the lay-by where they first consummated their relationship in 1997, when Ebony was just 16 and "randy" Peter was 48. "He rocked my world," says Ebony. "I'd never been loved like that before."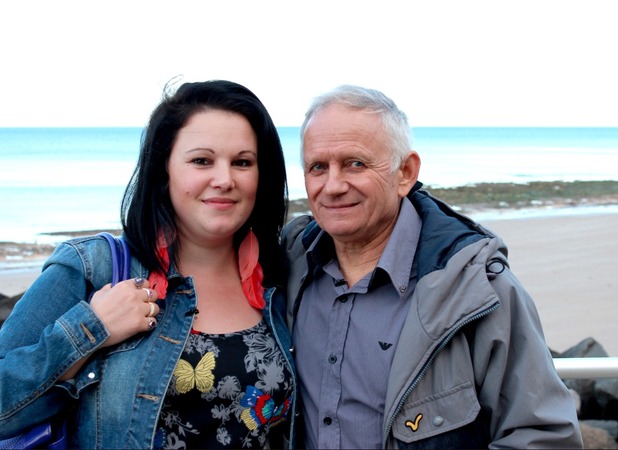 But it wasn't their 32-year age difference that caused the biggest complication for the secret lovers, but the fact that Ebony was going out with Peter's girlfriend's son.
When Peter married his girlfriend Judy, Ebony went off the rails. "I started to do whatever, drinking, drugs. I didn't care."
Though she went on to have two children with Judy's son, Ebony found herself serving a prison sentence in 2010.
It was only Peter's visits that gave her hope. Divorced from Judy by this time, Peter and Ebony fell in love and four weeks after she was released, they tied the knot in Gretna Green.
Despite a messy start, they have forged a happy family life, and Judy – grandmother to Ebony's two sons – is a frequent visitor.
Ebony says Peter, who she calls Flit, is the best thing that has happened to her – in the bedroom too: "Flit is amazing, it's not all about him, it's not a five-second wonder. He goes on for hours!
"I've always liked old things – old music, old cars – so Flit fits in perfectly. A bit vintage!"
Michelle, 51, & Mesbeh, 26
After having her fingers burnt, divorcée Michelle, from Stockport, had sworn off English men for good. A trip to Tunisia two years ago saw her find love when she set eyes on Mesbeh in the airport. "I walked through the doors and thought: 'Oooo, he's gorgeous,'" Michelle remembers.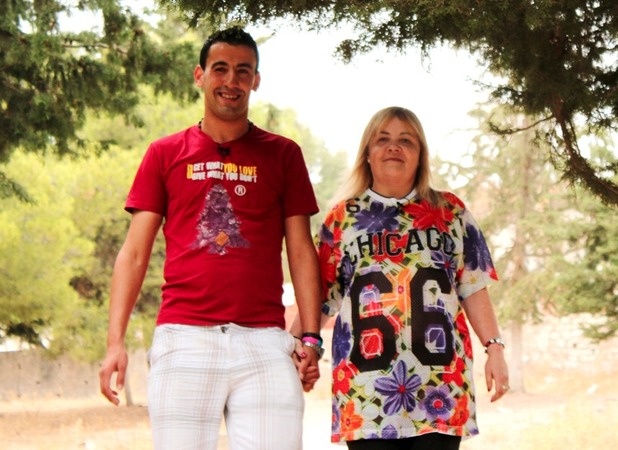 And she was even more thrilled to find the football coach was equally skilled in the bedroom. "He's the best person I've ever slept with," Michelle smiles. "The sex is absolutely fantastic. Sometimes we do it three times a day."
Despite the distance and the travel costs involved for unemployed Michelle, they have fallen deeply in love and remain completely committed to one another. So much so, that Michelle converted to Islam six months ago in a bid to share Mesbeh's values – though she confesses to indulging in the odd beer, "for medicinal purposes".
The next big step is meeting his family. While Mesbeh told his father of his love straight away, it took time to work up the courage to tell his mother. "She accepted it," he says. "Slowly."
So meeting his mum, who is about the same age as Michelle, is a daunting prospect, not made any easier by the language barrier and Michelle's reluctance to try the traditional Tunisian dishes cooked in her honour.
Happily for the pair, Mesbeh's mother seems to be won over and the smitten couple can continue their passionate romance. "I brought my kids up, never left them with anyone," says Michelle. "Now it's my turn to live a little."
Nicola, 30, & Joe, 68
Fourteen years of marriage and four children have put doubters of Nicola and Joe's age-gap love firmly in their place.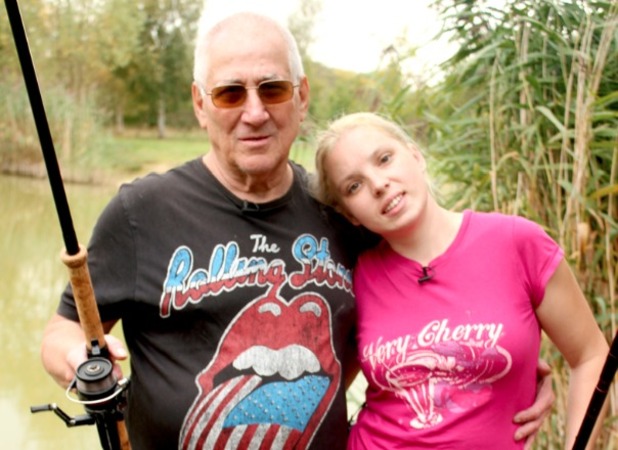 But when they became a couple, the pair suffered a furious backlash from family, friends and perfect strangers. Joe first encountered Nicola when she was just 13 and his nephew asked Joe to fix her bike so that she could continue her paper round.
Three years later, Joe, then 53, worked up the courage to ask 16-year-old Nicola out. He says: "There were points when I half expected police to knock on my door and ask what was going on. But there was just something about Nicola. I couldn't help myself."
Their first child came along quickly and, aged 18, Nicola became Joe's baby-faced bride. It caused a rift with her mother and Joe's son but now Nicola can understand their point of view: "I can see why people said I was too young and why it was wrong for me to get pregnant. But if you really want something, you'll fight for it."
Joe, from Essex, adds: "I've had lots of negative stuff – you're a paedophile, you should have had them cut off. But Nicola is not only my wife, she's my friend and my soulmate."
Cathy, 24, & Richard, 82
In Vienna, Austria, Cathy and Richard attract more than their fair share of attention. Not only is there an age gap of almost 60 years between the former Playboy bunny and the multi-millionaire tycoon, but Cathy has become one of the richest and most recognisable women in the entire country.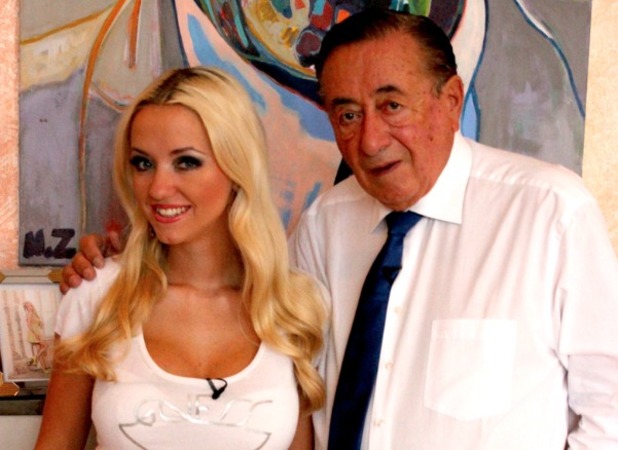 However, five weeks in, married life is proving tough. The couple argue over Richard's long hours at the office and find it hard to cope with the public scrutiny. "People are thinking that I'm living the high life but it's not like this. We are living normal," says Cathy, sipping champagne in her hot tub.
On top of that, the busty blonde, who has a six-year-old daughter, feels overshadowed by the four wives that went before her. "People are talking too much sh*t about us… If anybody thinks I'm only with him for the money they can just think it."
Richard is adamant he's not giving up either: "It's my last marriage and I want to be with her until I die. We have problems but we have time. I'm only 82."
Reveal is now on Google Plus! Join us here for the latest pictures, fashion and celebrity news!