It seems like opposites really do attract if these two cuties are anything to go by!
Meet Digby and Nero, the little and large BFFs who have recently become inseparable.
Teeny tiny Digby, a five-week-old Chihuahua, was brought in to the RSPCA after being found shivering between two rubbish bins near flats in North London.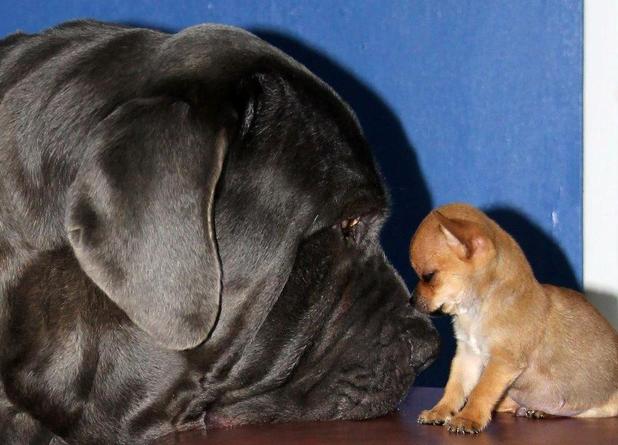 The poor little pup, who was suffering from dehydration, was taken to the animal charity's Southridge branch, where he immediately bonded with Nero, a whopping Neapolitan mastiff who weighs 60 kilos!
And despite their obvious height difference, Digby, who weighs just half a kilo, loves cuddling up to Nero, who belongs to the centre's manager, Anna White.
Giant Nero even eats 4lbs of food per day – that's four times the weight of little Digby!
Speaking about the unlikely friendship, Anna said: "It was as if the little fellow took on Nero as his personal minder!"
She added: "Poor Digby had to be rescued once by the RSPCA and it seems like he is taking precautions to make sure nothing can happen to him again."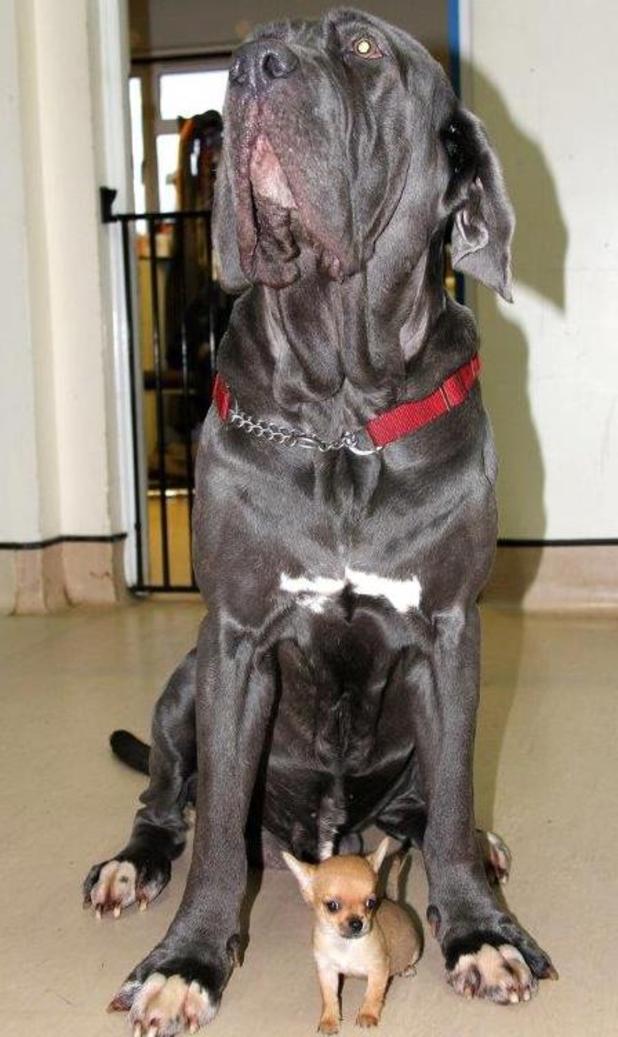 How anyone could abandon this little one, we have no idea!
Natalie Ditchfield, who picked up the pooch, explained: "It is so lovely to see he is safe and happy. When I first came across Digby, he was frozen and shaken and had just been left to die. He's really tiny – small enough to fit in the palm of my hand.
"He seemed to come out of his shell as soon as we arrived at Southridge and spotted Nero. It really is a love story!"
The RSPCA are currently trying to trace his owner, but if no-one comes forward, he'll be available for rehoming in the upcoming days.
Either way, we're sure this pint-sized pooch won't be without a home for long!
Reveal is now on Google Plus! Join us here for the latest pictures, fashion and celebrity news!