A mum is trying to track down a kind stranger who handed her £5 and a note full of praise as he got off a train.
Sammiee Welch, 23, was stunned to receive the piece of paper that described her as a "credit to your generation", after the way she looked after her son, Rylan, on a long train journey.
The single mum received the gift at Bristol, when the passenger tapped her on the shoulder and said she had dropped something from her bag, before departing from the train.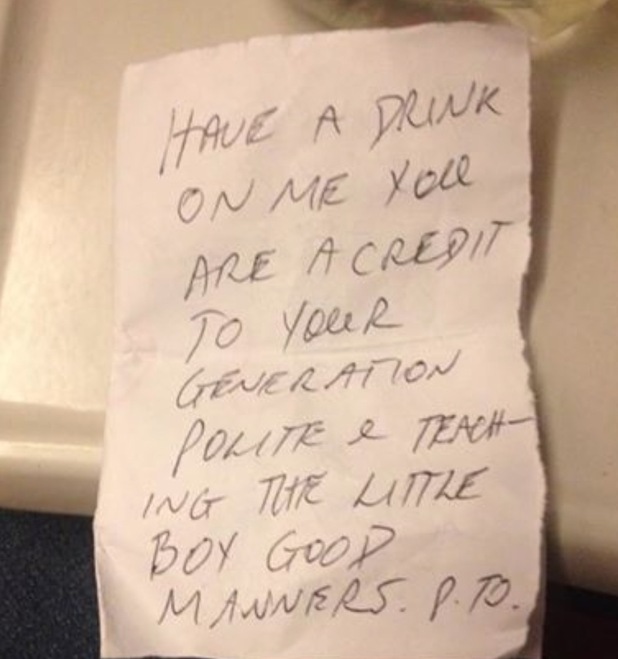 As he got off, Sammiee found the money and the note that said she should "Have a drink on me" and complimented her for "teaching the little boy good manners."
He'd also wrote: "I have a daughter your age. Hope when she has children she is as good a mother as you."
It was signed off as "man on train at table with glasses and hat."
Sammiee and Rylan, 3, were travelling back to their new home in Plymouth after visiting family in Crewe.
She'd kept her little boy entertained with games on the journey and later he fell asleep. When she spotted passengers standing, she moved Rylan on to her lap so someone could have his seat.
Sammiee was quoted in the
Daily Express
saying: "I feel really overwhelmed by it all, it was just so lovely to get it."
She added: "Money is quite short for people nowadays so for someone to give me that was amazing."
And as the woman doesn't remember much about the chap, she's launched a
Facebook campaign
to find him: "I think he was in his 50s but I regret not getting a better look at him."
Taking to the social network site, she wrote: "I would LOVE to have the opportunity to thank this man personally. He may not have Facebook but please please share this!!! I want to thank him for his kindness!!!!"
Sammiee has put the generous gift in Rylan's savings account.
Reveal is now on Google Plus! Join us here for the latest pictures, fashion and celebrity news!