Alexandra Jenkins is a dead ringer for Disney's Princess Elsa – so much so, she's got her own army of fans!
Most young girls dream of being a princess, but Alexandra Jenkins never imagined her fantasy would become a reality.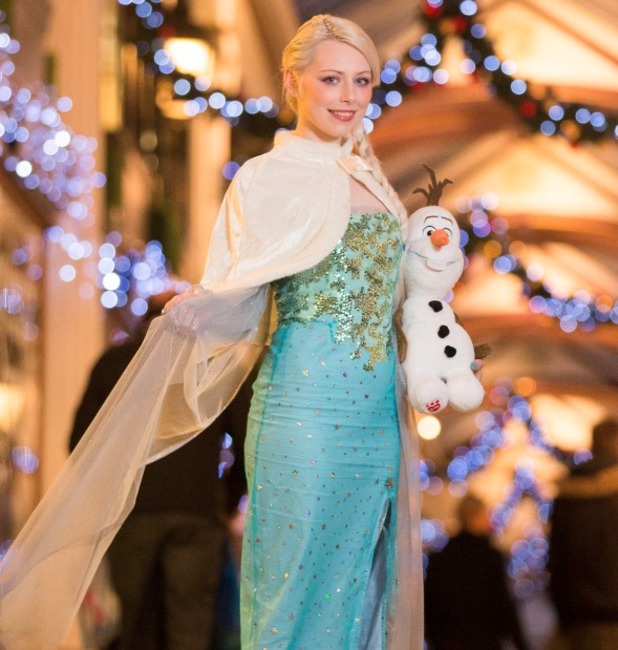 The shop assistant has transformed herself into a real-life princess after being compared to Princess Elsa from the smash hit Disney movie
Frozen
.
With long blonde hair, big blue eyes and a button nose, Alexandra is the spitting image of the animated heroine.
The 20-year-old is regularly 'recognised' by children and their parents who are stunned by her similarity to Elsa. Many come up to her while she's at work in the children's section of John Lewis.
Alexandra's resemblance to Elsa is so uncanny she decided to launch a career as a lookalike, making appearances at children's parties and corporate events up to four times a week.
"It all took off in January last year," says Alexandra from Portbury, near Bristol. "A few people noticed I looked similar to Princess Elsa and then it just escalated from there.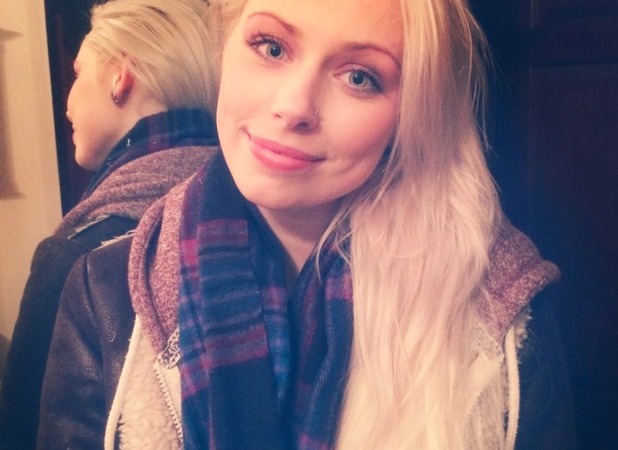 "In the summer, a lot of kids came into the store to get their back-to-school stuff and it went crazy. It was like some children thought I was the real thing. By December it was non-stop!
"During my shifts at work now, the only thing which helps to disguise me is the fact I have thick glasses, or sometimes wearing my hair down works."
With such a busy schedule, it's a good job it doesn't take her long to transform herself. "My hair's the same as Elsa's so I don't wear a wig – it makes it more believable," she says.
"It takes me no longer than half an hour to transform into Elsa. I just put my hair in a plait and apply some purple eyeshadow. Then I put on my sparkly dress and cape, and that's it – princess perfection!"
Alexandra's still in shock at how popular she's become: "I've had a great reaction. It helps that I genuinely look like Elsa. People always stop me in the street now, I can't seem to be Alex any more."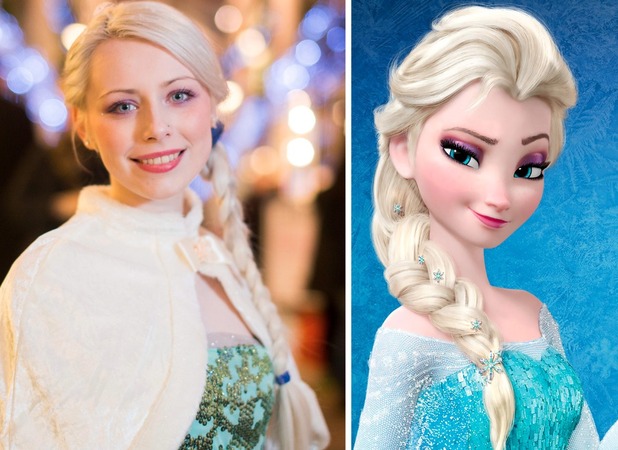 The single shop worker was even offered the coveted role of Elsa at Disneyland Paris. Though Alexandra turned it down, she remains dedicated and makes her own Elsa costumes as well as taking singing lessons to belt out the film's powerful tunes.
She says: "I'm having lessons at the moment so I can perfect
Let It Go
. With the role you get a lot of kids requesting you to sing it and I don't want to let them down. I love seeing how happy it makes them.
"It's so flattering to be compared to such a popular character. I can't believe how much it's taken off and when people constantly call me Elsa, I feel like the real deal."
By Harriet Rose-Gale
Reveal is now on Google Plus! Join us here for the latest pictures, fashion and celebrity news!