One dad has taken to eBay to sell his son's battered car in a very honest listing, titled "Who would buy it?"
Nigel Stewart-Stone, 50, decided to list his son, Dalton's old Renault Clio after the 19-year-old got himself a new car.
But rather than trying to sell the vehicle in a positive light, Nigel was brutally honest
in the description
.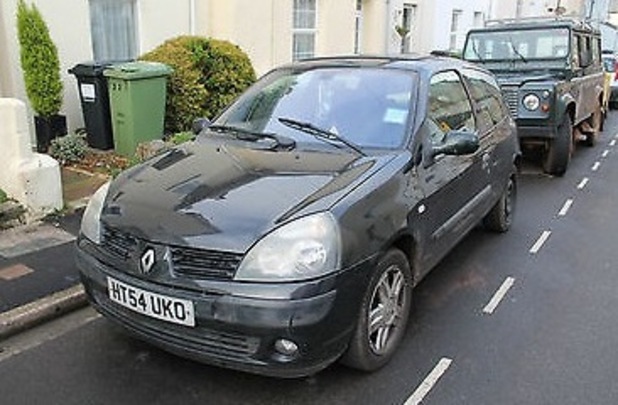 The old motor has a large dent on the passenger side and is littered with McDonald's and old fruit.
The property developer also explains how the clutch is slipping as his son's preference of "loud music" means he couldn't hear it going, but the chap adds: "Still, there is enough clutch left to get you home, I think?"
Other issues include the passenger seat, which no longer moves due to girls who have clambered in and out of the car, and the engine "may be" without oil and water.
However, the ad does state that the electric windows work, which the dad says is surprising "considering the amount of times they go up and down calling to his mates and banter with the passing girls."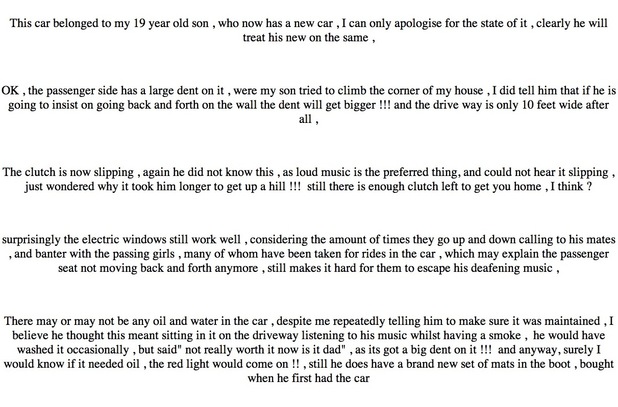 And now Dalton, who is a trainee estate agent, has a new motor, it seems like he's completely forgotten about his old one, as the listing reads: "It's now down to me to dispose of this wonderful car... now he has a new one, he thinks that you just leave it parked on the side of the road until someone comes and takes it."
The auction has already received 70 bids and is currently at £460. The Devon-based dad was quoted in
The Sun
explaining: "It wasn't my intention to get this kind of response."
Unfazed by the advert, Dalton added: "Dad's a joker. I'm not embarrassed."
Reveal is now on Google Plus! Join us here for the latest pictures, fashion and celebrity news!