A couple has been left stunned when their pint-sized piglet grew into a 48st porker!
Steve Jenkins and Derek Walter from Ontario, Canada, adopted Esther when she was just 4lb, thinking she'd stay small.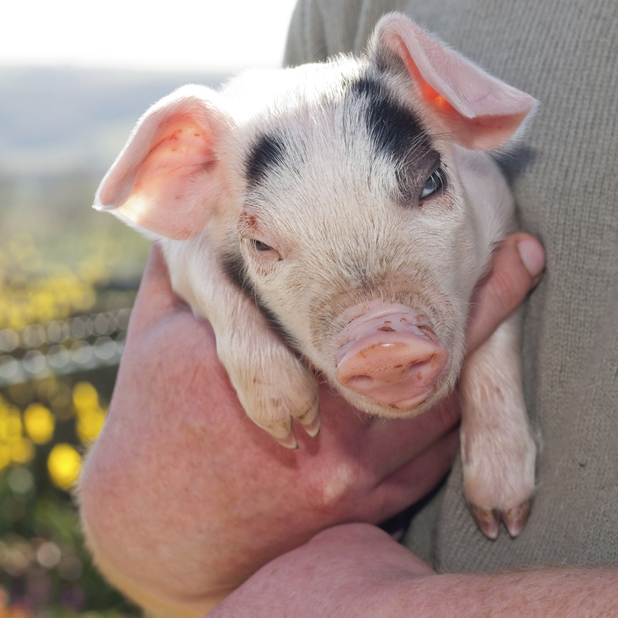 But the couple were tricked and their baby micro-pig didn't stay mini for very long.
"Esther the Wonder Pig" grew and grew and now, at two years old, she weighs in at a hefty 47st 9lbs and munches her way through more than £30 worth of food a week.
Despite being 10 times her expected size, the couple decided to keep Esther and she's definitely part of the family. She shares her home with two dogs and a cat, and goes to bed every night in a double bed.
And that's not the only way their porky pet has changed their lives - Steve and Derek have become vegan and have made Esther an internet sensation, by setting up her own Facebook page, which now has nearly 240,000 followers.
However, despite having fallen in love with Esther, they also want to warn people about the dangers of adopting a micro-pig.
They say on their
Facebook page
: "We absolutely DO NOT advise anyone to take on a pig like Esther in their homes. We were misled regarding what Esther was when we got her. People need to know the potential risks you're opening yourself up too with a pig. We expected a mini pig, Esther is what we got.
"Please do plenty of research and consider adoption of your pig if you really feel you are up to being a piggy parent. It is an amazing experience and she has changed our lives in amazing ways. However, it was a ton of work."
By Catherine Richardson
Reveal is now on Google Plus! Join us here for the latest pictures, fashion and celebrity news!