Keeley Adams is only 20 but she suffers from a rare, life-threatening condition that means up to 40 of her bones dislocate every day…
"When I wake up, the first thing I do is utter a silent prayer of thanks I've survived another night. Then I check how many of my bones have dislocated, and work out which ones to pop back in first.
I know just the idea of that is probably making you wince but for me, it's something I've had to learn to live with.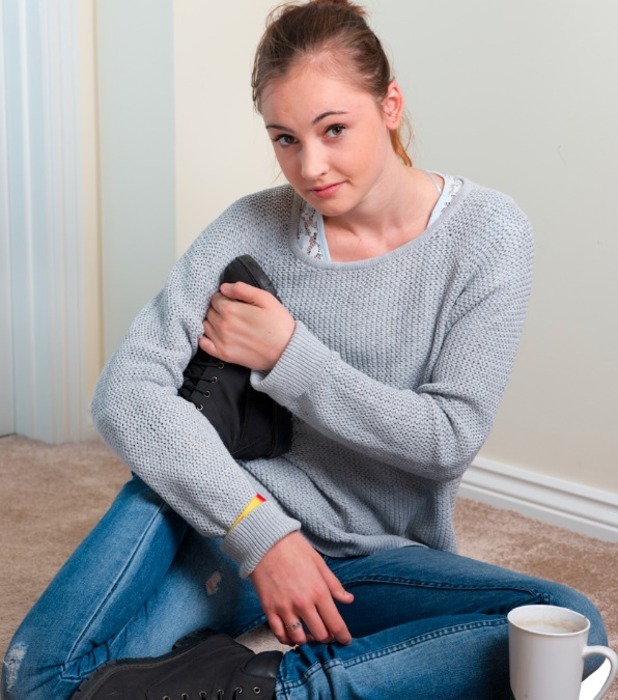 I suffer from a rare condition that means up to 40 of my bones dislocate every day.
Just the slightest movement is enough to cause my joints to pop out of place. So yawning, eating and even talking can make my jaw dislocate. My finger joints pop out while I'm typing on my laptop and I rarely make it down the stairs without dislocating my knees.
More terrifyingly, the condition could kill me at any moment.
It wasn't always like this. As I was child, I was active and played netball for my county. I had my fair share of broken bones – my wrist, foot, fingers – but put it down to being sporty.
I've also always been very bendy. I can bend the top of my thumbs back and can reach my arms over my shoulder to touch the base of my spine. I've always been able to pop my shoulder blade in and out – growing up, it was my party trick.
But when I turned 14, things changed. The slightest thing would make my shoulder blade pop out and it began to ache.
I couldn't play netball or go out with friends because I was so tired and my hips and spine were agony. I went to the doctors but after numerous blood tests, they couldn't find anything wrong. But I knew something was up. After I left school, I got a job on the till in a cash and carry warehouse but I had to leave because I couldn't lift the heavy items.
That was when the dislocations started. I was at home one day when my hip gave way and I fell over. At the hospital, I was told it had dislocated and the doctor popped it back in, which was agonising.
By the time I'd turned 18, I was dislocating most bones every day. I was on first name terms with the hospital staff. But despite endless scans, X-rays and MRIs, no one knew what was causing it.
One night I dislocated my elbow by banging it against a chest of drawers. It was after midnight, so I took a deep breath and slammed it against my bedroom wall to pop it back in. I was crying in pain but it seemed to do the trick.
After months of turning down nights out with my friends because I was too tired, they slowly stopped asking. Confined to my house in Kingswinford, West Midlands, I'd never felt so low – or so lonely.
Then a year ago, a suggested post came up on Facebook for a women's support group for Hypermobility Syndrome. When I read more, I found women who sounded just like me.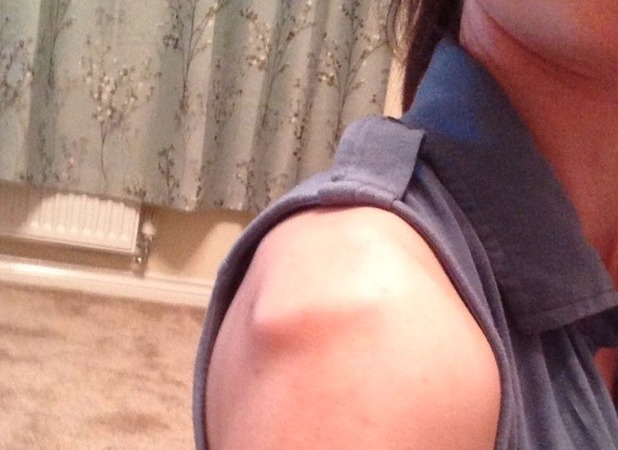 So I posted my own story and someone suggested I might have a rare form of the condition called Ehlers-Danlos syndrome (or EDS). It is a disorder of the connective tissue that means there's a defect in the way your body produces collagen, so your joints aren't held in place properly and your skin is very stretchy and splits and bruises easily. There are different types and it affects sufferers in different ways.
I printed out the information and showed it to my GP. She referred me to a specialist at Birmingham Women's Hospital and he confirmed the diagnosis. It was such a relief but I was also terrified.
There was no cure for the condition and it would only get worse. Also, because collagen is in your organs and arteries, it means they could rupture at any point and kill me.
Now, I'm learning to cope. I do exercises every day and have weekly physiotherapy sessions. I also wear splints on my joints to keep them in place. Unfortunately painkillers don't have much effect. You just have to build up a high pain tolerance.
But it isn't easy. I've had problems with my vision because my retina has detached so many times, I use crutches or a stick around the house and if I go out, I need a wheelchair. The safest place for me is lying down in my special orthopaedic bed.
I'd love to be a normal 20-year-old, going out drinking and dancing with my mates. My last night out clubbing was nearly two years ago, when I dislocated my hip and wrist on the dancefloor and spent three weeks in bed recovering. I went on holiday this summer to Ibiza but I ended up dislocating my knee and came home in a wheelchair.
But despite everything, I try to be positive. I've made lots of friends in the virtual and real world through the support group. I've also written a list of the things I want to do, like going to a music festival, visiting New York and volunteering at a Kenyan orphanage. I'm determined to do all these one day.
In the meantime, I want to raise awareness about EDS and fundraise for Ehlers Danlos Support UK. I can't take part in a race or skydive, so I shaved my head last October and raised nearly £1,500. That's how things are now. It's not about letting it beat me but finding a way around the obstacles to still live my life and dreams.'
By Heather Bishop
For information about Ehlers Danlos Support UK, visit ehlers-danlos.org
Reveal is now on Google Plus! Join us here for the latest pictures, fashion and celebrity news!