One kind-hearted lady has raised a whopping £15,000 for charity by doing a dare a day throughout 2014.
Brave Mandy Hearle set herself the challenge at the beginning of 2014 in memory of local lass Poppy Harvey, who tragically lost her life in 2010 after suffering from an anaphylactic shock.
Poppy, 19, had hoped to work for global medical aid charity
MSF
(Médecins Sans Frontières) one day, so Mandy aimed to raise a target of £3,650 for the company - but she did much better than that!
The mum-of-two from Woodbridge, Suffolk, kicked off her Mission Possible challenge by leaping into a freezing river on New Year's Day, dressed in just a pink polka dot bikini.
On day two, she dyed her hair pink – Poppy's favourite colour – and on day 37, she only ate ice cream for the entire day.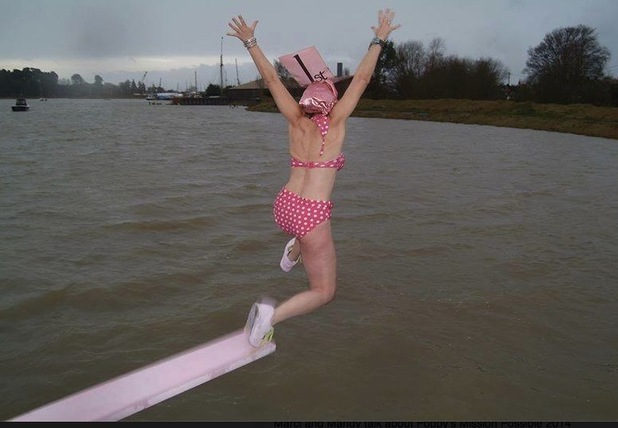 Mandy took on other wacky tasks such as cooking an egg on an engine, painting her house pink and even eating cat food!
She was quoted in the
Daily Mirror
discussing why she took on the unique form of fundraising, which was inspired by Poppy's mum, Marci.
"After Poppy died, I told Marci that I couldn't imagine how she coped with what happened. She told me as an antidote to sorrow and testament to Poppy she had promised herself to try to do something new every day."
The 54-year-old added: "This got me thinking, 'How about a sponsored challenge, to do something I have never done before, each day, for a year?'"
Other dares from the 365 days included dressing up as Mary Poppins, moving a £1 coin across town with just her nose and eating a whole onion in just a minute.
Speaking about the year-long task, Mandy said: "It took over my life, but it's been fantastic. I thought to myself, 'If Poppy's mum can be so positive after what she's been through, then I can do this.'"
Well done, Mandy!
Reveal is now on Google Plus! Join us here for the latest pictures, fashion and celebrity news!